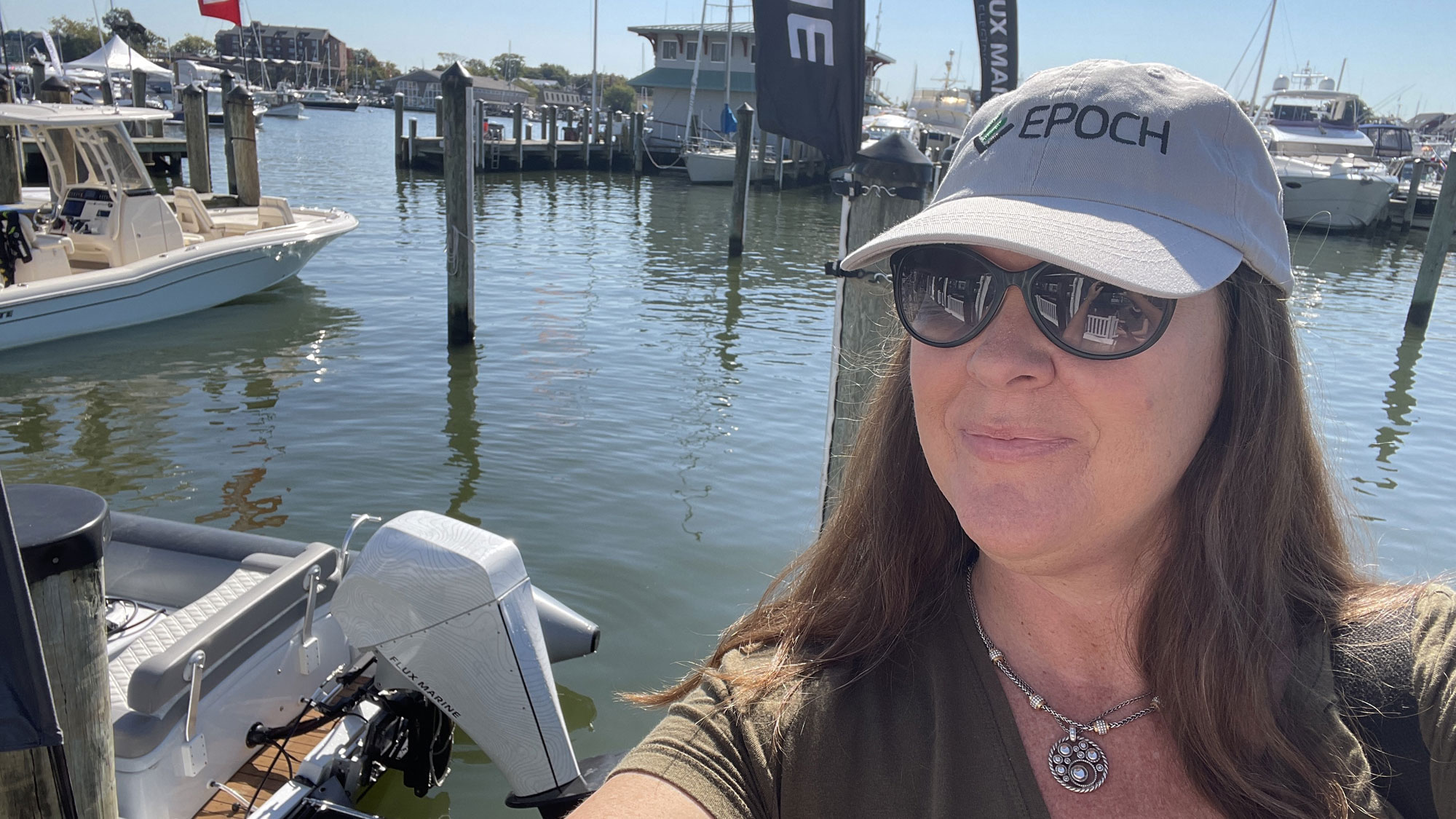 ---

---

New electric and hybrid boats, electric motors and boat demo rides at the Annapolis Boat Show 2022 as we check out the latest in electric boating
Annapolis is one of my all time favorite boating destinations on the Chesapeake Bay, so whenever I get a chance to go to the annual U.S. Powerboat Show (aka Annapolis Boat Show), check out new boats AND go to our favorite dining spot (Middleton's Tavern by City Dock)…  I'm there!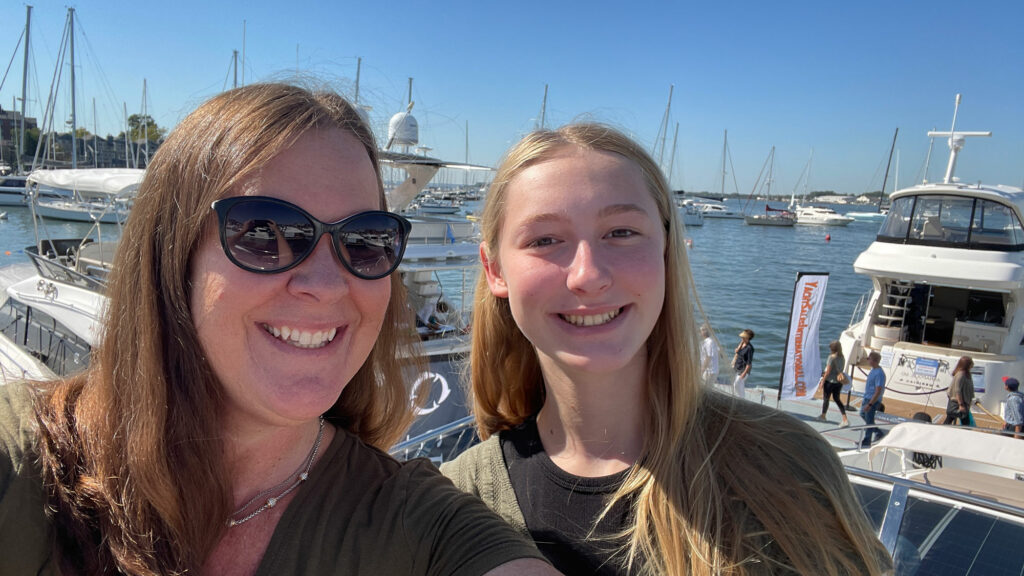 This year I took my daughter Emma to the show because she loves Annapolis just about as much as I do. She's a lifelong boater, but this was only her second boat show (she joined me for her first boat show experience at the 2022 Bay Bridge Boat Show earlier in the year), and it was really her first major boat show with a lot more to see.
Since I have been busy with my own electric boat startup with Epoch Boats (more on that in the video & below) we were on a mission to check out what's new in electric boating at the Annapolis Boat Show.
What's New in Electric Boating Video
Our video covers all the highlights from Annapolis – XShore, Greenline, ePropulsion, Flux Marine, demo boat ride & preview of Epoch Boats!
---
---
Electric Boating Highlights
Although there wasn't a ton to see in electric boating, each year there is a little bit more as the segment grows. In fact, in 2023 there will be more electric boats sold than there were to date. The $100 million electric boating segment is expected to grow to over $1.4 billion in the U.S. alone by 2030!
There's a combination of things driving this growth… increase in environmental concerns & regulations, new technology advancements with batteries & motors and shifting consumer mindset with electric. Many electric boat builders are focused on eliminating a lot of the concerns boaters have around speed & range with some pretty interesting hull designs and electric propulsion techniques.
Our first look at the show was XShore – they were the only fully electric boat builder on display. In 2021 when I was at the Annapolis Boat Show they had 1 boat on display (watch my full XShore video with interview below), and then at the 2022 show they had 3 on display!
Next up, we went on a really fun walkthrough tour of the Greenline 45 Fly – a hybrid diesel electric yacht. It's super cool with flexibility to power it in different ways, and the interior was just stunning. Watch the Greenline 45 walkthrough video with Emma & I at the show below!
After tour some boats we went on to learn more about electric outboard companies exhibiting at the show. Btw, both of these electric propulsion companies are being reviewed for use with Epoch Boats.
First, we chatted with Annapolis Hybrid Marine, the ePropulsion dealer. They have been promoting electric motors for years and I believe they are the #2 ePropulsion dealer in the U.S. They had a really cool display that shows how clean the motor runs.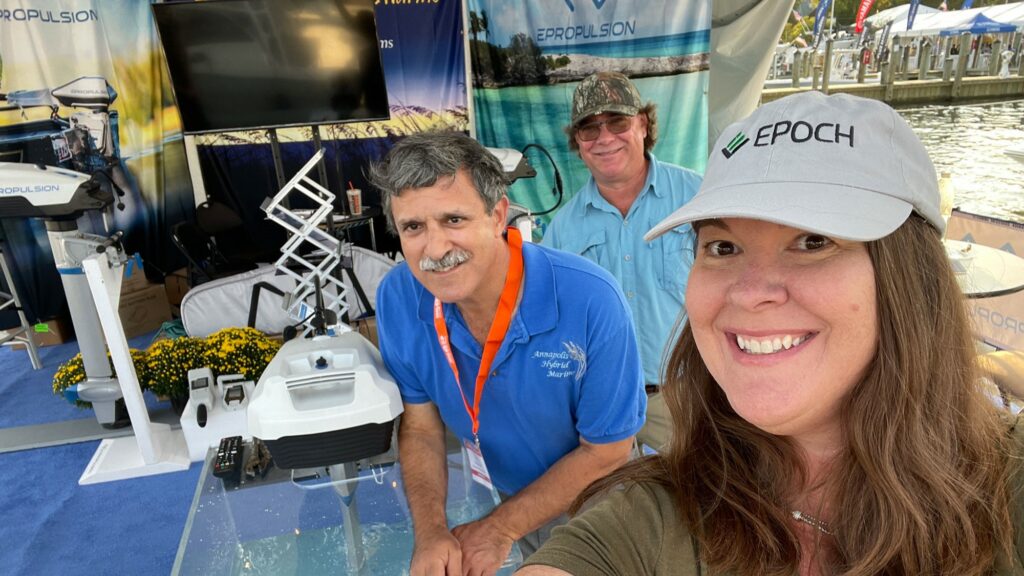 One of the biggest highlights of the show was meeting up with Flux Marine – a startup manufacturer making high performance electric outboards. Their CEO Ben Sorkin personally gave Emma & I a boat ride on their demo boat around Annapolis harbor – that Flux could fly!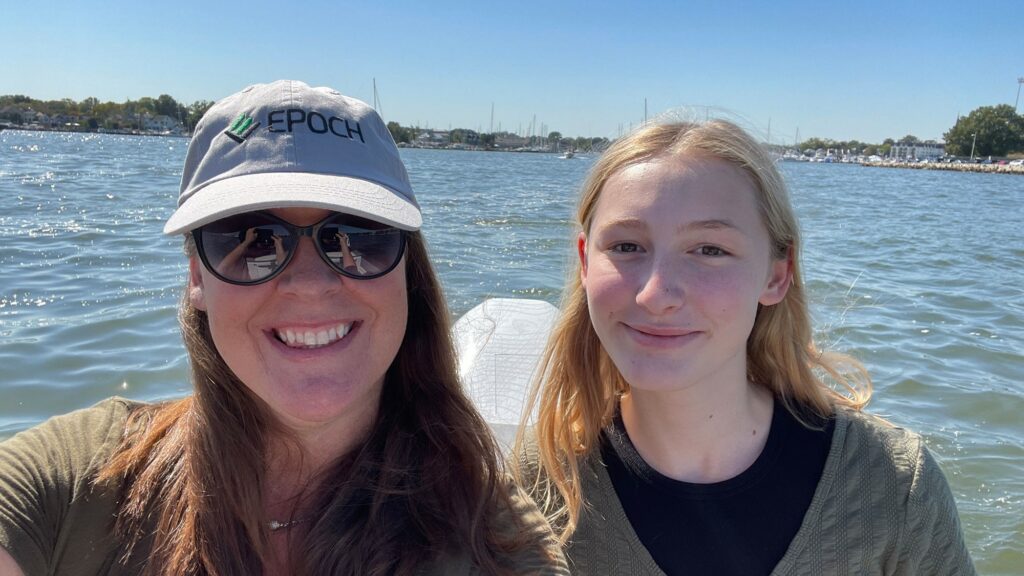 Finally, as mentioned, one of the reasons I am so excited about the electric boating space is because I recently joined forces with a former marine industry colleague to create an electric boat startup called Epoch Boats. Our focus is smaller, entry-level, affordable electric boats that are purpose-built for electric so that they are super efficient.
Hear more about everything we saw in electric boating at the 2022 Annapolis Boat Show in our recap video!
Disclosure: This site may contain links affiliated with companies where we receive compensation. Also, as an Amazon Associate we may earn from qualifying purchases we refer but it does not impact the price you pay.
Full disclosure policy
.