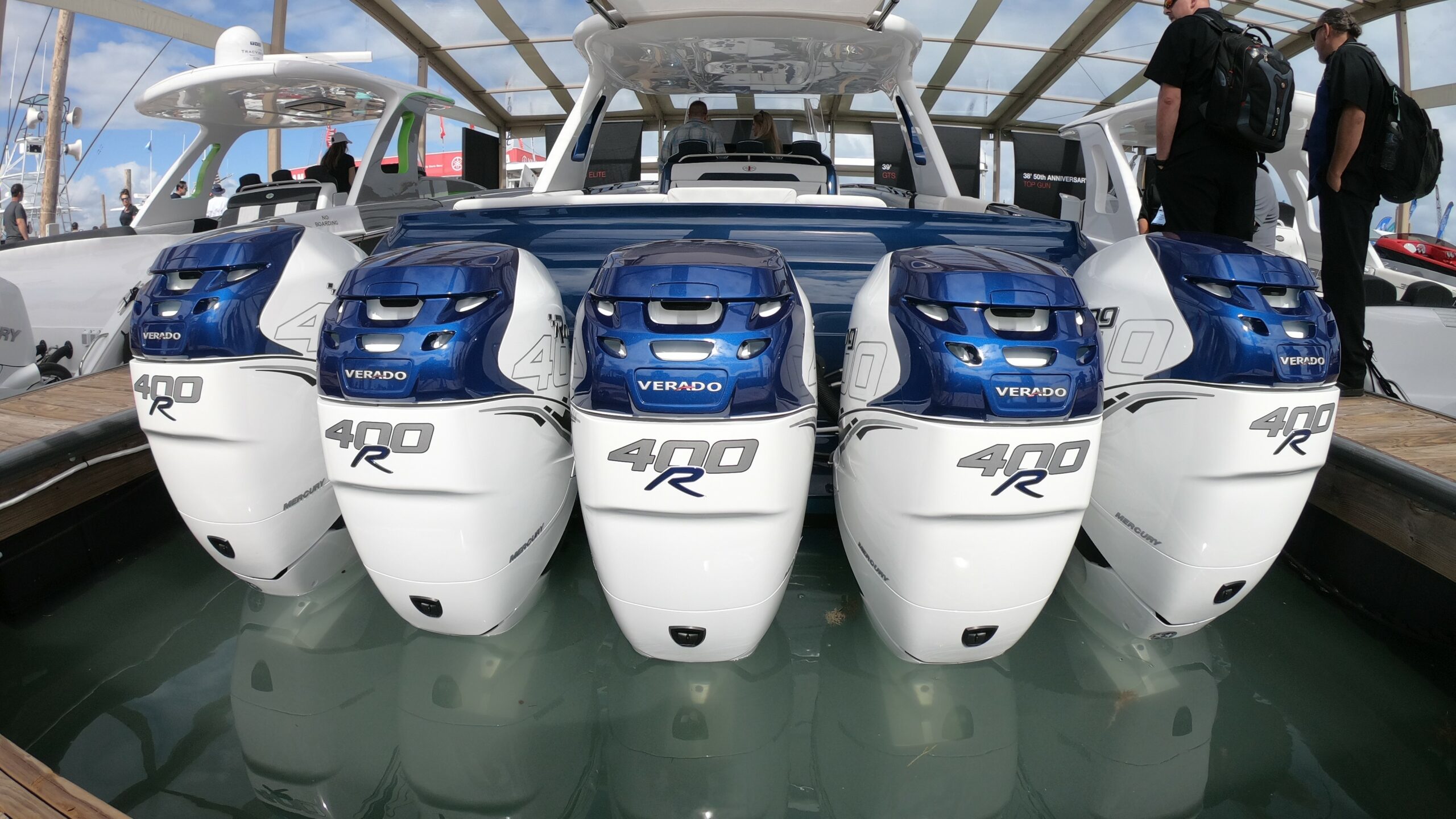 ---

---

Boat brands are opting for the trend of more power by equipping luxury center consoles with 5 or 6 outboard engines
Boats are getting bigger… and boats are also getting more powerful.
The trend for more outboard engines has grown in recent years with more boat brands equipping boats with 5 or even 6 outboard engines! Are these high performance luxury center consoles or just impractical gas guzzlers?
Let's take a look at some of the boat brands showing off the Quint & Sextet outboard engine trend – Scout Boats (530 LXF), Nor-Tech Boats (452 Superfish), Midnight Express (60 Open), Cigarette Racing Team (59 Tirranna) and, of course, HCB Yachts (65 Estrella).
Is this too much power… or not enough??
---
---
The Trend for Multiple Outboard Engines
We still see a lot of smaller boats with Single Outboard Engines. But of course for many 2 outboards are better than 1 for the performance, speed and control.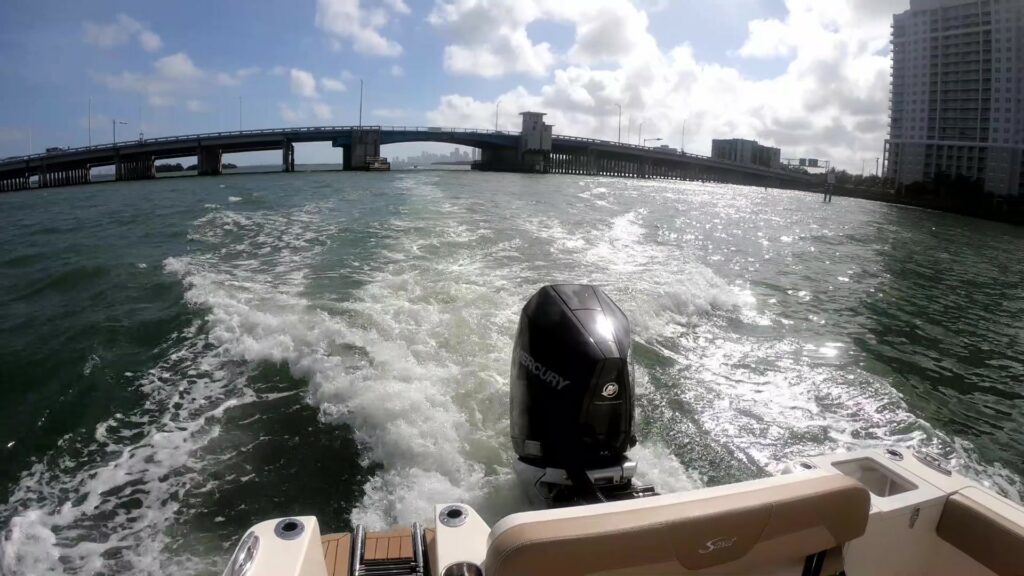 Then Triple Outboards became the norm for bigger center console boats in the 30-40 foot range… that you started seeing everywhere…
Until Quads became the next big thing… and one would think 4 Mercury 400's would be plenty of power!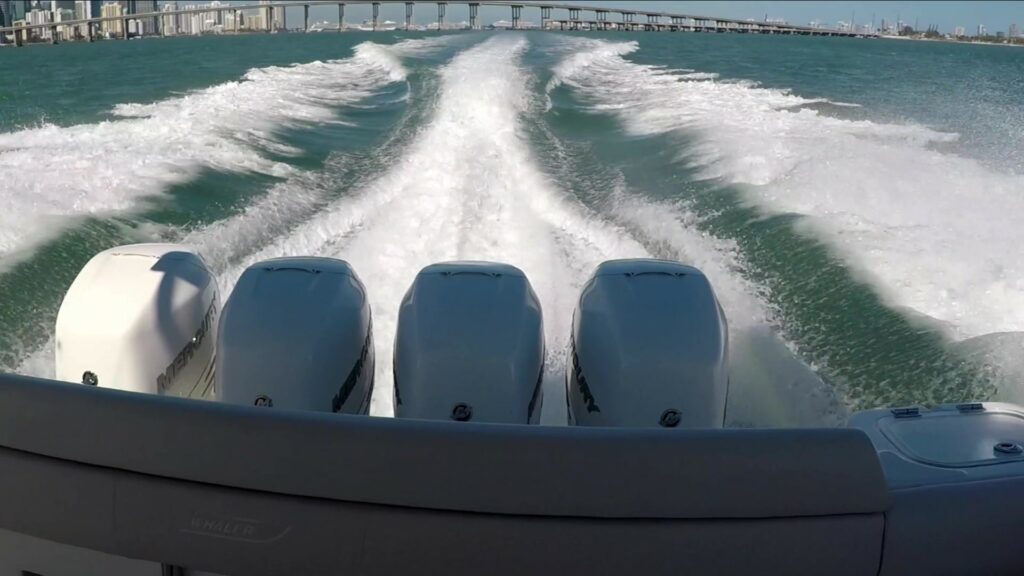 But now we're seeing bigger center consoles with 5 engines… and even with 6 Outboard Engines!
Quint and Sextet Outboard Engines
The first time I saw a boat equipped with 6 engines was at the 2019 Miami Boat Show on the Scout 530 LXF. Scout now offers the 530 LXF with both 5 or 6 engines. And showed their 530 LXF at Miami 2020 equipped with 5 engines and their new super tower option.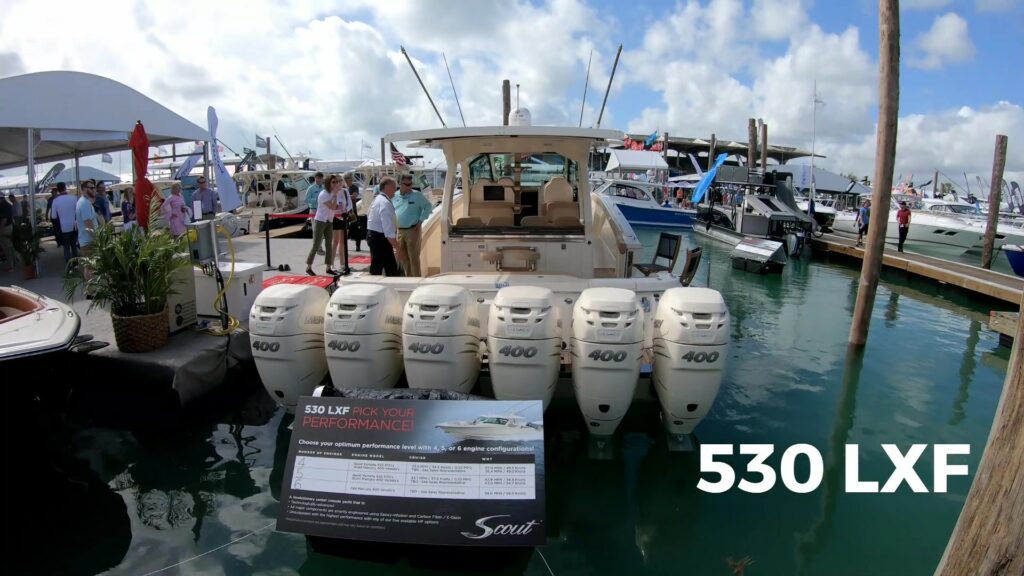 You might ask… is this a high-performance luxury center console or just an impractical gas guzzler? But if you're worried about fuel economy this is probably not the boat for you.
Cigarette Racing Team's Powerboats
A boat brand known for speed, Cigarette Racing Team's 42 GTO Reserve debuted at Miami 2019 with Quint engines.
And they debuted their 42 Huntress Elite with Quints at the same show.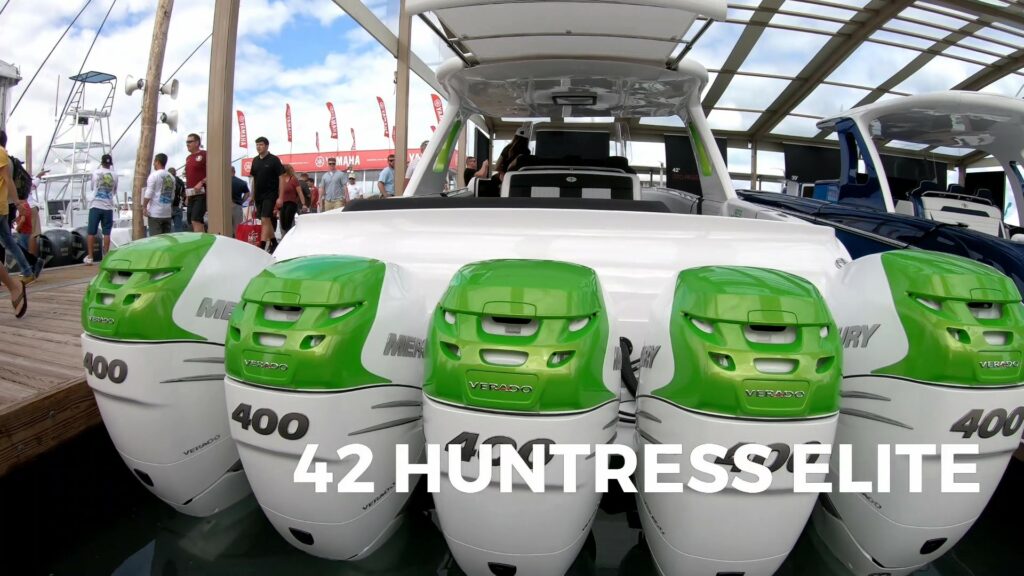 But the real show stopper at Miami 2019 was the Cigarette Racing Team's 59 Tirranna.
A boat that looks like it was built for James Bond, it comes equipped with 6 Mercury Racing 400's – it can be equipped with 5 or 6 outboards – 450's or 400's.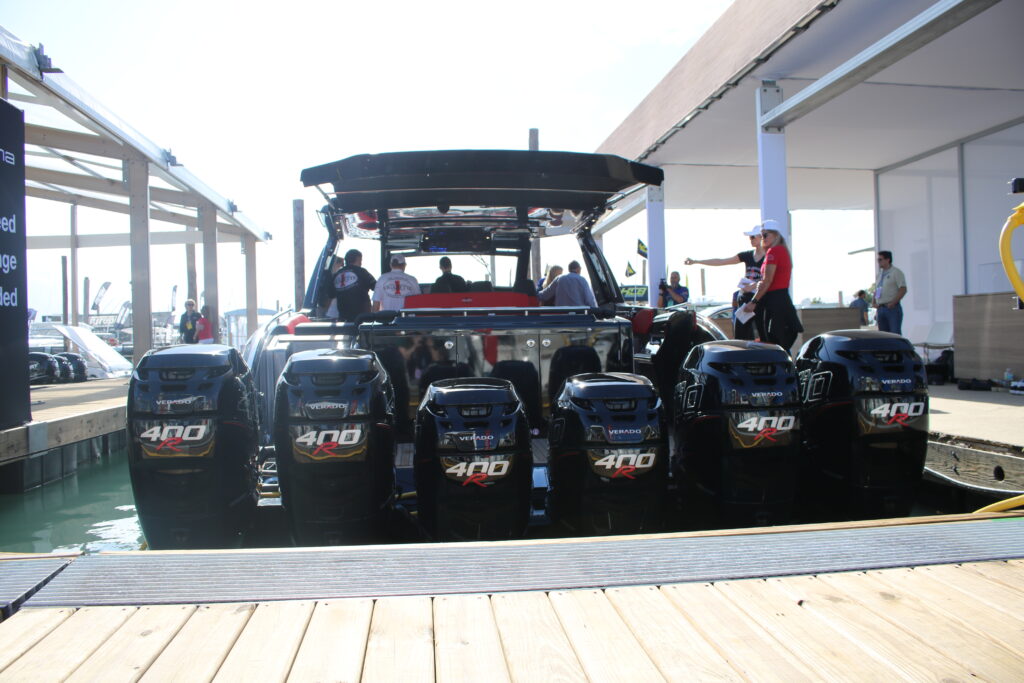 Nor-Tech Hi-Performance Boats is another brand known to offer 4, 5 or 6 outboards on their 450 Sport. We saw the 450 Sport with 4 outboards at Miami 2018, but also saw it at another show with 5 engines.
The Nor-Tech 452 Superfish is another model showing off 5 motors.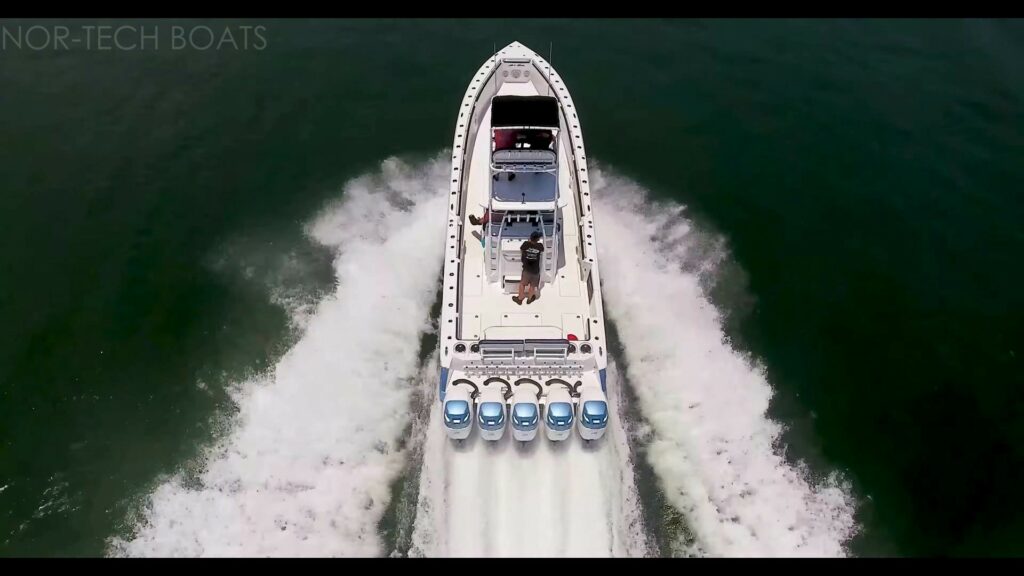 Midnight Express has been stealing the show with their 60 Open that first debuted with 4 outboards… it comes standard with 4/627-hp Seven Marine outboards or you can equip it with optional 6 400 HP outboards. And the Midnight Express 43 Open can even be equipped with 5 engines.
Biggest Center Console with 5 or 6 Outboards
Of course one of the biggest & most powerful boats – for now – is the 65 foot Estrella by HCB Yachts – one of the biggest center consoles ever built that can be equipped with 6 Mercury 450's or 5 Yamaha 425's.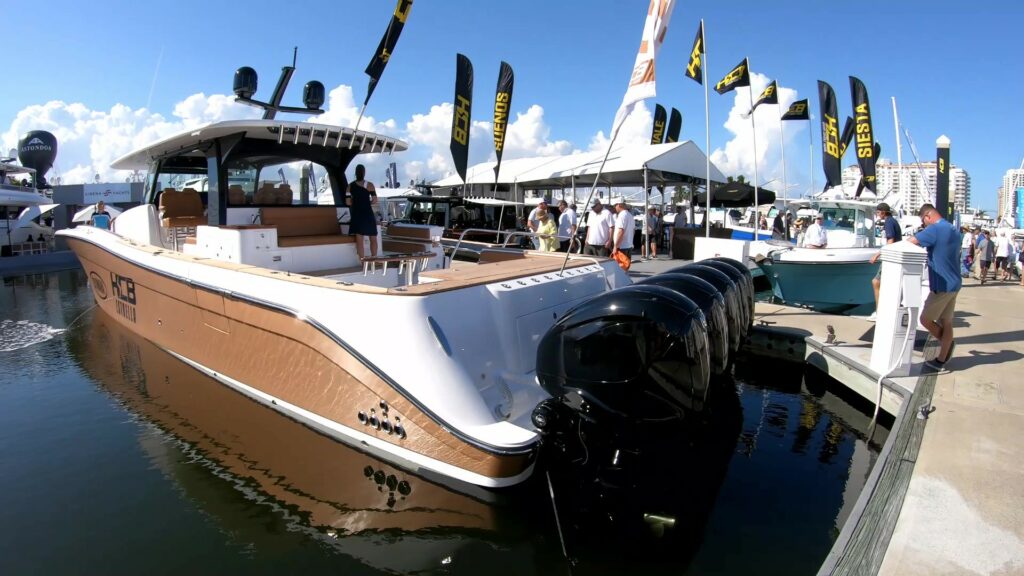 Too much power – or not enough?
See more of these big & powerful boats with 5 0r 6 outboard engines in our recap video!
Disclosure: This site may contain links affiliated with companies where we receive compensation. Also, as an Amazon Associate we may earn from qualifying purchases we refer but it does not impact the price you pay.
Full disclosure policy
.