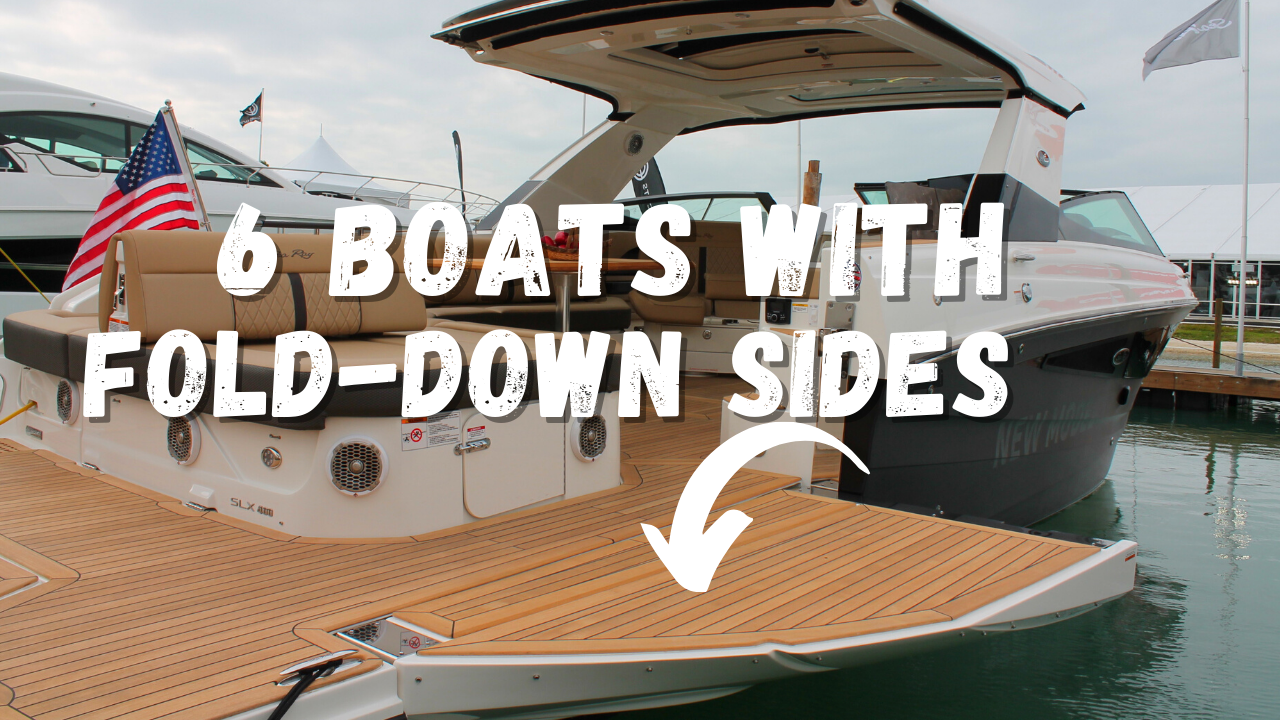 ---

---

For expanded boat decks and access to the water these popular boat models are designed with fold-down boat sides – port, starboard or BOTH!
A cool boat design trend we've been seeing over the last few years are fold down sides… a great way for more deck space and easier water access.
In nautical terms this is also known as a BULWARK –
bul·wark

/ˈbo͝olˌwərk/

an extension of a ship's sides above the level of the deck.
But the design is now becoming popular on smaller recreational boats. Is this a good boat design? It definitely comes with its advantages and some limitations.
Let's take a look at 6 boat models designed with Fold-down sides – either starboard, port or even both!
---
---
WATCH THE VIDEO
See more of each boat with fold-down sides in our video overview:
Fold-down on Starboard
#1 – Sea Ray SLX 400
The Sea Ray SLX 400 was the first boat I saw with a large fold-down side deck on the starboard side.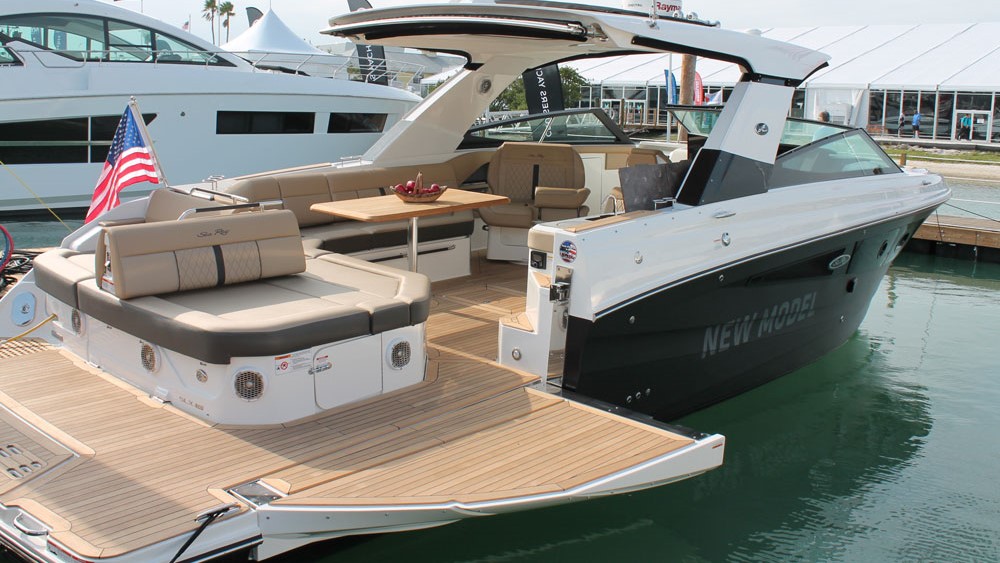 It debuted at the Miami 2017 boat show with inboards which really showed off how big the deck could become with the fold-down side as it connected to the swim platform. It was such a ground-breaking design that it won a 2017 industry innovation award for its "Single level living on a small version of a European superyacht".
To meet the growing demand for outboards they also came out with an outboard version of the SLX 400 – the fold-down side became even more necessary because it made access to the water easier with the outboard motors.
#2 Cruisers 38 GLS
Cruisers Yachts came out with a fold-down deck extension on the starboard side of their 38 GLS – debuting at fort Lauderdale 2019 boat show.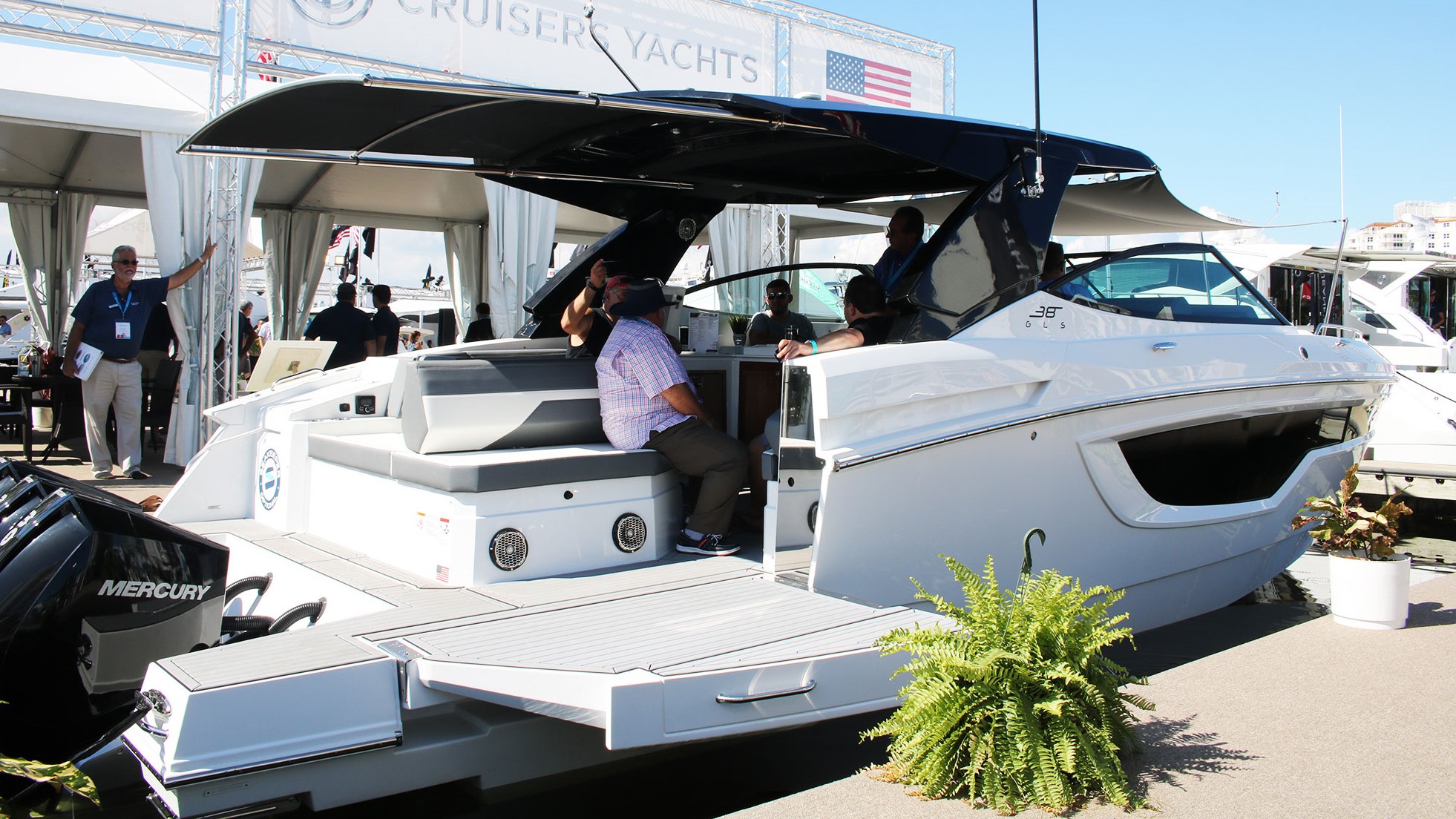 Controlled by a switch located in the stern area of the boat, the side opens or closes expanding the deck footprint.
An advantage of the one-side down design is that you can still raft up with another boat on your port side… and if you have outboards you have more deck space to access the water.
Fold-down Boat Sides – Port
#3 Azimut 47 Verve
The Italian boatbuilder Azimut Yachts came out with their 47 Verve at the 2020 Miami Boat Show with a fold-down side on the port side.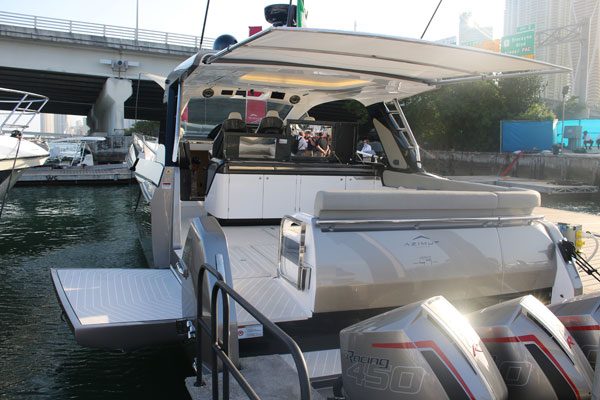 Their fold-down looks more like a door or dive door, because it doesn't connect to the swim platform.
It also has a step down, rather than a continuous one-level like other models with a fold-down side. But it has nice side access to the water and also includes an integrated ladder.
Fold-down and Fold-in Sides
#4 Intrepid 477 Evolution
Intrepid's 477 Evolution has an interesting combo of a fold-down on port side with fold-in door on starboard side.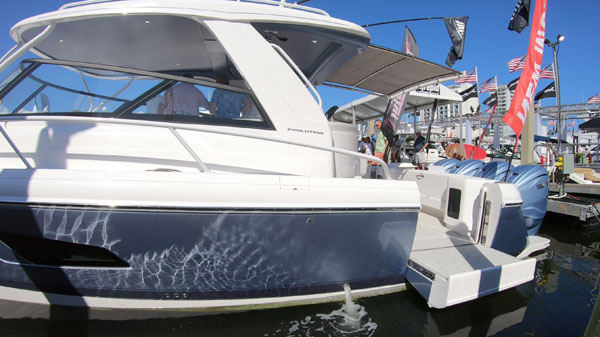 Like the Azimut it looks more like a dive door then other models because it doesn't connect to the swim platform. But the cool part about the 477 Evolution is that it offers TWO water access options – a fold-down side on port side and fold-in door on starboard – making it easier to tie up to a dock or raft-up to another boat on starboard.
The Intrepid 477 Evolution debuted the same time as Cruisers 38 GLS – at the 2019 Fort Lauderdale show.
Fold-downs on Both Sides of a Boat
#5 Ocean Alexander 45 Divergence
The luxury center console by Ocean Alexander, 45 Divergence made a stunning debut at the Miami 2019 boat show with fold-down sides on BOTH starboard & port.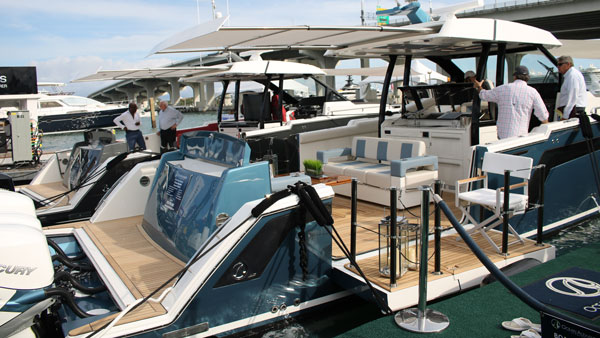 With the fold-downs, the sides become a bit of a balcony for seating. And of course if you are lucky enough to have a friend with a 45 Divergence too, you can raft up an create a large walking plank from one boat to the other.
With 2 fold-downs you can also decide to leave one side up. The fold-downs make the large cockpit of the 45 Divergence even more expansive. And the slide out ladder makes it easy to bypass the outboards and access the water from the side instead.
#6 Scout 530 LXF
The Scout 530 LXF with 2 fold-down sides also debuted at Miami 2019.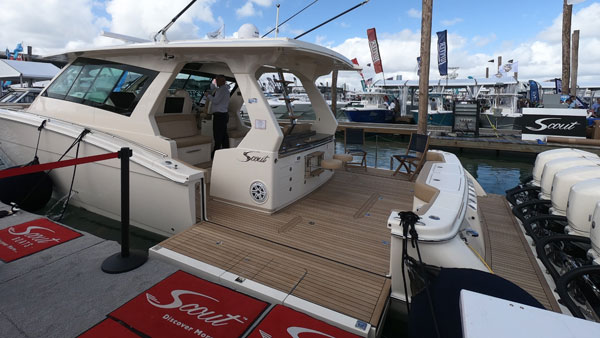 The two fold-down sides were somewhat overshadowed by the 6 outboard engines on the 530 LXF – it got a lot of attention as one of the first center consoles to come equipped with that many engines.
But with all those engines on the transom, it's a good thing it also has 2 fold-down sides to make it easier to board and access the water.
The two fold-down sides create a single level deck that is super wide-open & spacious in the cockpit.
With easier access to the water and a larger footprint for standing or sitting on the boat, we're sure to see more boats designed with fold-down sides in the future.
WATCH THE VIDEO
See more of each boat with fold-down sides in our video overview:
---
Disclosure: This site may contain links affiliated with companies where we receive compensation. Also, as an Amazon Associate we may earn from qualifying purchases we refer but it does not impact the price you pay.
Full disclosure policy
.