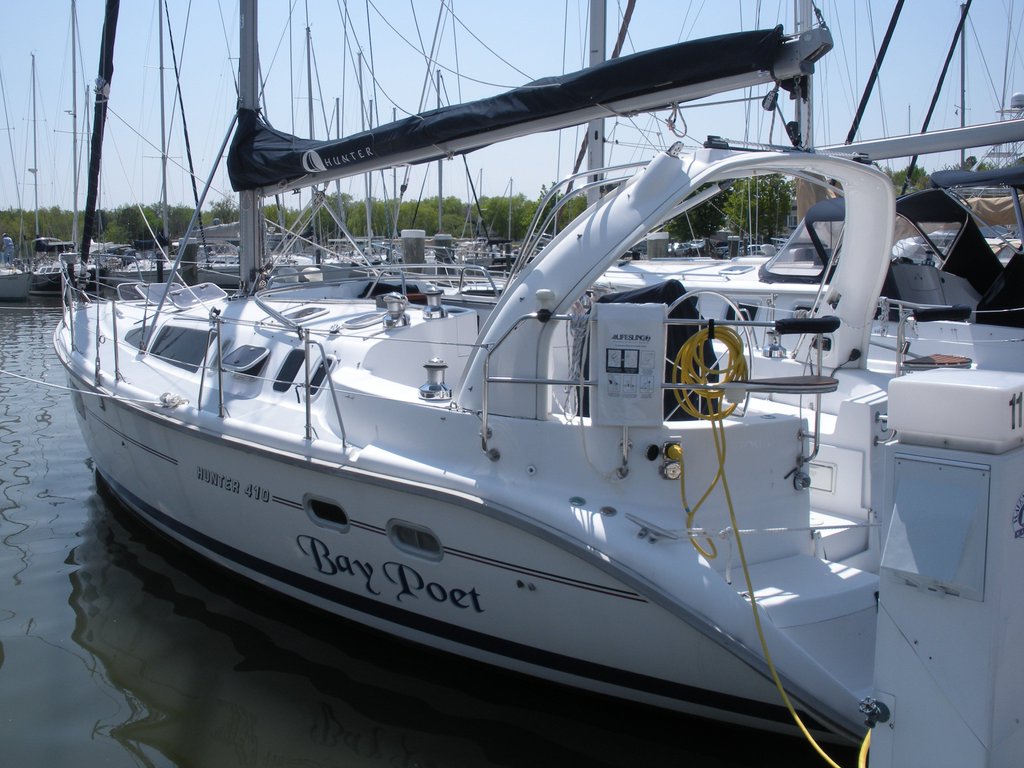 ---

---

The final steps buying a used sailboat – from making an offer to boat financing and getting boat insurance (buying a used sailboat 3 part series)
Congratulations… you have found the used sailboat you want to buy! It can be fun and exciting to research, visit, and test drive boats. Now that you have settled on THE boat, it is time to get down to business… literally.
I will caveat what follows by pointing out that I bought my boat in the state of Maryland and immediately put her into bareboat charter with a management company with an eye towards future commercial operations of my own (i.e., captained charters, instruction, and guided flotillas cruises). My comments and experiences are all shared within that context.
When buying a sailboat, there are a number of factors that you'll need to take into consideration. In this article, we've outlined some of the important decision-making steps when buying a used boat. With buying a boat, there are many parallels to buying real estate. You may readily see some of those parallels in what follows.
---
---
Deciding On The Type Of Sailboat
A quick browse on the Internet will lead you to the safe conclusion that there are different kinds of sailboats you can purchase, even if you're buying a second-hand option. The key for you to narrow these down is to decide which one is based on your intended usage and preference. You can start by considering the type of boat you want to buy.
For example, if you're going to be using the boat for pleasure, you can use a small sailboat to get out on the lake or in the ocean. If you have plans of sailing in large open waters, however, it's advisable that you consider buying a larger boat.
In addition to looking at the size of the boat you need, it's also necessary to consider the type of fuel that'll be needed. The type of fuel you use depends on a few different factors. For example, diesel is much cheaper than petrol, but it results in more maintenance and cleaning of the boat. If you plan on cruising around long distances on a regular basis, the additional cost is not likely to be worth it.
Making an offer on a used sailboat
Before making your offer, be sure to ask about the price history as well as any bid history. That is, has the price been reduced and if so, over what time frame? Similarly, have there been any prior or current purchase offers on the vessel? Assuming one or more offers were unsuccessful, what were the reasons for the rejection?
You should also get online and research similar vessels that are for sale to get a sense of the going price. Remember to factor in age, location, and prior use of the vessels in your search. Boats which have been in charter will typically be priced lower since they will have been used more heavily. A boat in Miami, Florida may cost more than one located in Delaware. Surely, there are many used boat sales that you can also attend or browse through. This way, you know that you're absolutely getting the best deal possible.
In my case, I bid below the asking price knowing that the sailboat had been for sale for 2 years with at least one price reduction and all of this happened in the depths of the 2008-2009 recession. The seller was motivated to sell the boat and therefore, my bid was accepted.
The initial bid was made to the broker verbally. At this point, I was asked to complete a formal bid sheet specifying the details of my offer to purchase including the amount of the down payment. It was explained that ten percent down was the minimum. The broker seemed to prefer the term "good faith money" over down payment. Three days after I submitted my offer sheet, the broker called to congratulate me.
I then forwarded the good faith money to secure the deal. It is worth noting that both the seller and I as the buyer, had the same broker since I specifically targeted the broker and he had boats that I liked in his inventory.
How to pay for my new [used] sailboat…?
Now the scramble was on. I made the offer 2 weeks before my wife and I were leaving on cruise ship for Bermuda.
The first thing we had to do was figure out how we were going to pay for the boat. I briefly looked at boat loans from commercial banks but the rate were rather high and we had no mortgage on our home. Consequently, we took out a home equity loan. (I will say more on this later.)
If you choose to get a boat loan, be sure to let the lender know up front how you plan to use your boat. Some lenders may not allow you to use the boat for commercial purposes. This may be because offering charters and entertaining paying clients may expose the lien holder to additional liability. You may be able to avoid that limitation by paying a higher interest rate. Your other options to prevent such limitations would be to pay cash or take an equity loan as I did. If you opt for the latter, be mindful of the tax consequences introduced by the 2017 Tax Cuts and Jobs Act.
Insuring your new acquisition
I spent several days on the phone interviewing marine surveyors. Not only will you want a professional survey conducted, your insurance provider and lender will insist on it when buying a used sailboat. Understand that while a marine surveyor will inspect and review every aspect of the boat, his or her report is not used in the offer negotiation or any other part of the sales process. I will mention an exception to this by way of example in a few paragraphs. Given that the survey most likely will not happen until some weeks after the sales contract has been signed, you will be well beyond the legal window of rescission anyway.
Consider the surveyor's report as a list of maintenance and repair tasks with implied or recommended priorities. The insurer and the lender reserve the right to insist on certain recommended repairs found in the report, if any, to protect their interests. Your insurer will also require a less intensive re-survey every five years. It is to your advantage to be present for the entire survey. You can learn a lot about your used sailboat.
My surveyor reported three negative findings. He shared this with me in his final briefing the day of the survey. One issue was that the broker's vessel description from the broker indicated two air conditioners. There was only one with outlets only in the salon. The second issue was that the aft head was not drawing any sea water. The last issue was that the house batteries were rather weak and not holding a charge well. The broker was embarrassed by the error in the vessel description. He had taken the seller (the owner's widow) at her word. In order to "make things right", he asked what they could do to compensate for the issue. I asked for all new batteries and a repair/rebuild of both heads. He readily agreed to my request.
Speaking of insurance, you will need to get a marine insurance policy for your boat. It is not unlike a home or auto insurance policy; however, it will address and/or potentially exclude certain risks unique to boating. One thing to expect is that if you plan to keep your boat in a marina, the marina will probably require you to add it as a named insured on your policy. That is, if someone is injured on your boat and files a liability claim against the marina for some reason (the rule of deep pockets), your insurer will represent the marina in any such civil action. Likewise, if you put your boat into charter, the management company will also want to be a named insured. Note that some more sophisticated charter clients may ask to be added as named insureds as well. It is up to your insurance provider as to whether they will accept that request or charge a fee for it.
While you are arranging for loss and casualty insurance, do consider a towing policy. The cost of a BoatUS or SeaTow towing policy is miniscule compared to the raw cost of ONE tow. The first year I owned my boat, the raw water impeller failed not 3 miles from my marina. The towing invoice was nearly $2000 but that was all covered by the $150 BoatUS towing premium. It is well worth the coverage.
Documents and registration
The yacht broker will likely ask you how you want the boat to be registered. If the boat is already documented by the US Coast Guard, I recommend renewing the documentation. You will be able to change the name and hailing port as part of the ownership transfer but the document number will stay the same.
If the boat is not already documented, you may wish to do so as there are some important benefits especially if you plan to cruise internationally. You will also need to register the boat in the state of its principle use. If the vessel is not documented, you will have to put state registration numbers on the hull at the bow. If she is documented, you may only need to have a sticker visible that indicates your local registration is current.
The broker may well recommend a yacht documentation service. You can also use one of your choosing or try to do all the documentation yourself. For the nominal expense, I recommend having a professional do it for you.
Be aware that if you plan to carry passengers or cargo for hire, your vessel must be documented and endorsed for coastwise trade. More details of this are available on the USCG website.
Tax issues
Besides local sales tax, which is generally required for your local registration, there are other tax consequences. Prior to the 2017 Tax Cuts and Jobs Act, you could use a home equity loan to pay for your boat and deduct the interest on the loan. However, the aforementioned law forbids deducting interest on home equity loans if the loan is NOT used for repair or improvement of the home.
If you take a boat loan, you may be able to treat the vessel as a "second home" and deduct the loan interest assuming your itemizations exceed your personal exemptions. For a boat to be considered as a second home, it must have sanitation (heads) and cooking facilities on board. A 40-foot sloop would qualify. A 12-foot daysailer would not.
In all cases, consult with an accountant to understand your personal tax situation and to organize your tax liabilities to your best advantage.
Summary
In this series I have discussed deciding if buying a boat is right for you. I also offered advice on how to check out a boat in which you are interested. Lastly, I have talked about the sale and ownership transfer process. If after the sale, you need vessel relocation services, review my earlier article on hiring a licensed captain.
I hope you have found all of this helpful. As you can see, there are a few main factors to keep in mind when buying a boat. It's important to start by knowing what your intentions before purchasing one as the type of boat that you purchase will depend on your personal goals and circumstances. Now go find your boat and I will see you on the water!
More Resources
Here are some more good resources to help you with your decision making process for buying a used sailboat:
Your First Sailboat by Daniel Spurr
"Here's a book for first-time sailboat buyers that offers practical information they can really use to ease the transition to boat ownership. The buying guide to 84 of the more popular used sailboats will be particularly helpful when making the rounds at the boatyard." — Cruising World
---
How to Buy a Sailboat by Richard Martinez
Sailboat Buying Guide – Things To Consider When Buying A Sailboat Without Sinking Your Finances! Here in this exciting narrative, we outline for you exactly what you need in order to be a successful buyer and sailor of a sailboat. 
---
Inspecting the Aging Sailboat by Don Casey
Step by step, the author of the bestselling This Old Boat shows you how to evaluate the condition of an older fiberglass sailboat – the one you own or the one you'd like to purchase.
---
Disclosure: This site may contain links affiliated with companies where we receive compensation. Also, as an Amazon Associate we may earn from qualifying purchases we refer but it does not impact the price you pay.
Full disclosure policy
.