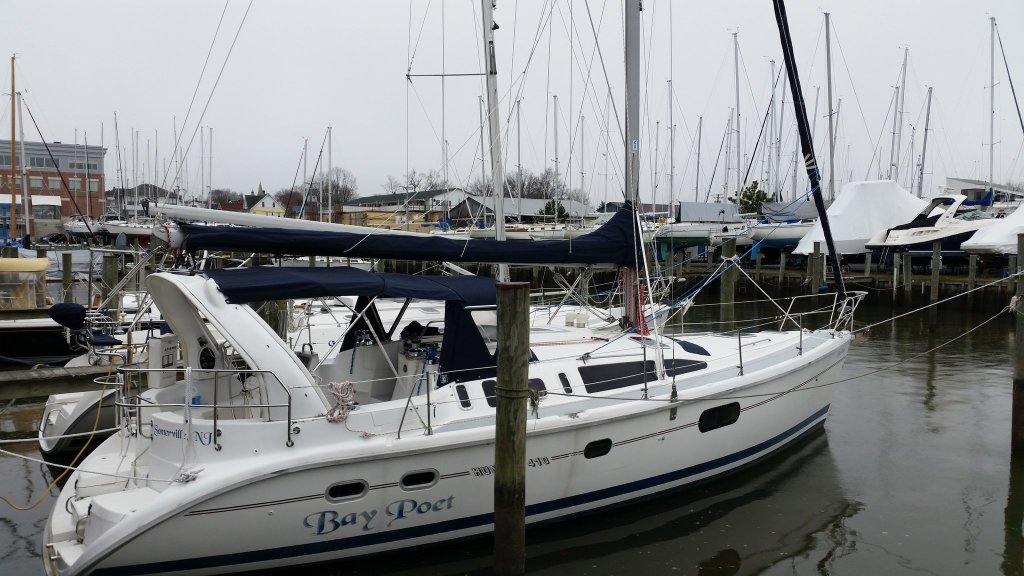 ---

---

From purchase price to recurring boat expenses, here's everything you need to consider when making the decision to buy a used sailboat
The spring boat show season is upon us with a variety of sailboats on the market for boaters. While there will be new boat models on display, spring is also the time when used sailboats are available to review and buy. With the sailing season a mere few weeks away, a buyer can be on the water in his or her newly purchased pre-owned boat much sooner than if they had ordered a new boat.
Why do you want a sailboat? Do you have fond memories of family boating trips in your youth? Do you currently enjoy opportunities with others on their boats? Are you eager to use your skills on your own dream boat? Or do you just think that boats you see while you are standing ashore look cool?
If the latter, then I encourage you to reconsider until such time that you have acquired significantly more experience. Take sailing and navigation classes. Cruise with friends. Charter on your own. Take a really good look at yourself and decide if boat ownership is the right thing for you right now. Your family and other boaters will all appreciate your honest self-assessment.
Once you have made a rational decision to purchase a used sailboat, it is time to begin putting a realistic scope on your dream. For most people, the most important factors are time and money, not necessarily in that order.
---
---
Setting your target price
There are two costs to consider if you want to buy a used sailboat – initial cost and recurring cost.
The initial cost is how much are you willing or able to spend on buying a boat. Of course the price of the boat is determined by several factors: size, features, age, and condition. Obviously older, smaller used sailboats with basic features and in poorer condition will sell for less. If you are interested in a handyman special and don't mind the work, that could be your entry point to boat ownership. Meanwhile, bigger, newer sailboats with more amenities in better condition will command a higher price and possibly get you on the water sooner or more often if they do not need a lot of repairs or heretofore neglected maintenance.
Given that, you have to decide how much your passion is worth. In other words, how much boat can you afford to buy?
Having always dreamed of owning a boat since my days as a teenaged captain of a small harbor tug for the National Park Service, I began researching in earnest in 2009. I wanted a sloop with an ample and comfortable cockpit and salon. I figured sleeping accommodations for up to 6 people was reasonable. It was important to have at least an adequate galley for food prep and service given that I had planned to make my boat available for bareboat and captained charters. (See my prior articles on captained charters, general meal planning, and vegan meal planning.)
I wanted a minimum size of 36 feet but not more than about 45-46 feet in order to keep marina costs reasonable. With the budget to which my wife and I agreed, we were initially looking at 38-foot sloops at a brokerage in Havre de Grace, MD. That was based on our budget and the list prices on the broker's website.
A cautionary but hopeful tale – When we left the first boat, we were so disappointed in the cabin space and even more so in the condition of the boat (there were Dixie cups placed strategically to catch drips from leaks!), that my wife did not even want to go aboard the second boat. As I stepped off that boat, I was downcast as it proved at least as undesirable. Was my dream to be suddenly too expensive for us?
In a moment of curiosity and objectivity, my wife pointed to a 1998 Hunter 410 at the end of the catwalk. I pointed out to her that on paper that boat was about $20,000 over our target price. She said it could not hurt to look and doing so would let us know what we CAN'T afford.
The boat was absolutely beautiful below! The woodwork gleamed. There were coordinated throw pillows and custom fitted linens on the beds. The settees were done in leather. There was also a note in the electric freezer that read "Keeps Ice Cream". The cockpit was party size and spacious. There was a large wheel and cockpit table. When asked for how much the boat might sell, the broker off-handedly tossed out a number that was delightfully below our budget. She became MY boat a month later.
The lesson here is to always ask questions. The only bad questions are the ones you do not ask! (Note: Brokers work for the sellers. Any information shared by or discussion of pricing by a broker is to the benefit of the seller and not the buyer. It is well to remember this in any negotiations of price with a broker.)
Recurring boat expenses
Okay… you think you have found a boat that satisfies your minimum requirements and meets your price target. Now you have to consider the other type of cost of boat ownership: the recurring costs.
You will need to carry insurance. Even if for some inexplicable reason, you chose to not carry physical loss protection, your chosen marina will insist on liability coverage with them being listed as a named insured. In other words, if someone is hurt on your boat, the marina wants you to cover them when the lawyers file suit under the concept of deepest pockets. As an example, my premium is about $2000 per year but I also have coverage for bareboat and captained charters.
Speaking of marinas, unless you have a private dock at your palatial mansion along the shore, you will need a place to keep your boat. If you are on the Chesapeake Bay, for example, you can expect to pay anywhere from several hundred to several thousand dollars depending on location. That typically does not include the cost of winter haul-outs and storage, professional services, or maintenance work.
As for maintenance, will you do most of your own work or contract out to your marina or others? I like doing as much work on my boat as I feel capable. I have serviced winches, installed shower sumps and bilge pumps, done engine oil changes, and rewired the deck wash-down pump among other things.
For one thing, I enjoy doing my own maintenance. Perhaps more importantly, it helps me to know my boat all the better. It is also a cost-saving effort. Marina labor is on the order of $100 per hour plus parts. How much effort are you willing to do on your own boat? To say it another way, how much are you willing to pay someone to do the work? An oil change done by my marina costs about $300. If I do it myself, the only cost is the oil and filter which are about $60. Note that sometimes, you need to pay for professional services. I prefer to have the marina winterize my engine or to service my injectors. Then there are other professionals like sailmakers and riggers.
How much will you use your sailboat? Will you use the engine frequently or will you sail right up to your anchorage for the night? Fortunately, sailboats don't use much fuel. I can get away with spending about $25-30 for fuel on a windless 3-day cruise plus $10 to pump out the holding tanks. There are also additional costs incurred if you choose to stay overnight in a marina that is not your home marina. Furthermore and to a lesser extent, there is the cost of travelling to your boat from your home. Most of us live within a minimal drive of our vessels but there are boats in my marina with hailing ports from Florida to Colorado.
Lastly, there is the issue of documentation for your boat. Will you register the vessel in the state of use only or will you get a US Coast Guard Certificate of Documentation? Both have recurring renewal fees. State registration fees vary by state.
Summary & Resources
In this article, I have outlined the decision making process that might go into buying a used sailboat. I have identified several major areas of required and optional expenses. Throughout this series I use the experience of buying my own boat as reference material. In the next installment, Inspecting the Boat, I will discuss how one should go about deciding if a given boat is the right one. This includes primarily how to inspect a used sailboat to determine if it is one that you really want and if its condition justifies its price.
Here are some good resources to help you with your decision making process for buying a used sailboat:
Your First Sailboat by Daniel Spurr
"Here's a book for first-time sailboat buyers that offers practical information they can really use to ease the transition to boat ownership. The buying guide to 84 of the more popular used sailboats will be particularly helpful when making the rounds at the boatyard." — Cruising World
---
How to Buy a Sailboat by Richard Martinez
Sailboat Buying Guide – Things To Consider When Buying A Sailboat Without Sinking Your Finances! Here in this exciting narrative, we outline for you exactly what you need in order to be a successful buyer and sailor of a sailboat. 
---
Inspecting the Aging Sailboat by Don Casey
Step by step, the author of the bestselling This Old Boat shows you how to evaluate the condition of an older fiberglass sailboat – the one you own or the one you'd like to purchase.
---
Disclosure: This site may contain links affiliated with companies where we receive compensation. Also, as an Amazon Associate we may earn from qualifying purchases we refer but it does not impact the price you pay.
Full disclosure policy
.