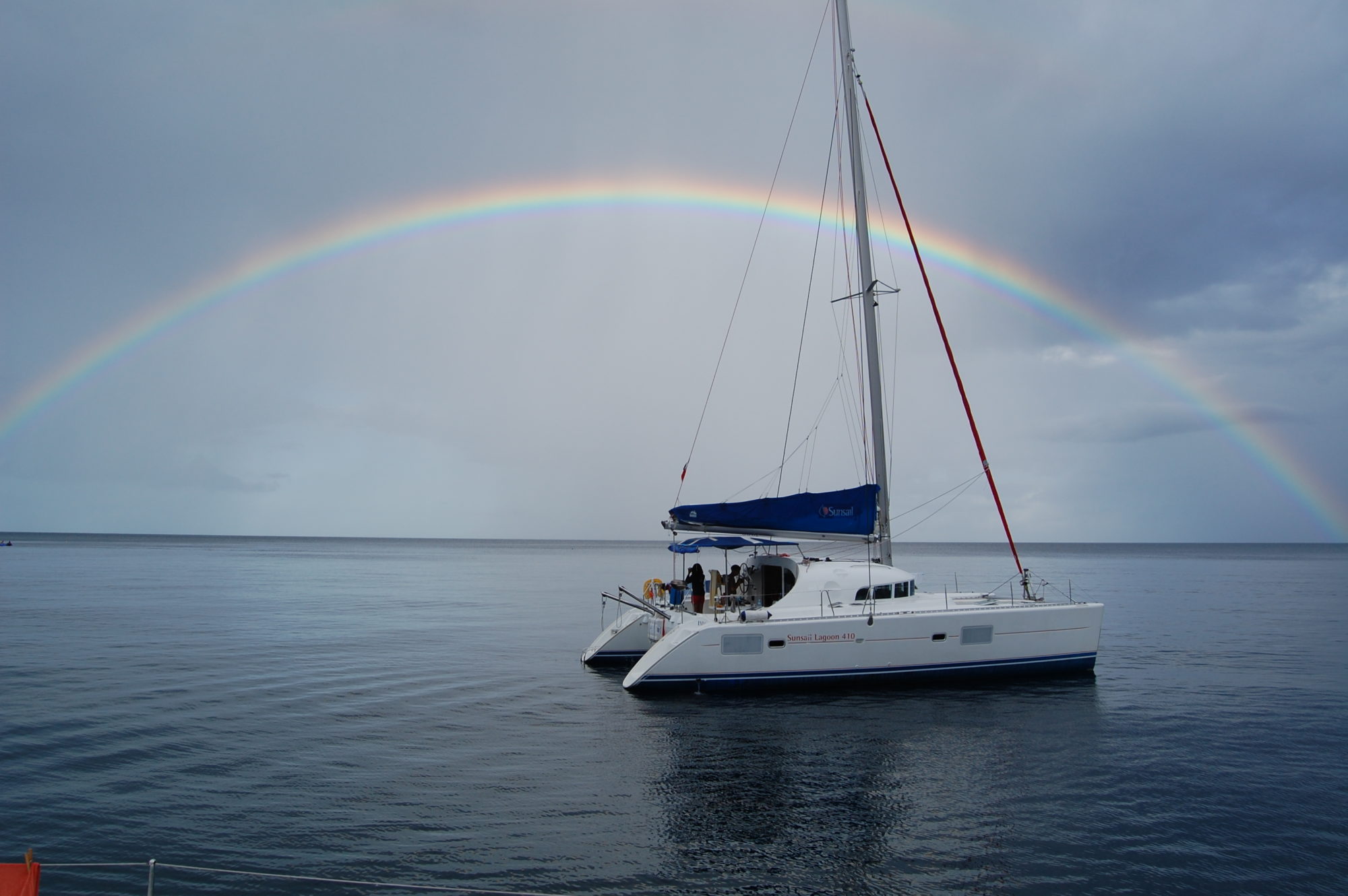 ---

---

Steps to consider when boat shopping, inspecting a used boat, inquiring with a broker and reaching a decision to purchase a used sailboat
In my last article, I discussed the thought process one might use to decide if now is the time to buy a used sailboat. If you have made the decision to buy, then your next step will be boat shopping and inspecting potential sailboats to purchase.
By way of full disclosure, this series of articles is primarily written for the first time buyer. It is in that context that I now write about inspecting a boat you have identified as a potential acquisition.
Whether you have one or more boats under consideration, the basic questions that you confront you are:
Is this a boat on which I can see myself?
Is the price of this boat consistent with its condition?
Lastly, is this THE boat for me?
---
---
Your Team
Before you visit a boat, you should identify your "team". That is the group of people with a vested interest in any boat you might purchase. That might be your spouse, financial partners, other family, or any friends who might routinely sail with you and/or help you maintain the vessel.
Not all of these people should necessarily accompany you on your first visit. At a minimum, your significant other and financial partners should be present for the first look. Your team should be able to help you answer the first two questions above…perhaps more objectively than yourself. The overall issue on your first visit is whether this is a vessel worthy of consideration.
Preparing to Visit
When you visit boats for the first time, be mindful of your time. Be sure to have enough time for a thorough inspection, particularly if you are investigating more than one boat on a given day. Ideally you will pare down your list or, better yet, conclude to proceed with one boat.
While perhaps not the most comfortable of conditions, arranging to inspect boats on a rainy day can be advantageous is the rain reveals leaks not otherwise detectable. If you have researched boats online, print out and have the data sheets and photos with you to compare the information and photos with the reality you find aboard.
If you have more than one boat under consideration, you should compare them. Keep a mental or even a physical score sheet to rate the boats in real time. The suggestions below apply whether you are seeing one or more boats.
In general, you should be reviewing everything on the boat with these thoughts in mind:
Does this work?
Has it been (well) maintained?
What are the chances this will need some kind of major work in the near future?
You might say that his kind of review is what your marine surveyor would do but by the time he or she conducts a purchase survey, the window to change your mind on the purchase contract will have closed. There will be more on this in the next article on the administrative process of buying a boat. However, you may want to interview surveyors before you go shopping. If you do, you might get ideas on other things to check from those conversations.
What to Look for Walking Up to the Boat
Your visit begins as you approach the boat…or boats…from a distance. Look at the mast and rigging. Is the mast rake proper? Is there any indication of loose rigging? As you get closer, take a look at the hull, especially from abeam. Is she on her lines or is there evidence of hogging (sagging at the bow and/or stern). Does the hull-deck joint look uniform or irregular? Is the fiberglass shiny and gleaming or dull and chalky?
The latter answers could imply a vessel that has been poorly maintained or badly serviced. In either case, do not ignore the warning signs.
Inspecting the Boat On Deck
As you step aboard, what do you see? Visible corrosion on metal deck fittings suggest water leaks or compromised fittings and fasteners. While it may be normal to see very thing spider cracks in fiberglass, gaping voids or cracks packed with dirt and salt crystals warn of potential integrity problems.
Does the canvas look well maintained? Is it clean? Are the seams tightly stitched? Does water bead up on it? Are there broken threads and tears? What of the dock lines? Are soft and supple or hard and inflexible? Are the bitter ends neatly finished or unraveling? Are they of an appropriate diameter, length, and material? (Nylon or similar material stretches and absorbs shock loads making it good for dock lines. Polyester has less stretch and is better suited for running rigging.)
If the lines show evidence of wear or melting in the core, they may be old, have been overloaded, or are just old. In any case, they will need to be replaced. Signs of wear or melting could also indicate that they are undersized for their use.
Check the ground tackle. A cluttered, jumbled anchor locker speaks to the current owner's methods and seamanship which suggest other issues are lurking. Is that anchor of an appropriate size and type for your target cruising area? Check whether the shackles are moused and if the bitter end is securely attached to the boat. What is the overall condition of the anchor rode? Is there enough chain of the right gauge?
Storage on a boat is a big issue. Be sure to inspect all of the lazarettes. They should only hold necessary gear and supplies. They should be clean and dry. Rusty gear and leaking containers are a warning sign to the buyer.
Spin the steering wheel. It should not be loose, overly stiff, or clunky. Find out it is a direct drive or a cable on quadrant configuration.
Below Deck Inspections
Now it is time to head below. As you enter, assess the companionway for ease of access and security of footing. Are there any issues if the cockpit is swamped by a wave from astern?
Now look at the space(s) before you. Does the area appear to have been well maintained? If the woodwork is in good shape, if the cushions look good, things are stored neatly, and the area is clean, there is a good chance that she is a vessel that received good care. Make similar assessments in all of the spaces below including the heads and galley. Also take note of the fit and ease of movement of the doors, drawers, and sole plates.
Inspect the Boat Systems
The most complex and expensive things on a boat are her systems. This includes propulsion, electrical systems, potable, gray, and black water plumbing, and the standing rigging. Presumably you checked the standing rigging while you were on deck. If not, do so before you leave.
Inspect the engine and transmission visually. Look at the condition of the paint. See if there are is any unusual wear or hot spot evident. Does is appear any major work might have been done (paint on nuts and bolts disturbed or mismatched color paint)? Squeeze the hoses to see if they are past their prime. Are the hose clamps in good shape and doubled up on critical connection like the thru-hull fittings? Check the belt tension and condition. The surfaces that contact the pulleys should not be hard and glazed. Check the condition of the engine mounts. Look for any oil or coolant leaks in the engine pan.
Are the bilges clean? They should be clear of debris and without oily water. The limber holes should all be clear as well. Check if the bilge pump works. There should be a switch to allow you to bypass the float switch. If the float switch is accessible, lift it to see if the bilge pump runs and cuts off as a function of the position of the float.
Is there heat or air conditioning on the boat? Is it operable? What is the overall condition of the unit? Is the intake air filter clean? Is the intake water filter clean?
Making the Decision
So…after your review and inspection, let's assume the vessel is still of interest to you. Now is the time to engage with the yacht broker. However, it is well to remember that the broker works for the seller and not the buyer. First of all, conducting such a detailed inspection should signal your level of interest.
It is now time to ask some pertinent questions of the broker:
Why is the boat on the market?
How did the current owner use the boat?
Was the boat in charter? (If yes, implies more wear and tear than normal recreational use.)
How long has she been on the market?
What has been the history of the list price and any bids made to date?
Are any maintenance and repair records available?
Is there anything else I should know?
Beware of dodgy answers or avoidance. Simple, straight answers are best but again, keep in mind that the broker works for the seller.
If after you receive acceptable answers to all of your questions, it is time to take a step back to consider your decision. If you still want to proceed, I personally recommend gathering the friends and family who will sail with you and help you maintain your boat. Keep it to 2 or 3 people at most.
Make another visit to the boat to go over it with your team. However, this time and if you have not already done so, go with flashlight, tape measures, inspection mirrors, and a notebook. Got through EVERY space, EVERY compartment, EVERY locker and EVERY accessible void on the boat. Inventory all of the equipment you find. Look for any evidence of leaks, spills, issues of structural integrity, and outright damage. If they do not dissuade you, they should at least factor into your purchase offer. If your bid falls significantly below the asking price, you may be able to use your findings as justification.
Drop the Other Shoe…
If the owner accepts your offer or if you accept the owner's counteroffer, it will be time to get your hustle on! Remember that you generally have 3 days to change your mind once you sign a purchase contract.
Summary
In this article, I have suggested how one might make an inspection of a sailboat that being considered for purchase. I have suggested people to involve in that process. Throughout this series I use the experience of buying my own boat as reference material. In the next and final installment, I will discuss the practical and administrative aspects of completing a vessel purchase. This will include price negotiations, loan considerations, documentation, and ways of offsetting expenses.
Here are some good resources to help you with your decision making process for buying a used sailboat:
Your First Sailboat by Daniel Spurr
"Here's a book for first-time sailboat buyers that offers practical information they can really use to ease the transition to boat ownership. The buying guide to 84 of the more popular used sailboats will be particularly helpful when making the rounds at the boatyard." — Cruising World
---
How to Buy a Sailboat by Richard Martinez
Sailboat Buying Guide – Things To Consider When Buying A Sailboat Without Sinking Your Finances! Here in this exciting narrative, we outline for you exactly what you need in order to be a successful buyer and sailor of a sailboat. 
---
Inspecting the Aging Sailboat by Don Casey
Step by step, the author of the bestselling This Old Boat shows you how to evaluate the condition of an older fiberglass sailboat – the one you own or the one you'd like to purchase.
---
Disclosure: This site may contain links affiliated with companies where we receive compensation. Also, as an Amazon Associate we may earn from qualifying purchases we refer but it does not impact the price you pay.
Full disclosure policy
.