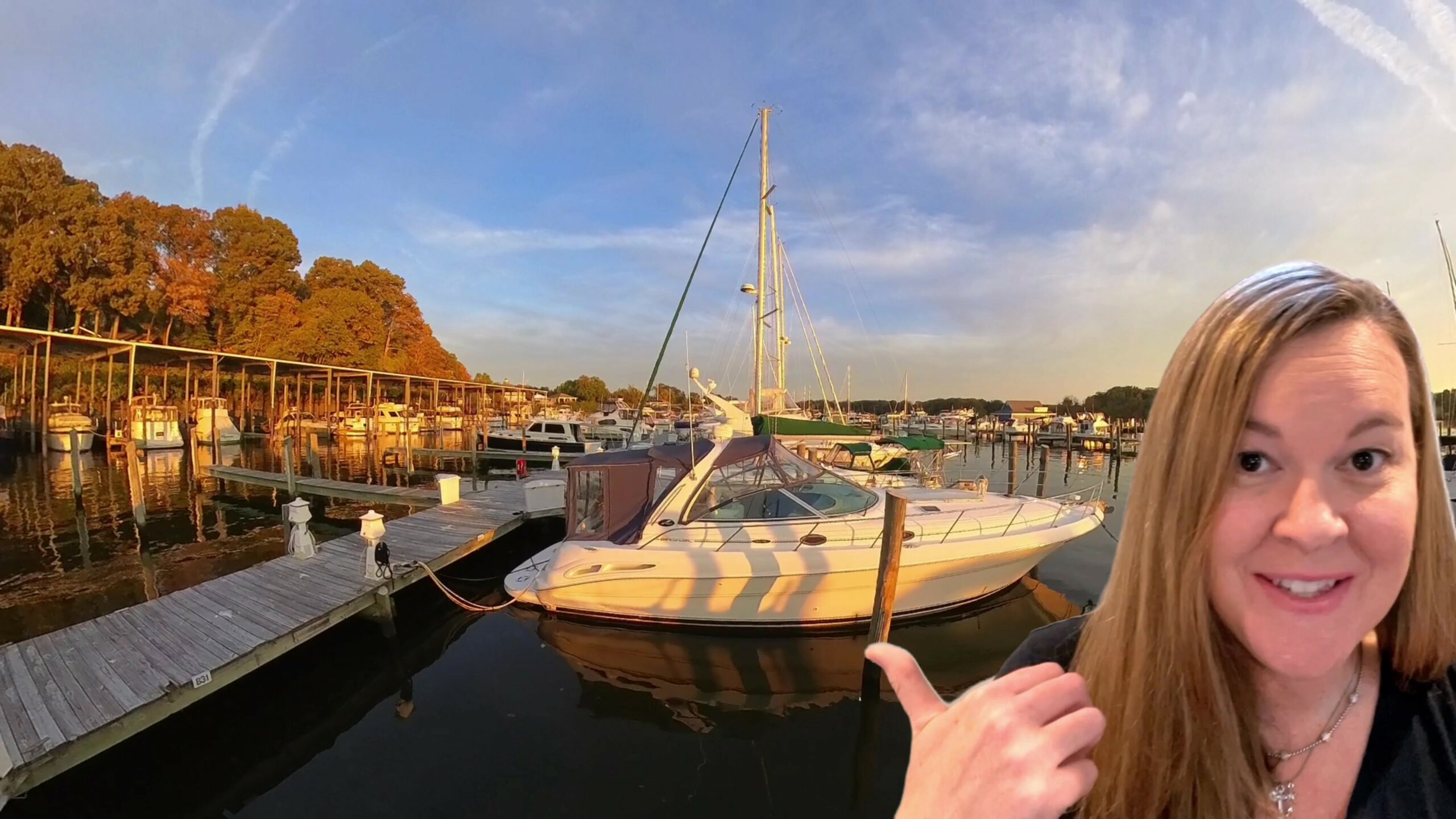 ---

---

What's our spring boat checklist? The main steps we follow to get our boat ready to launch in the spring
It's been a long winter and it's finally time to start getting the boat ready for spring launch and start our BOATING SEASON!
We boat in Maryland so our season usually runs from May to October, and we start getting our boat ready by April 1. That gives us about a month to get it ready – so we need to plan out everything that needs to be done before it launches.
Of course, I say WE… but the truth is that Captain Brian does all the work. Which you may already know if you've watched him in any of our boat maintenance videos – he's been doing all our boat maintenance for over 20 years… including getting the boat ready for spring launch.
Our boat is a 2002 Sea Ray 410 Sundancer. We have inboards and it's a 41 foot boat so we keep it wrapped up in the boat yard. When its ready to launch, the marina drops it in and we keep it in a slip at their docks all season. Your boat may be a bit different – you may have outboards or a smaller boat on a trailer – but this should hopefully serve as a good checklist.
So, with Captain Brian's help, here's a quick rundown of the 10 main steps we take to get our boat ready to launch in the spring, along with a few other things we take care of AFTER the boat splashes to get it ready for boating season.
WATCH VIDEO:
Jump right into the video so we can walk you through the steps (and you can see what we do) or read below for a rundown of the steps.
---
---
Step 1 – Sand & Paint Bottom
Before we even unwrap the boat, the first thing we do is sand & paint the bottom.
But FIRST… we need to FIND our boat in the yard!! Sounds crazy, but we never know where the marina put our boat when they hauled it out in the fall, and its sometimes hard to recognize it wrapped up!
After we find our boat, he first thing we do is sand & paint the bottom. It's a messy job a messy job, so there's no sense taking off the shrink wrap until this sanding & painting is done.
How much we sand & paint depends on how the bottom paint held up from the previous year. We use multi-year paint, so most years we can get away with just touching up the paint in places where it wore off. Prepping for paint also includes scraping off any barnacles.
STEP 2 – Change Zincs
We always change our sacrificial zinc anodes every year. Zincs protect important metal parts of your boat (like props, trim tabs or outdrives if you have them) from electrolysis and corrosion. They're pretty cheap, so it's worth it to not skip a year and change them at the start of every season.
STEP 3 – Remove Winter Wrap
Finally, we remove the winter shrink wrap. Last year our oldest daughter Emma started helping Captain Brian with this job, which was great because this is actually a really big job because there is SO much shrink wrap on our 41 foot boat. We cut it off in manageable sections & have the marina recycle it.
Some people try to save it for another year, but our boat is so big we feel like it would be more trouble than its worth. Plus there's the rigging under the shrink wrap that needs to come down too. It would be a ton of work for us to try to store it all and put it back up ourselves in the fall – best to leave that job for the marina.
STEP 4 – Put Canvas On
After we remove the wrap, we have to put the canvas back on the same day so we don't leave our cockpit exposed. Again, another big job because our 41 foot boat has A LOT OF CANVAS. We have to reassemble our bimini top with canvas and all the pieces around our camper top.
Emma was a big help with both the wrap & canvas, and I know she's planning to help Captain Brian again this year.
STEP 5 – Charge Batteries
After the wrap is off we're able to get inside the boat so we can run power to it & begin charging the batteries. We use a connector for our shore power that accepts a regular power cord and then run a long extension line to the power outlets in the boat yard.
STEP 6 –Wash & Wax
The next time intensive step is washing and waxing the boat. We usually wax from the paint line up to the rub rail before it launches – above the rub rail can be done while in the water.
Again, our boat is so big that this often takes several days that we spread out over a few weekends so Captain Brian's arms don't fall off. Maybe one day I can convince him to have someone wax for us. 
STEP 7 – Do Final Safety Check / Hull Inspection
This post/video is about the steps we take to get our boat ready for launch, so I'm not gonna take a deep dive into all the maintenance or possible things that could be wrong with your boat prior to launch.
This is just a reminder that it's your last chance to see your hull before it launches and do any required repairs before it's in the water. Hopefully you're already aware of anything big & time consuming before now.
Do a final walkaround of your boat and make sure everything looks good…
– check thru-hull fitting for cracks, check any loose clamps or hoses, inspect your props – make sure everything looks good
– make sure your shore power lines still look good and don't need to be replaced with new ones before you plug in at the dock.
STEP 8 – Set Up Lines & Fenders
At this point we're getting close to the actual launch of the boat, so we set up our lines and fenders to make it easy to tie off the boat once its at the slip. We keep some fenders at the dock too – so we'll go to our slip and set that up.
STEP 9 – Put in the Plug
A simple but important step – put in the plug!!
The marina should do this before launching our boat, but for peace of mind we'll pop it in before letting our marina know our boat is all ready to launch.
STEP 10 – Launch Boat
The final step – splash the boat! Some people like to be there for their boat launch, but we're not usually there because the actual launch day usually happens on a weekday and sometimes without much notice – it depends on when they can fit our boat into the launch schedule. Usually we just get a call – your boat is in the water now. That's why we get everything set up with the lines so when they launch it, they tow it around to our slip and tie it up.
Spring Prep AFTER the Launch
OK so the boat is in the water, but there's still work to be done to get it ready for the season!
After it launches, we always spend that first weekend on the boat. Its more of a work weekend – but we're just happy to be back. Captain Brian usually arrives at the marina a few hours before me, and then I show up with the kids and the dog.
The boat is still usually a mess – so its easier for him to take care of things before we all get there.
He takes care of a lot cleaning & setting the boat up once its in the water, like…
Washing out the cockpit – even wrapped up it gets a mess in the winter
Laying down the cockpit carpet – which we store inside the boat for winter
Cleaning up everything that was stored in the cabin over the winter – like hoses, power lines and
My big job when I get to the boat is getting the cabin ready – which involves cleaning everything in the cabin, cleaning out the fridge, setting up our beds, restocking some of the galley with the essentials for our first weekend [like COFFEE!]
Before we do any trips, we usually spend the first few weekends getting it ready for the season – resetting our lines & fenders, cleaning up the seats (especially if there's any mildew from the winter) and any other miscellaneous maintenance that is needed in the spring.
And that's it. It's a lot of work each year, but we've learned a lot of little tricks over the years to try to make it easier. Or I should say Captain Brian has – because like I said, he does almost all the work getting it ready.
More Spring Prep Resources
Here are some more resources to help you with your spring boat prep:
WATCH VIDEO:
Watch our full video where we walk you through the steps and show you a bit of our spring prep process & steps.
---
Disclosure: This site may contain links affiliated with companies where we receive compensation. Also, as an Amazon Associate we may earn from qualifying purchases we refer but it does not impact the price you pay.
Full disclosure policy
.