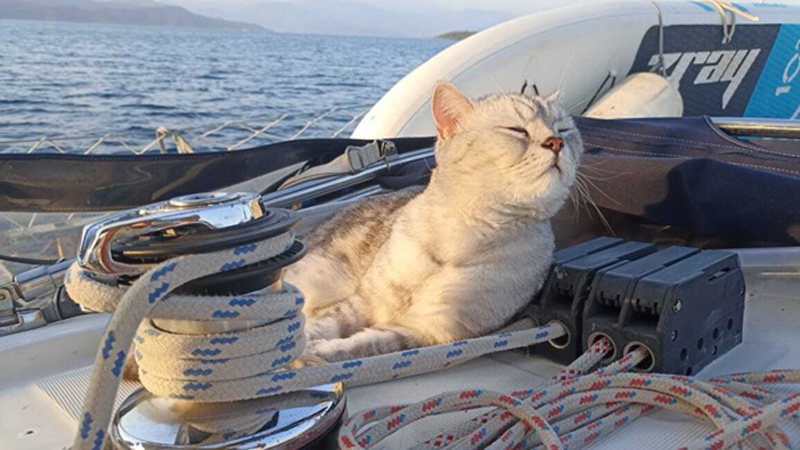 ---

---

Everything you need to know to sail with a cat and help your furry feline safely and comfortably adapt to life on a sailboat
Cats are one of the most adorable and affectionate pets to have as a companion at home. Well, that may vary from one cat to another. But once you get attached to a cat, there is no turning back!
It follows you everywhere you go, even when you go sailing during the weekend. Most people feel it is dangerous to take a cat sailing on a boat, but if you set the right conditions for the cat, it is pretty comfortable having one onboard.
Getting to sail the waters with your beloved cat is what most cat lovers dream of doing. They can live safely and comfortably on sailboats if you ensure all safety measures are taken. What are the measures? Together with Zeboats, the leader in online used boat sales, we have make ready for you the main.
---
---
Can Cats Adapt To Life On Sailboats?
Cats can easily adapt to life on sailboats and do not require much attention regarding exercise. Cats do not need much space to lead a healthy life. They offer excellent company, especially if you are sailing alone.
The cat can be a source of emotional support when you sometimes feel under the weather. Humans have kept them on ships and boats for decades, but there are specific obligations you need to meet to keep one on your boat.
Here are some essential safety measures you should take care of before inviting your furry friend onboard.
Safety Measures For Cats On Sailboats
It would be a stupid mistake to make if something untoward were to happen to your cat because you did not invest your time in thinking about your cat's safety on a boat.
Taking care of the small details can make all the difference in determining your cat's safety.
Purchase a Life Vest
When you take your pet cat outside for a walk, you put the harness on them before you head out. This prevents the cat from wandering away and coming across other animals in the park.
Similarly, getting your cat a life jacket to wear on a boat is essential. It will help them stay afloat if they fall off the boat. It is unlikely to happen, but one can never take the chance with a cat's curiosity when they see the open water.
They can go to the boat's edge and be mesmerized, not knowing that rough turbulence can send them to the water. You can look for life jackets for cats online, and if you do not find one, you can always purchase a life jacket that people buy for puppies.
Take Your Cat Swimming
Most animals can swim naturally, but cats can take some time to be comfortable in the water. Take your cat for a swim in shallow, warm waters before you transition to the boating life.
It is essential to understand your cat's level of ability to swim, especially with a life jacket on. They need to get used to the idea of swimming with the help of the life vest since it will make them float.
While making your cat test the waters, stay within a close distance to ensure that the cat does not overexert itself and exhaust all its energy.
Install Rope Ladders
There are some cats that love to swim as much as they do walking on land. If your cat is also one of those swimmers, it will serve you well to keep a rope tied into knots or a net hanging from the side of the boat.
Wooden ladders will also work fine, but they can use their sharp nails to hang on to the rope better. Whenever your cat wants to return to the boat after a soothing swim, it can latch on to the rope or net and climb back up easily.
Metal ladders should be the last option for your cat, as they can be slippery sometimes. Your priority should be setting up a rope ladder or a net, which the cat can easily scale.
Setting up a Litter Box
You need to set up a litter box on the boat's deck so the cat can go about its business whenever necessary. After defecating and peeing, cats tend to cover them up since they are very clean-oriented animals.
Ensure that you secure the litter box on some support system, so it does not shake or move around when the cat is doing its business. They cannot relieve themselves properly if the litter box keeps moving about.
The best way to ensure that the cat's poop does not fly around and dirty the boat is to buy an enclosed box. This will help you avoid always having to clean the deck or the cabin.
What To Pack For Your Cat Before Sailing Out To Sea
There are various essentials you need to pack for your cat before sailing out on your boat. Since you cannot expect to buy provisions for your cat on the sea, you must stock up so that you do not face any issues later on.
Let us looks at some of the necessary provisions required for your cat.
Cat Feed
Ensure that you pack the required quantity of cat food when you plan to go on a boating adventure with your cat. Always carry a little more than what your cat normally in case the boat breaks down temporarily.
Medication
Motion sickness is common for cats or other animals when they go to the sea. It is important to carry medication for motion sickness in case your cat feels nauseous constantly.
However, the best way to relieve your cat of motion sickness is to take it to the deck to get some fresh air. That usually does the trick. If it continues for too long, consider feeding the medication or returning to land.
Carry Proper Documentation
It is important to carry your cat's passport if you are crossing international boundaries or if you are made to prove that you are the cat's owner.
Overall, it is important to make your cat feel safe at sea; in that process, you will create a better bond that nothing can break.
---
Disclosure: This site may contain links affiliated with companies where we receive compensation. Also, as an Amazon Associate we may earn from qualifying purchases we refer but it does not impact the price you pay.
Full disclosure policy
.