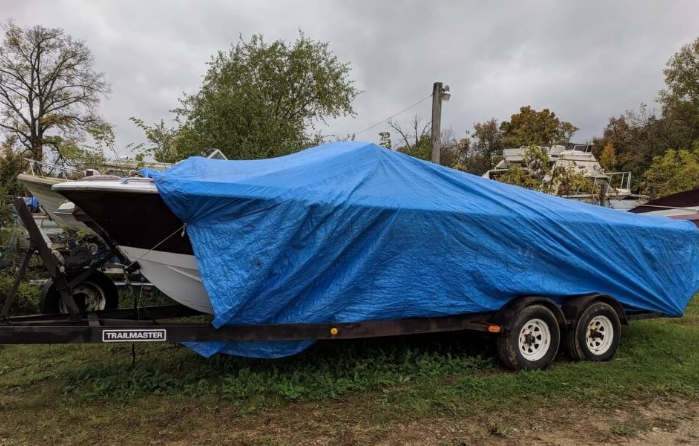 ---

---

Boat Used Part Search (BUPS) helps boaters find what their boat needs and get it back on the water as soon as possible
Nothing feels worse than having your dream sit under a tarp on the driveway. Several weeks before, the boat owner stood at the helm, master of his craft, and in control of their next adventure. On a lake as smooth as glass, they opened the throttle and skimmed across the surface on the way from marina to nowhere special. Nothing feels better than wind on their face, the thrum of engines reverberating through the hull, and the wide-open water ahead.
This is not just another boat mass produced for marina rentals or summer vacationers who will give up the fun once autumn rolls around again. The current owner's father piloted the vintage vessel before they did. It stands for more than just freedom on the water. It is a dream of future experiences with their friends and kids. It is a break from the everyday grind and plans for lifelong memories.
Now it sits under a tarp on the driveway. The engine conking out so far from shore was bad enough. They already spent a big chunk of their fun money on a commercial tow back to the marina. Dragging it back home and explaining that "No, we won't be able to take out Grandpa's boat for a while" was even worse.
The lifetime of experiences and wonderful memories mean little when it comes to fixing up an older boat. For newer models, the quest for replacement parts involves a quick call to the manufacturer or a few clicks around any major online retailer. If the owner does not do the work themselves, they have a wide choice of repair shops nearby to choose from.
Vintage boats are different. In fact, a boat does not even have to be that old to fall outside of easy parts sourcing. Still, they have to try.
"Do you have a…" The simple question at the local boat shop often gets the same answer. "No. That's a unique part only used on your boat. Check with a certified dealer."
So, the owner calls the dealership. They are willing to make the hour-long drive if it means getting back on the water again. "Nope, sorry. That part's no longer available." Manufacturers do not keep making parts for older boats indefinitely, and they often keep very small inventories for newer vessels, too.
They cannot live with seeing their dream under a tarp on the driveway forever. Only three remaining choices exist. The boat owner could live with the issue, which only works if the lost or broken part was cosmetic. They could try to fabricate a replacement part or rig up an almost-perfect part to work for a while. Or they could go on the hunt.
---
---
Finding Used Boat Parts
The best place to start that hunt is with the free search service, BUPS. When all else fails, Boat Used Part Search (BUPS) wades in and finds solutions to the toughest boat problems. The search for leftover, used, and re-built hard to find parts is well outside the expertise of most boat owners. Not only do they have no idea where to search, but they do not have the time or energy to follow every hint and possibility only to get disappointed more times than not. Although BUPS could rightly be called the 'search of last resort,' it makes more sense to turn to them first to find what the boat needs and get it back on the water as soon as possible.
BUPS takes over when normal channels fail. People who own boats made before the latest model releases know what parts they need when something goes wrong. At least they can find out quickly with the help of a reputable marine mechanic. A simple search using the BUPS app launches a tried-and-true process that has helped innumerable boat owners get out from under the tarp and off the trailer and back where they belong.
The "Sorry, can't help" turns into "We've got this." What BUPS has is a willingness to go the extra league when it comes to searching for used, re-built, and vintage parts. They check thousands of source sites daily on the lookout for exactly what boat owners, builders, and restorers need. Why daily? With such a small inventory of out-of-production parts in the US, they do not last long. This is especially true for antique boat enthusiasts who frequently compete for the same parts for classic vessels.
There are 10 to 12 million boat owners in the United States. A very small percentage of them have this year's model, and even fewer focus on antique restoration. Most are just like the owner at the start of this article: everyday folk with older boats that stand for something they cannot get in other parts of their lives. Freedom, family, or maybe just a relaxing afternoon fishing after a hard week at work. Finding difficult boat parts helps the average Joe and Jane enjoy their boats as much as possible.
In fact, more boat owners avoid missing out on fun altogether by making proactive searches for needed parts on BUPS. Ever since the site launched more than five years ago, astute boaters have set up searches in advance. Then, as soon as the replacement or spare part appears on the market, they have the opportunity to grab it right away.
BUPS searches run the gamut from essential engine parts to cosmetic accents. They specialize in unusual research processes that check out unexpected sources like Etsy, find parts with misspellings in the listings, and source alternatives shared by different brands with great results. Incomplete or inaccurate sales listings are no match for the team intent on finding the perfect solution for boat owners.
Learn more about the Boat Used Part Search process on YouTube or get started on the official website.
Dreams do not belong under tarps on the driveway or in the garage. Getting out on the water should not be a plan for 'someday.' Boat owners understand the difficulty of finding out-of-stock or production parts. They understand the frustration of dealers and online retailers with nothing but apologies to offer. Now, they finally have a solution they can trust to search further than ever before to find the parts they need to throw off the tarp, hook up the trailer, and get back on the water where they belong.
Disclosure: This site may contain links affiliated with companies where we receive compensation. Also, as an Amazon Associate we may earn from qualifying purchases we refer but it does not impact the price you pay.
Full disclosure policy
.