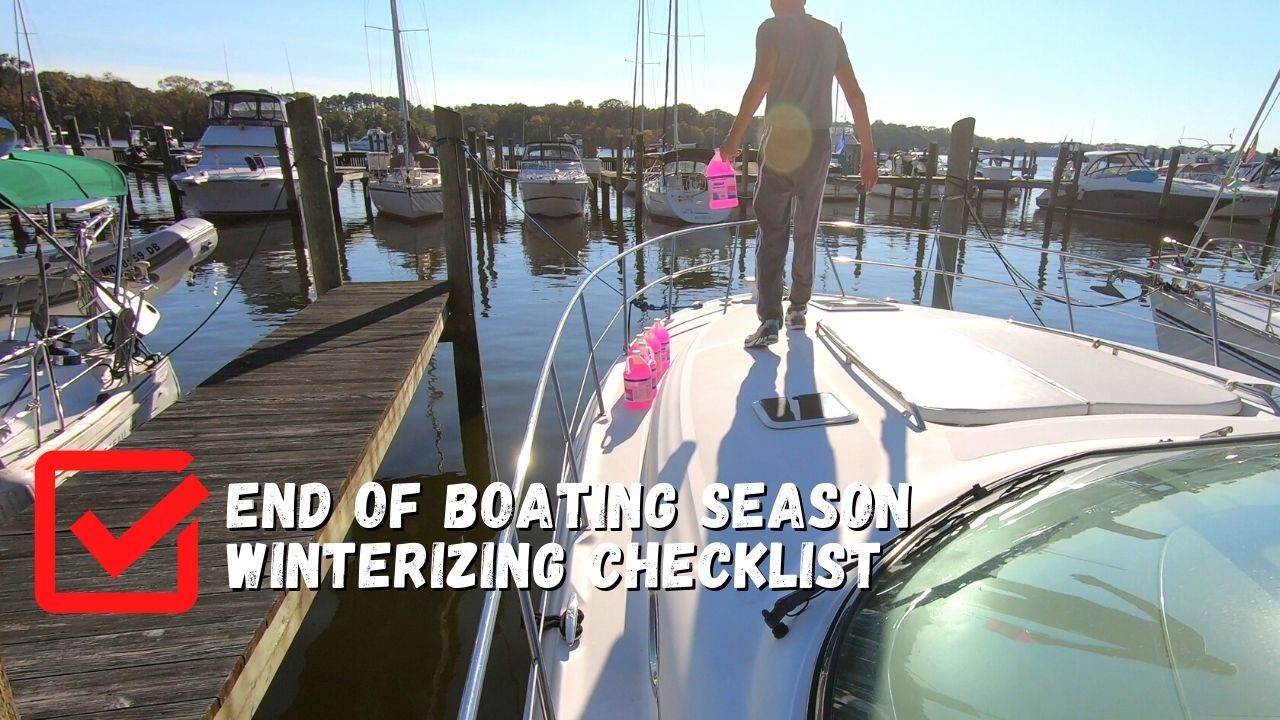 ---

---

How we winterize our boat every year – a checklist for our end of boating season winterizing plans [with how-to VIDEOS]
We boat on the upper Chesapeake Bay in Maryland, so our boating season ends around mid-October. While there are definitely some die hard boaters that keep their boat in year round, we winterize our boat and wrap it up until spring (when spring prep begins).
Every year there's a list of must-do boat maintenance and winterizing tasks to ensure that nothing freezes on the boat over winter and she's running good in the spring. There's a lot to remember – from winterizing the engines and freshwater systems to filling up with fuel before storage – and forgetting just one thing could cause problems.
We have a 2002 Sea Ray 410 Sundancer with twin diesel engines. Winterizing our boat may be a bit different if you have outboards or you don't have a head or freshwater systems like on our boat. However, a lot of this applies to most boaters in northern climates that have to winterize their boat. (see our full checklist from BoatUS at the end).
Here's Captain Brian's video recap of our end of boating season winterizing checklist:
---
---
Steps to Winterize Your Boat
To summarize, the main steps in our winterization include:
1. Changing the Oil in the Generator and Engines – its best to change your oil and filter at the end of the season because you don't really want to put the boat away in winter storage with dirty oil in the engine(s) or generator.
watch our video: How to Do a Boat Generator Oil and Filter Change
2. Winterize Water Systems – winterize (add antifreeze) to all the systems that have water in them, including: freshwater tank, sinks, showers and heads.
3. Disconnect, Bypass & Drain Hot Water Heater – be sure there is no water in hot water tanks & then add antifreeze (included in  Winterizing Engines video)
4. Prepare the Boat Cabin – make sure there is nothing in the cabin that could freeze, defrost the fridge, remove personal items, food, etc. Place dehumidifier buckets in the cabin.
watch our video: Prepare the Boat Cabin for Winter Storage
5. Winterize the Engines, A/C and Generator – run antifreeze through to make sure those systems are clear of water
We have TWO videos for this section – one for just winterizing the inboard engines (first one below) and one for Engines, AC and Generator (second one below)…
watch our video: How to Winterize Inboard Boat Engines
watch our FULL video: Boat Winterizing Hot Water Tank, Engines, A/C and Generator
6. Final Holding Tank Pump Out – empty/pump-out your holding tank and then flush antifreeze through the head(s) to make sure all those lines are free of water
7. Final Fuel Fill Up – fill up your tank PRIOR to winter storage to ensure no condensation gets into your tanks over the winter
8. Remove Canvas and Tarp/Wrap Your Boat – we store our canvas and then have our boat shrink-wrapped for the winter to protect the boat
More Winterizing Resources
BoatUS has a very comprehensive checklist that includes more winterization tips & details for various boat types (like outboard motor boats). Download the BoatUS Winterizing Checklist (PDF download)
For more tips and how-to videos (like getting ready for Spring Prep!!) be sure to subscribe to the My Boat Life channel on YouTube!
---
Disclosure: This site may contain links affiliated with companies where we receive compensation. Also, as an Amazon Associate we may earn from qualifying purchases we refer but it does not impact the price you pay.
Full disclosure policy
.