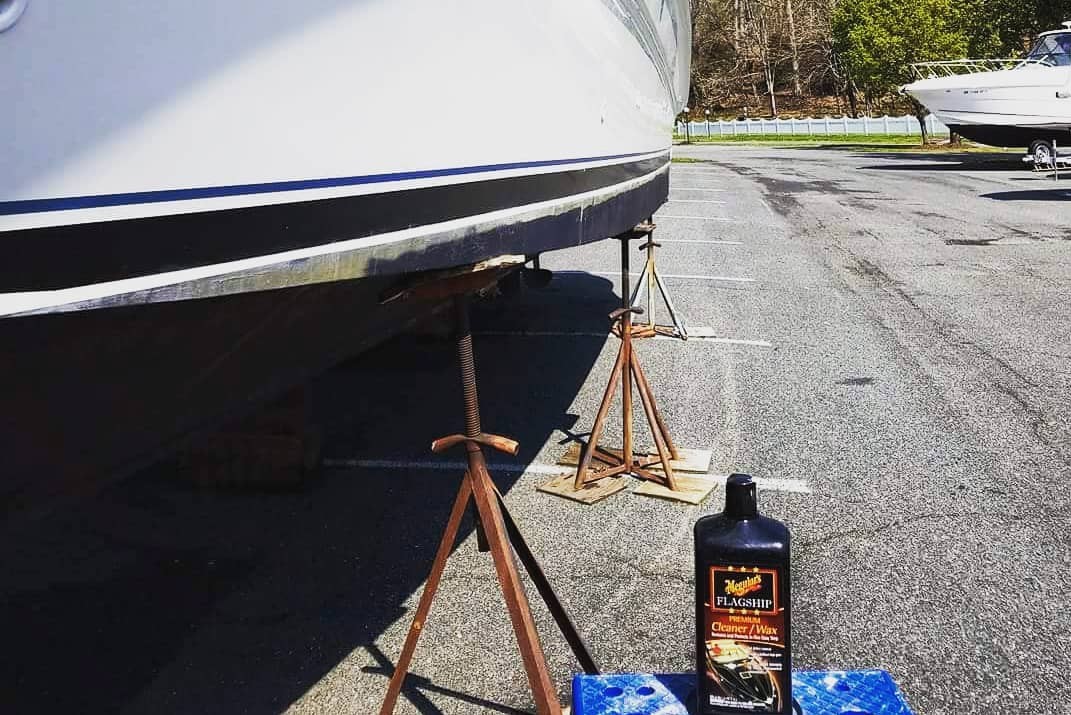 ---

---

Our process for basic cleaning and waxing the boat, and some final spring prep reminders before we launch the boat for the season. [includes VIDEO!]
Spring boat prep can be a lot of work, but after 20 years we definitely learning a few techniques that can help save some time and effort.
Our spring prep typically starts with painting the boat bottom (which sometimes can be just a bottom paint touch up), taking off the shrink wrap, putting up the canvas, replacing our zinc anodes and then cleaning and waxing the boat hull.
Even though we shrink wrap the boat during winter storage, it still gets really dirty. So before we can start waxing the boat we have to wash down the sides of the boat hull. This can be a challenge in the boat yard when you don't always have easy access to water, so often this entails a rag and a bucket to wash it down.
When it comes to waxing the boat, we like to use a product that is a cleaner & wax called, like Meguiar's Cleaner Wax  (also available with Starbrite Cleaner & Wax). This one step process for cleaning up marks while also waxing the boat to a high gloss saves a lot of time.
---
---
Why Wax the Boat?
Waxing your the boat every season has a lot of advantages. Boat waxing protects the gel coat, keeps it cleaner, provides protection against salt air corrosion and the sun's ultraviolet rays. And then of course it just makes your boat look shiny and nice!
If you keep your boat in the water all season like us, waxing it before launch is much easier than trying to do it in the water. We usually try to wax it up to the rub rails before it is launched. After the boat is in the water then we'll typically finish up by waxing the top side.
Watch the Video
Captain Brian shares his technique for cleaning and waxing our Sea Ray 410 Sundancer… along with a few other spring boat prep reminders before we are ready to launch it for the season.
10 Steps We Do to Get Our Boat Ready to Launch
Watch our video on the 10 spring boat prep steps we do to get our Sea Ray 410 Sundancer ready to launch!
Disclosure: This site may contain links affiliated with companies where we receive compensation. Also, as an Amazon Associate we may earn from qualifying purchases we refer but it does not impact the price you pay.
Full disclosure policy
.