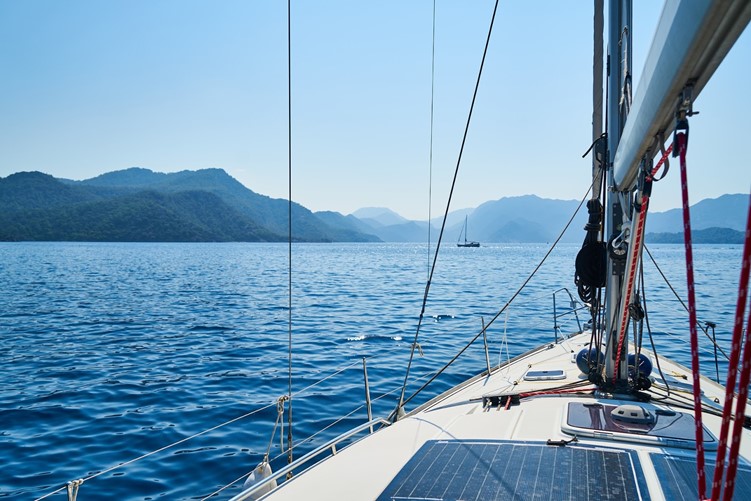 ---

---

Whether you're a new boat owner or a seasoned sailor, hiring a professional captain for a few hours of instruction can be a great way to sharpen your skills.
Captains offer a wide range of services to recreational boat owners, from transport and delivery to regular trip planning, to expert instruction. In this article we'll talk about the latter service, instruction, and how a few hours with a captain can be beneficial for all boaters, regardless of experience level.
---
---
Advantages of Hiring a Captain
Hiring a captain for a few hours of instruction is an easy way to learn new skills, familiarize yourself with your boat or a new area, and gain confidence in your vessel's capabilities. Captains are happy to share their professional expertise with boaters in order to help them become better, safer boaters. For more experienced boat owners, many captains also offer specialized skills like tricky sailing techniques or their fishing expertise, offering an easy way for boaters to learn a new skill without countless hours of practice and research on their own.
For New Boat Owners
For new boaters a captain can be a great way to gain familiarity with your boat and boating locale. If you're completely new to boating, hiring a captain is highly recommended as there are aspects of boat handling like docking that can be difficult and expensive to learn on your own should you make a mistake. Additionally many insurance companies either require new boat owners to obtain a certain number of hours of instruction or offer a discount to those that do.
A new boat purchase is an exciting time, and for new boat owners it can also be a bit overwhelming. Having an experienced captain aboard for the maiden voyage to show you the ropes can help you gain confidence in your boat and the area you're boating in. Boats are complex systems and new models have an almost limitless amount of features aboard that can be intimidating and distracting to new owners. A captain can guide you through operating and maintaining the most important systems aboard your boat.
For Experienced Boaters
If you've been a boater for a few years already, you probably know the basics pretty well. You have an idea of where to go and where not to go in your local area and how to handle your boat in most situations. However, the ocean is always full of surprises and spending a couple hours with a captain every couple years can help prepare you for a wide variety of scenarios.
From docking in adverse conditions like strong current and wind, to simulating an emergency onboard and going through the motions of responding to it, spending a couple hours with a captain every few years can help expand your expertise as a boater. Expertise that you can then share with other boaters and friends, broadening the collective knowledge of boaters.
Many boaters become complacent in their knowledge and think what they're capable of is "good enough" for the boating they do. And while this works most of the time, all boaters will eventually encounter conditions that test their skill level.
For Technical Expertise
For experienced boat owners who are already very comfortable handling their boat, hiring a captain can offer another benefit – highly specialized technical expertise. Specialized fishing techniques are a common request of captains. Customers want to fish on their own boat, but they also don't have the knowledge or expertise to target gamefish species like marlin, tuna, or swordfish.
Hiring a captain can be a great way for the average boat owner to bridge the knowledge gap so to speak. While you're not going to become an expert in one or two trips, one or two trips with a captain can teach you enough to start doing it on your own.
Similarly, sailors who want to make the transition from recreational sailing to racing might consider hiring a captain to teach them the nuances of coaxing the most speed out of their boat. Sailing is an art form that takes a lifetime to master and race entry fees can be quite expensive. Spending a couple hundred dollars on expert instruction from a captain can help give you a leg up on the competition.
Costs and Considerations
The first question many boaters reading this are probably asking is: sounds great, what does it cost? Surprisingly not that much. A full or half day of instruction with a captain will usually only be a couple hundred dollars. While that may sound like a lot, consider the cost of an average trip when including things like fuel, ice, snacks, bait for fishing, etc.
As mentioned earlier in the article, an experienced captain helps you bridge the knowledge gap, decreasing the amount of time it would have taken you to learn a skill on your own. When you look at it like that, either in terms of a number of unsuccessful fishing trips, entry fees to races, or worse possible damage sustained on your boat due to inexperienced operation, hiring a captain is a good value. Additionally many insurers offer a discount if you receive professional training in operating your boat, and if they don't or you're not sure, you can inquire with your insurance company.
While the value of an experienced captain is undeniable, finding the right boat captain for hire is important. Most captains have a wide array of skills and will be able to help new boat owners become comfortable with their boats, more technical aspects may have you searching around a bit. Some captains specialize in providing training, and have the patience and expertise to work with boaters of all skill levels. Others offer highly specialized services to those boaters that are interested in them.
In conclusion, if you're just looking to learn how to use your boat, just about any captain offering their services will be able to help. If you want more specialized instruction, then it pays to take the time talking to captains about what you want to learn and asking other boaters who they recommend.
---
Disclosure: This site may contain links affiliated with companies where we receive compensation. Also, as an Amazon Associate we may earn from qualifying purchases we refer but it does not impact the price you pay.
Full disclosure policy
.