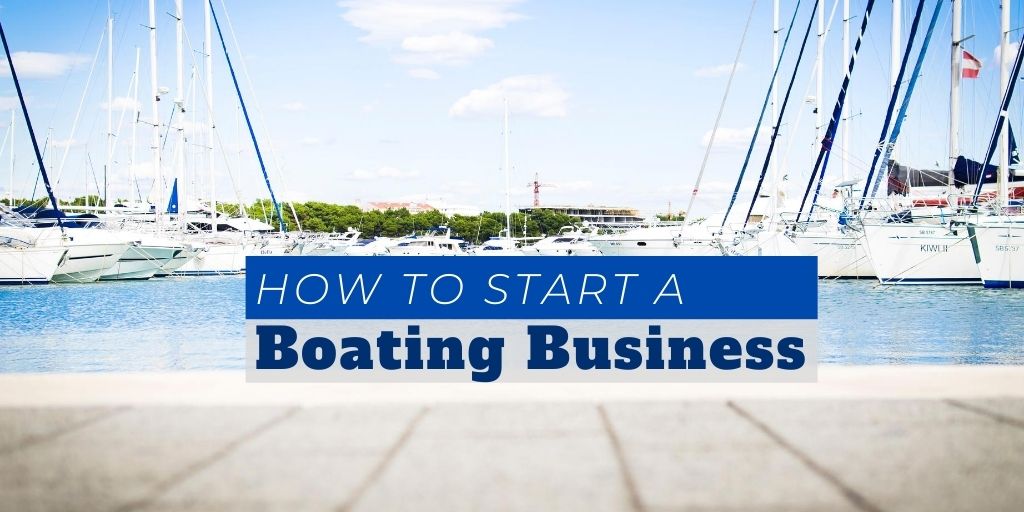 ---

---

Steps to follow when starting a business in the marine industry to transform your passion for boating into a prosperous career
So you love boating and now you're thinking – how can I start a boating business so I can spend every day on the water?
There are many opportunities for boating businesses, from opening up a boat repair shop to a boat charter business, selling boats or becoming a boat captain.
As a 200-Ton licensed boat captain I have been the owner & operator of Chesapeake Flotillas offering charters, instruction, and vessel relocation. In previous articles, I shared my experience on what it takes to earn a Captain's license and subsequently, what one can do with a Captain's license.
Be sure to evaluate your current market opportunity for your boating business idea by following some basic steps:
Review the competition – is there opportunity for a new product or service in your market that is not currently being served by the competition? Proper evaluation of the competition will allow you to position a new boating business with a competitive edge.
Determine your business value proposition – what makes your business unique and how can you differentiate it from other boating businesses? You'll want to define the scope of what you will sell or what services you will provide.
Define how you will run the business – is your business local, regional or national? Is your business going to be a brick and mortar or can you run it online? Do you need to purchase a boat or fleet of boats for your business? Can you run your business solo or will you need to hire employees? Answers to these questions will greatly influence start-up finances needed.
Secure proper license(s) – are there special certifications or licenses (such as a Captain's license) that you must obtain? You may need time to secure these boating or business licenses for your business type.
Once you figure out your niche for a career in the marine industry, here are some of the next steps you'll want to follow – along with important information you'll need to know – to organize your marine business for success.
---
---
Forming an LLC for Your Boating Business
The first thing you should consider doing is forming a Limited Liability Company (LLC). Performing your marine service offerings through an LLC allows you to protect your personal assets in the event of an adverse civil litigation. To say it another way, you will not be held personally liable for any debts or obligations incurred by your company.
In most states, it is a trivial thing to create an LLC. You can usually do it online on your state's government website. You will need to pick a name for your company. It can be anything that is not obscene or otherwise objectionable. It also should not be identical or similar to any nearby or major company – they are rather likely to object. In New Jersey, it costs $50 per year to file with the state. You do not need a lawyer for this generally. A lawyer might charge your hundreds of dollars for something you can do yourself for a small fraction of that.
Managing your business finances
To preserve the protections afforded by your LLC, you should open a business banking account. In this way, you separate your personal finances from your business finances. As with other consumer products, you should shop around for the best rates, services, and minimum requirements to open a business account. My bank wanted proof that I had been in business for 4 years in order to qualify for a business account. This seemed like a chicken and egg problem to me but fortunately, I had an invoice for business cards with an acceptable date on it.
If you plan to accept credit cards, do not assume your selected bank will offer you the lowest fees and best services. I found that Square had the lower fees and best user interface for my needs given the number of transactions and the amount of revenue I receive via credit and debit cards. A national consumer comparison bore this out as well.
As far as Federal taxes go and if your company is a sole proprietor entity LLC, you will most likely file a Schedule E to report your business income for your company. The Schedule E is attached with your personal income taxes via a 1040 form. If your profit (revenues minus expenses) is significant, you will need to pay estimated taxes. Otherwise, if you end up owing more than 10% of your total tax obligation when you file your taxes, you are subject to a penalty.
Note that you may show a loss for your business only twice in a five year period otherwise the IRS considers your activities a hobby and not a business, and therefore, any reported losses cannot be used to reduce your overall tax liability. Federal taxes are 25% of your adjusted business income. State taxes vary by state.
I have created spreadsheets to use with my business. It allows me to readily assign tax categories to my expenses. I can track revenue by payment type and source. I also keep a profit and loss worksheet so I can see how I am doing in real time. I also have a separate workbook for my bankbook where each worksheet is a year. I use Microsoft Office as my business software.
Consult with an accountant to help decide how to organize and report your finances.
Business and Boat Insurance
While your LLC gives you some protection against civil liability, a huge expense would be legal representation in any litigation. This is the real value of insurance. It is less for any civil or legal penalties and more to cover the lawyer fees. You can either try to get a marine business policy, which may be somewhat expensive or you might consider adding a general umbrella policy to your homeowner's insurance.
If your marine services take place on your boat, your boat policy should protect you if you have added the appropriate protections. In all cases, review your coverage to determine if it is adequate.
UCCG Requirements
If you are using your boat in your business and if you are using your vessel to carry passengers or merchandise, your vessel MUST be documented and it must be endorsed for Coastwise Trade. Your boat can be documented for both recreation and coastwise trade but you will be asked to indicate the relative percentage of use in each category on the application (Form CG-1258 or CG-1270). This is a general estimate and you will not be held to those numbers.
A Coast Guard officer explained to me that the order in which the endorsements are listed on the application and the specified percentages determine the order in which document applications are processed. Coastwise (commercial) documents are always processed first. The request for a coastwise endorsement must be accompanied by proof that the vessel was built in the United States. Otherwise, you will have apply for a waiver at an additional cost. This requirement is codified in the Jones Act. Information and forms can be found on the National Vessel Documentation Center website.
The Coast Guard requires that all persons serving aboard a vessel engaged in coastwise trade must participate in a random drug test program. If you should be boarded or if you are involved in an incident where the Coast Guard or local authorities respond, you will be asked for proof of participation along with your MMC and other documents. This applies to non-licensed crewmembers as well. This also applies if you are engaged in any marine activity for which you are being paid such a yacht delivery. The annual cost of participation is about $40-$60 per year per person.
Business Resources
Here are some more basic business resources you can pick up on Amazon that you may find helpful:
Starting a Small Business QuickStart Guide 
Marine Insurance: An Essential Guide to Liability, Insurance, Law, the Market and Claims in the Maritime Industry
Integrated Check Printing Software
Summary
Running your own business can be both as rewarding as it is challenging. If you have a Captain's license, you may as well make money with it. After all, that is the point of having a license! Or if you are looking to do something else in boating, it can be equally as rewarding to merge your passion for boating with a business.
In summary, you will want or need to do the following things to get your boating business started:
Form an LLC
Open a business banking account
Verify or obtain adequate insurance
Obtain a coastwise endorsement for your vessel, if appropriate
Participate in a drug test program for yourself and your crew.
Being a licensed Captain is a great source of pride to me. I have enjoyed working with my clients as well as pursuing other commercial opportunities like relief captain jobs on various schooners, water taxi and tow boat jobs, and tour boat and ferry captain work. I look forward to many years of working on and enjoying the water.
If you would like a one-on-one consultation to have your specific questions answered on this topic or others related to boating, please sign up for 30 minute video consultation with me!

Have fun and always be safe on the water!
Ready to start marketing your boating business? Check out marine marketing best practices & resources at www.MarineMarketingTools.com.
Disclosure: This site may contain links affiliated with companies where we receive compensation. Also, as an Amazon Associate we may earn from qualifying purchases we refer but it does not impact the price you pay.
Full disclosure policy
.