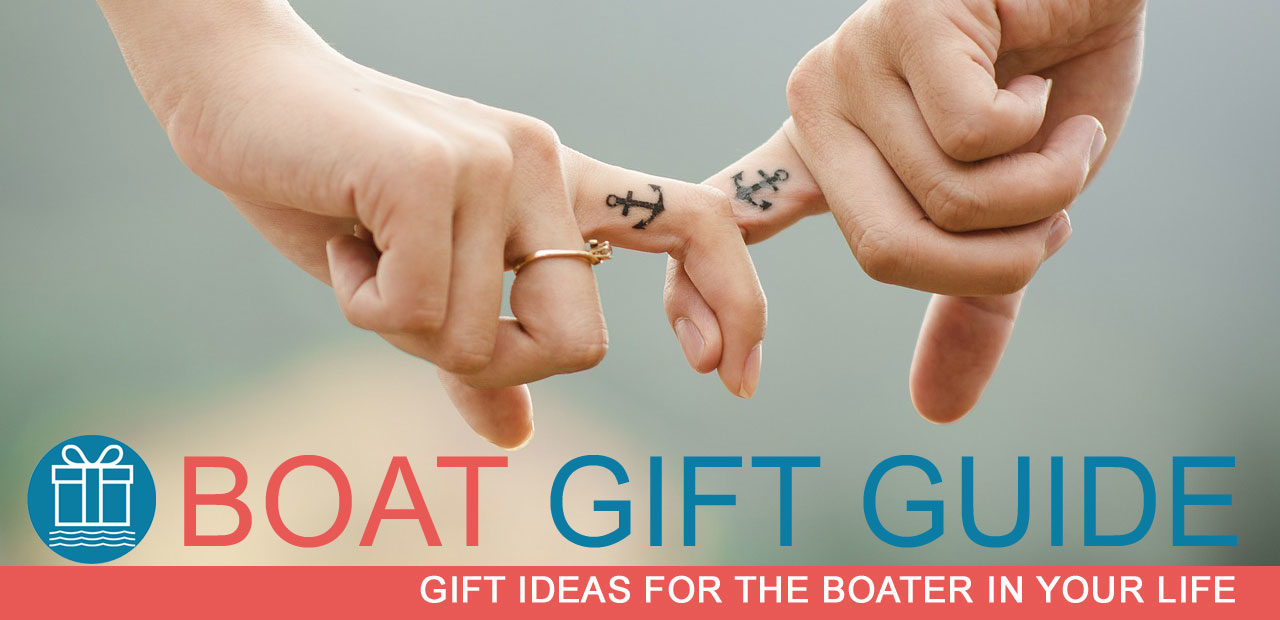 Our Boat Gift Guide showcases unique gift ideas for boaters. The gift guide is organized by popular gift-giving categories to make it easier to the find the perfect gift for water enthusiasts.
Product links go directly to your website and online shopping.
Ideal for marine businesses with unique products that enhance their boating lifestyle
Choose one or more categories to list your boating products
Listings in the Boater Shop are annual – the gift guide is not just for the holidays!
Boat Gift Guide Categories:
Gifts for Men
Gifts for Women
Gifts for Kids
Gifts for Pets
Over $100
Under $100
Under $25
Holiday Gifts
>>Check out our full Gift Guide to determine the best category for your marine business.
Gift Guide Listing Rates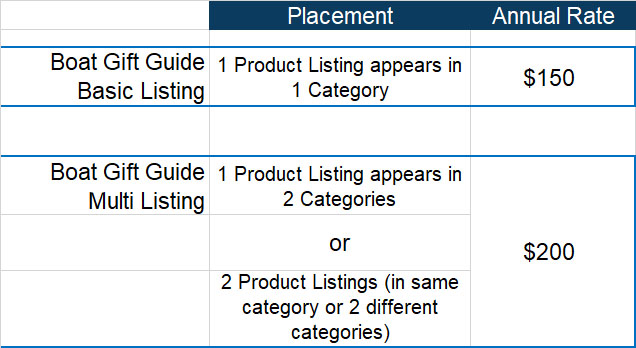 Product listings include:
Product Image
Description with Price (25 words or less)
Link to product page
Product listings are placed in order of seniority for each category and sub-category. Listings are annual – Gift Guide is available all year long!
---
STEP #1 – Sign-up for Gift Guide Listing
---
STEP #2 – Pay for Gift Guide Listing
Submit Payment for the listing you selected. We will send you an invoice via PayPal.
---
STEP #3: Confirmation and Placement
Once your Gift Guide Listing and payment information is received you will be contacted via email with 2 business days to confirm product is listed or to request any additional information needed for placement.
Questions? Email us directly at: news [@] marinemarketingtools.com
---
Frequently asked Questions
What type of product image is accepted?
We accept .JPG or .PNG image formats. Images sizes will be adjusted per the site format, however larger higher resolution images are suggested. Size should be at least 200 x 200 pixels.
What if I pay for my listing and then you feel it is not relevant or appropriate for your site?
In the unlikely even that your product listing request is deemed not relevant to boaters or appropriate for our site we will inform you and refund your payment immediately.
Can I make changes to my product listing later?
Yes we do accept edits or changes to your product listings after initially published, however we ask that you limit changes and do not "swap" products on a regular basis.
---
Disclosure Policy: This site may contain links affiliated with companies where we receive compensation.
Full disclosure policy
.