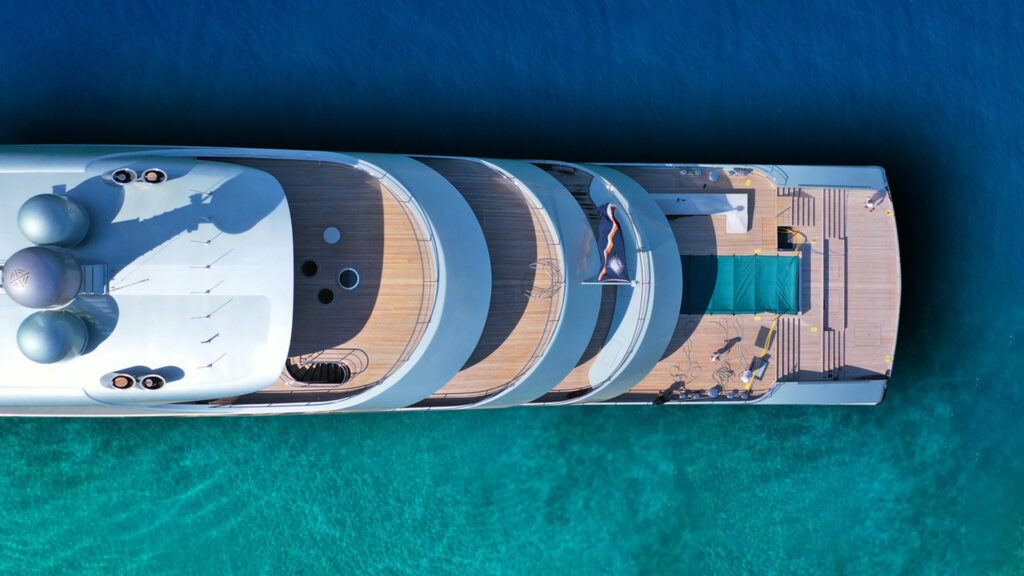 Discover how to make your dream superyacht a reality. Explore the intricacies of design, technology, and craftsmanship that transform these vessels into floating paradises tailored to the owner's every desire.
---

---

Customization Unleashed: Tailoring Your Dream Superyacht
Superyachts are the pinnacle of luxury on the high seas, but what truly sets them apart is their high degree of customization, giving owners generous room to turn them into a floating masterpiece that reflects their taste and style.
In this article, we'll touch on the crucial aspects of custom-building a superyacht—including exterior and interior designing, cutting-edge technology, and other tips for building your dream superyacht.
---
---
What is a superyacht?
Before diving into building your dream yacht, it's essential to understand what makes a superyacht a superyacht. This superstructure, often referred to as a luxury yacht, is a vessel that epitomizes opulence, exclusivity, and comfort. 
While there isn't an exact length requirement, superyachts are privately owned vessels exceeding 80 feet. However, many superyachts exceed 100 feet, and some mega-yachts can span well over 300 feet.
It's not just their size that distinguishes them; their commitment to luxury and ability to offer service, amenities, and customization surpasses standard yachts. They often include spacious staterooms with ensuite bathrooms, gourmet kitchens, multiple entertainment areas, swimming pools, gyms, and even helipads.
A superyacht is not just a vessel; it's a floating masterpiece combining the art of design, engineering, and craftsmanship to offer a lifestyle that rivals the most luxurious hotels and resorts. 
Custom-building a superyacht 
The process of crafting a custom superyacht is highly complex. It begins with seeking a reputable builder, such as YACHTZOO. A superyacht manufacturer has a team of naval engineers, architects, and interior designers to breathe your personal needs and style into the vessel.
Naval engineers focus on the technical aspects, including stability, performance, and safety. Meanwhile, superyacht architects and interior designers work on the aesthetics and layout. Together, they can build your dream superyacht from scratch.
Clearly communicate your preferences, lifestyle, and design aspirations to the architects and designers. The architect, specifically, must consider a wide range of factors, including the owner's preferences, the purpose of the yacht, and the delimitations imposed by size, weight, range, luxury, amenities, safety, and regulations.
The hull shape, for instance, is a fundamental element that affects the yacht's stability, speed, and fuel efficiency. Some owners prefer minimalist, modern lines, while others opt for a more classic, opulent appearance.
Therefore, you must provide the experts with inspiration and references that reflect your style and desired atmosphere onboard to achieve a balance between aesthetics and comfort.
Customize the living spaces
Share your preferences for exterior and interior spaces, such as an entertainment area, a wine cellar, a fitness center, pool features, etc. Architects can help design these spaces to match your desired ambiance and requirements. The following are some of the standard features of a superyacht:
Choose from an array of luxurious materials for furnishings, such as exotic woods like teak or mahogany, Italian marble for countertops, and high-end fabrics such as silk or cashmere for upholstery. Well-fitted into the overall design, these materials can help create the deluxe ambiance you're going for.
Tailor the lighting and décor to match your preferred style, whether classic, contemporary, minimalist, or something unique. The right fixtures and personal touches can greatly influence the atmosphere and overall aesthetic of the yacht. You can also add your favorite artwork and personal collections to add character to the space to make it truly your own.
Consider commissioning custom furniture to fit the yacht's spaces perfectly. Custom-made sofas, tables, and cabinetry can maximize both functionality and aesthetics. 
Integrate cutting-edge technology
Beyond their lavish amenities, superyachts are also known for their cutting-edge technology, top-tier safety features, and the ability to travel long distances with ease. Modern superyachts are equipped with state-of-the-art technology for safety, entertainment, and convenience:
Advanced navigation systems
Global positioning systems (GPS), radar, sonar, and even autonomous navigation systems ensure safe and precise voyages.
Stay connected with top-tier communication systems, including satellite phones, high-speed internet, and encrypted channels for secure communication.
Integrate your preferred entertainment systems, from satellite TV and streaming services to high-end audio setups, for a personalized onboard cinema experience.
Control lighting, climate, security, and more with a touch of a button. Smart technology allows you to create the perfect ambiance effortlessly.
Superyachts are staffed by experienced and professional crew members who ensure that every aspect of the voyage is seamless, from navigation and maintenance to gourmet dining and concierge services. So find a reliable yacht services manager to complete the experience. 
Prioritize safety and functionality
While customization concerns luxury and aesthetics, don't overlook safety and functionality. Ensure that your yacht has the latest safety features and that the layout meets your practical needs.
Consider how your needs and preferences may evolve. Plan for flexibility in the design to accommodate future changes and upgrades. Similarly, ensure you follow the rules and regulations in your destinations to maintain a seamless getaway experience. 
Concluding thoughts
Creating your dream superyacht is a deeply personal and rewarding experience. From the initial design phase to selecting materials, furnishings, and the latest technology, every choice is an opportunity to transform your vision into reality. It's a testament to the limitless possibilities of customization in luxury yachting.
When customizing your superyacht, collaborate closely with reputable yacht builders, designers, and architects who can turn your dreams into a bespoke masterpiece. With a personalized superyacht, you're not just sailing the seas but embarking on a voyage of self-expression and luxury tailored to your desires.
---
Disclosure: This site may contain links affiliated with companies where we receive compensation. Also, as an Amazon Associate we may earn from qualifying purchases we refer but it does not impact the price you pay.
Full disclosure policy
.