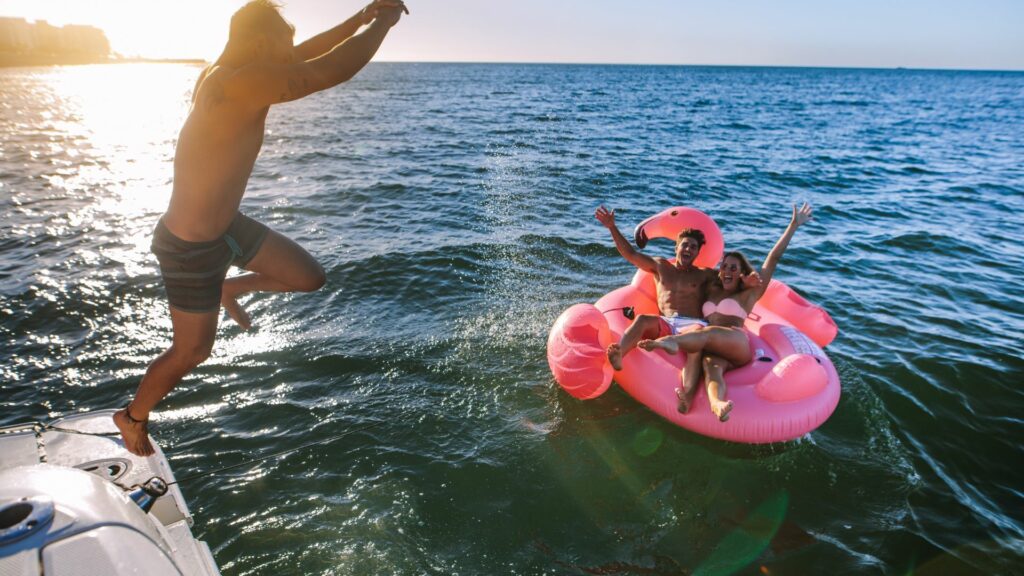 Consider this scenario: You are relaxing on the deck of your boat with an ice-cold drink in the summer. You have your friends and family with you. So you are sure to have maximum fun. We'll let you know a little secret: you have even more fun with floaties. Whether you are planning a birthday bash, a bachelorette party, or just a day to mingle and chill with friends, one vital element for a memorable experience is to use the proper selection of floaties.
With their bright colors and eye-catching designs, inflatables make a powerful visual statement at your party. They add comfort, relaxation, and an element of aesthetics to your parties. They are also great for creating a backdrop for Instagram-worthy photos.
In this guide, we will help you navigate the sea of floatie options to help you find the best floatie options for your best party celebrations.
---

---
Types of Floatie for Parties
To find the best float options, we covered dozens of options based on type, size, portability, and durability. We split the types of pool floatie options into two categories: generic and custom-made floats. 
Generic pool floats are the types in online stores and the local supermarkets around you. You can get them easily with a single visit. In contrast, custom-made floats are personalized for you. You can also call them branded pool inflatables, because you can customize them with your name, company's name – basically anything you want.
Here are some common pool float options for your boat party celebration
---
---
Inflatable Loungers
The first choice for any boat party is the inflatable lounger. They offer a place to relax on the water and a social hub for your party guests. Their massive size allows your party guests to interact, play party games, and bond with each other. If we look further the possibilities of inflatable games goes beyond bounce houses and water activities, thus making them a great option for any party.
Most loungers come with ergonomic features like headrests and contoured body shapes to cradle the body and help you chill as you float on the water's surface. Inflatable loungers are available in various shapes and sizes, so you can easily customize them to match the theme of your party. Getting an inflatable lounger for your party is a surefire way to improve the experience.
Floating Coolers
A party without food and drinks is no party at all. Coolers keep your drinks cool and protected from the sun's heat. Inflatable coolers are a great way to keep your drinks and refreshments cold at a boat party. You won't have to worry about running back to the freezer whenever you want a drink, as your inflatable cooler will keep your drinks cold and refreshing, ensuring you enjoy your party to the fullest.
Since they are inflatables, they float on water. This means you can always have them close at hand. You can keep them next to you on the water surface and pull them close whenever needed.
Floating Party Island
You should get a floating party island if you want to go big with your party and impress your guests. As the name implies, it is a giant inflatable platform that can accommodate multiple people at once – there is room for everyone. It also has sophisticated features like built-in seatings, coolers, cup holders, and mesh bottoms that allow you to dip your feet in the water. You could add extra features like storage compartments to hold your guest's properties and shade options to protect them from the sun's rays.
Floating party island is the ultimate social hub for any boat party. You could also customize them with the party theme to add a fun and festive mood to the party. However, while they are a great way to have fun, you must exercise care to ensure your guests stay safe. It can only hold a specified number of people, so you should be careful not to exceed it.
Inflatable Water Slides
Do you love the water park? With inflatable water slides, you can make your private water park. Water slides are a great way to add excitement, adrenaline rush, and hours of entertainment to any party. You should get them and place them on your boat so your guests can play with them and slide right into the water.
However, before you invest in a water slide, you need to be sure your boat has the space to accommodate a water slide.
Donut Floatie
Is it really a boat party without a donut floatie? Donut floaties are a popular choice for any boat or pool party. You should also get them while stocking up on inflatables for your boat party. They come in a pleasant circular shape that makes them ideal for lounging. You can sit on them, play with them, and use them to float on the water. 
They are great for all ages. Everyone, from kids to adults, can enjoy lounging on them at pool parties.
Final Note: Getting a Floatie for Your Parties
Floaties are a no-brainer when it comes to boat party celebrations. They can turn your party from basic to extraordinary, improve the ambiance of your party, and elevate the party experience. 
Disclosure: This site may contain links affiliated with companies where we receive compensation. Also, as an Amazon Associate we may earn from qualifying purchases we refer but it does not impact the price you pay.
Full disclosure policy
.