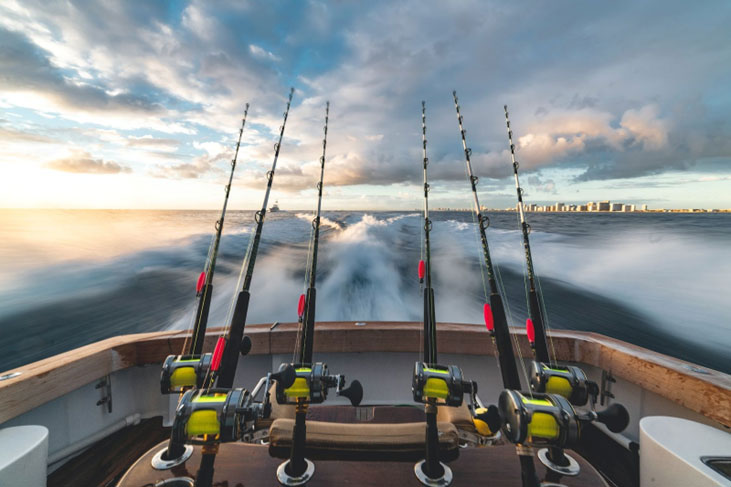 One of the most obvious activities you can do while boating is fishing. It doesn't matter whether you like to go on relaxing cruises along the lake or a full-blown adventure in the sea. Fishing is always a great pastime. And if you go with friends, it's a great bonding activity.
If you ask me, carrying the fishing gear over and over on the boat is not a good idea. It's best if you stash everything you need on the boat itself and lock them up.
If you're new to boating and fishing, you might still be building out your kit. In that case, Melton Tackle is the perfect place to explore online. From reels and rods to marine safety equipment, you can get everything you need on the water in one place!
Inspired by all the available boating and fishing gear,  here is a list of 5 must-have equipment on your boat.
---
---
Keep Oars Handy
Most likely, you probably did spend a lot of money on your fancy motorboat. But what's the likelihood that the motor won't die when you're in the middle of nowhere in Alaska? Or, if your boat doesn't have a motor, what do you do if you lose the main oar? 
So, in this case, Melton Tackle is a great place to pick up a pair of oars along with other important fishing or boating gear. Also, don't forget to write down the number of your marine technician. If something goes wrong, at least you can tell them what's going on. If the problem is small, you can fix it yourself with simple hand tools.
Invest in a Good Fly Box
Seasoned anglers know the importance of having a versatile collection of artificial flies. But getting your hands on the right fly can be tricky when the time comes. In most cases, you get a small window to switch out the lure before the fish realize what's going on. 
In such cases, a fly box on deck can be a lifesaver. You can stash it in any corner of your boat and bring it out when you're in the mood for fishing. Most modern boxes have compartments for different types of flies. You're in full control of how you want to organize them. Just make sure you organize them.
A Landing Net Goes a Long Way
Catching the fish is often not the most challenging part of the journey. It's landing the fish, especially when sitting on your mighty high deck. A landing net can solve this problem very easily. They're cheap and work great for fish handling.
It's best to have a partner on board when fly fishing with a landing net. Managing the rod and the net at the same time can turn out to be trickier than you think.
Invest in the Right Apparel
No, it's not okay to wear your denim jeans to fishing. Fishing is a sacred craft and you should respect it. The best way to start is by investing in the right apparel.
A pair of wading pants and quick-dry shorts will allow you to enjoy fishing without worrying too much. Pick the hats, sunglasses, and fishing pack out of the hundreds of options on Melon Tackle.  
Remember, if you're invested in a hobby, you should also look the part. Most anglers will agree with this.
A Small Coolbox Can Beat the Heat
When you go out fishing, you don't do it for a couple of hours. You're usually gone for the day with friends, family, or colleagues. It never hurts to carry beverages and snacks when you go out. We often underestimate how soon the stomach can start rumbling when you have nothing to do but look at the waterline.
And you don't want to drink boiling hot soda or beer when you're out there! So, invest in a passive coolbox, even if it's the smallest size available.
Bonus Tip: Look Beyond the Essentials
The essentials are exactly what. They're essentials. A smart angler knows better and looks beyond them. For example, having a multitool nearby will help you cut lines quickly and help you fix minor issues with the reels and rods.
Also, consider investing in a boating-focused toolbox. When you call your marine technician and they tell you to test something, these tools will come in handy.
The key to enjoyable fishing lies in the preparation. Take your time. Source your equipment. Let the people you care about know about your upcoming adventure. Godspeed!
Disclosure: This site may contain links affiliated with companies where we receive compensation. Also, as an Amazon Associate we may earn from qualifying purchases we refer but it does not impact the price you pay.
Full disclosure policy
.