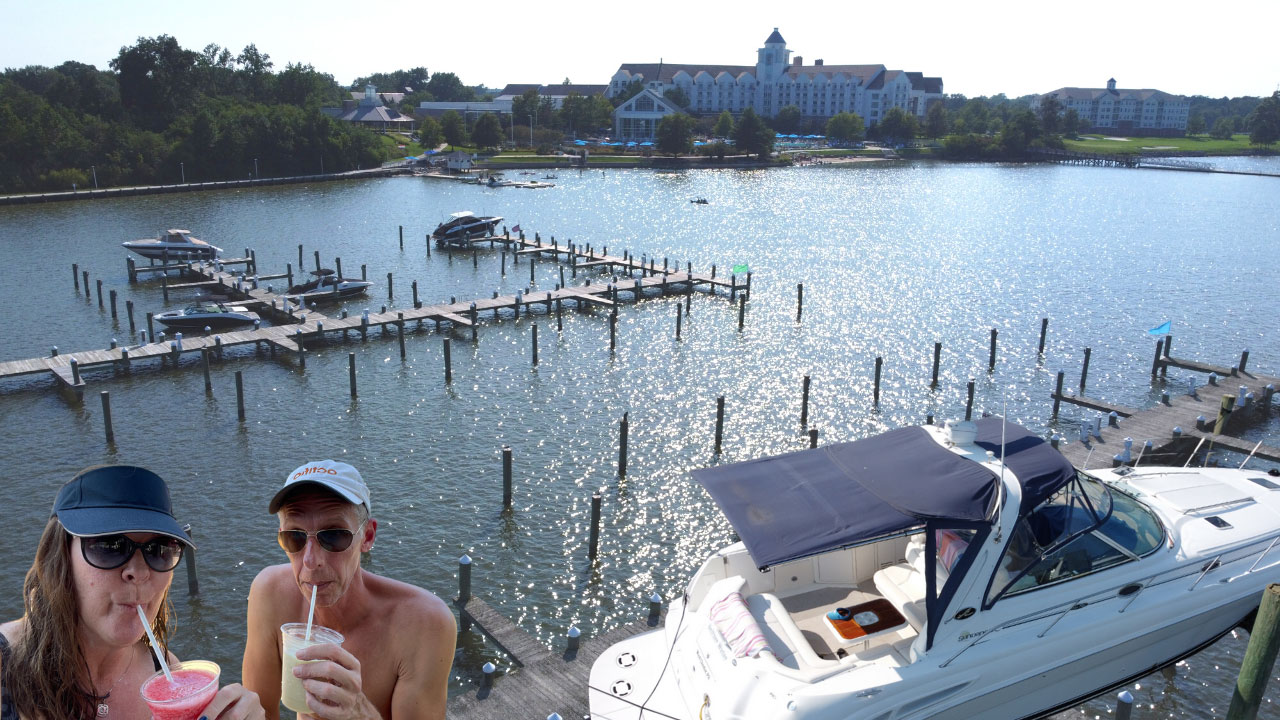 ---

---

Are the resort style amenities of a large hotel marina worth the trip? Take a cruise with us to Hyatt Cambridge Hotel and Marina in Maryland
This past summer we did our longest cruise ever and stayed at our our first hotel resort marina. Was it worth it?
Come along with us and check out our boat trip to the Hyatt Cambridge Hotel Resort in Maryland.
Watch our Full Trip Video:
---
---
Boat Trip Highlights
We got to our marina the Saturday night before the trip hoping to relax on Sunday all day as we got ready for our trip, and leave first thing Monday morning. Unfortunately that Sunday was a washout… but the beautiful sunset that followed was almost worth it.
But luckily by the morning the weather was clearing up and we were ready to go!
This boat trip to Cambridge would be almost 4 hours and over 80 miles – the furthest we traveled by boat on the Chesapeake Bay in our 20 years of boating. This was unchartered water for us, so we used the Argo app to plan the route.
The approach to the Chesapeake Bay bridge can be seen for miles before you actually get to it. Cruising under the Bay bridge is always an amazing experience.
Rather than going around Tilghman Island we went through the Knapps Narrows to head over to Choptank River. There are several marinas and restaurants here, so we'll definitely plan to come back. It gave us a chance to slow down a bit, but we also had to wait for the bridge to be raised. Although I always thought it was kind of cool that they have to raise a section of the road just for you.
After cruising up the Choptank River a bit we finally arrived at Cambridge. We stayed at the River Marsh Marina which is part of the Hyatt Regency Cambridge Hotel Resort. We had been wanting to go here for years – It was our first time staying at a hotel resort marina so we were excited to check it out.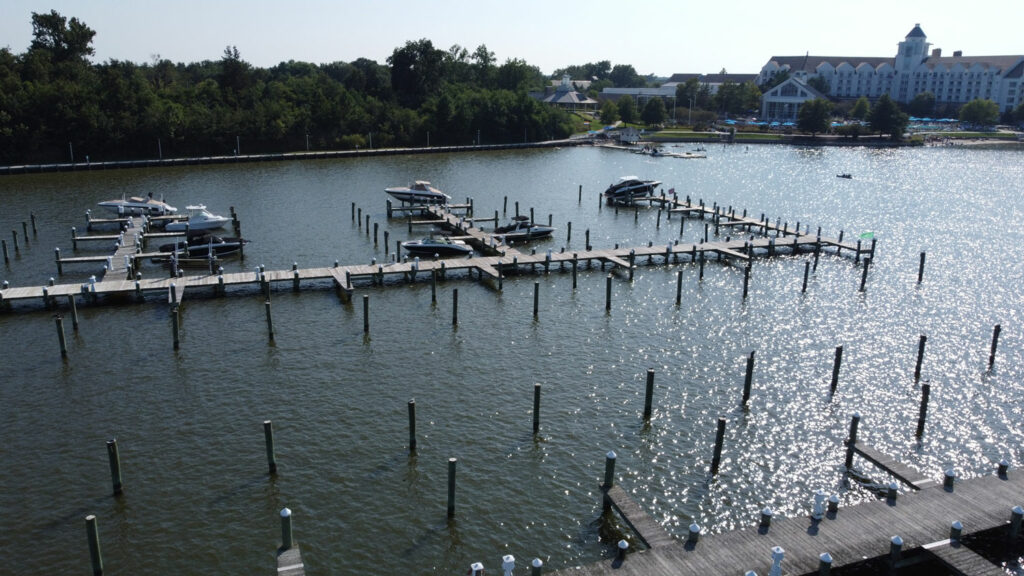 One thing we noticed right away was that the marina was quite empty…. Lots of empty slips. It felt like we had the whole marina to ourselves.
It was a long walk from the marina docks to the hotel where all the amenities were located. There was also a resort golf cart to take you there but it wasn't always available.
When we got to the hotel area it was a completely different scene. It was a busy resort and we felt a bit like the marina people sneaking in.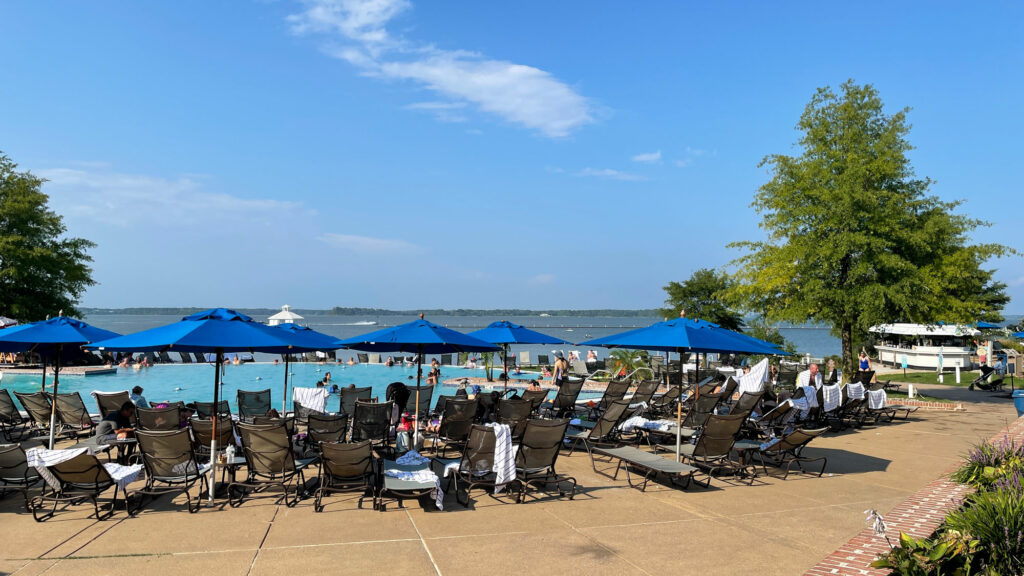 We're used to staying at marinas with 1 pool – this place had 3. There was also a big water slide that was definitely a hit with the kids…
and they even convinced me to go down a few times! I have to admit it was a lot of fun.
Even though it was a weekday the last week of the summer, the resort was very crowded. Luckily there were a few adult areas like a hot tub and a section of the infinity pool. But the infinity pool left the grassy area a muddy mess with all the kids climbing in & out.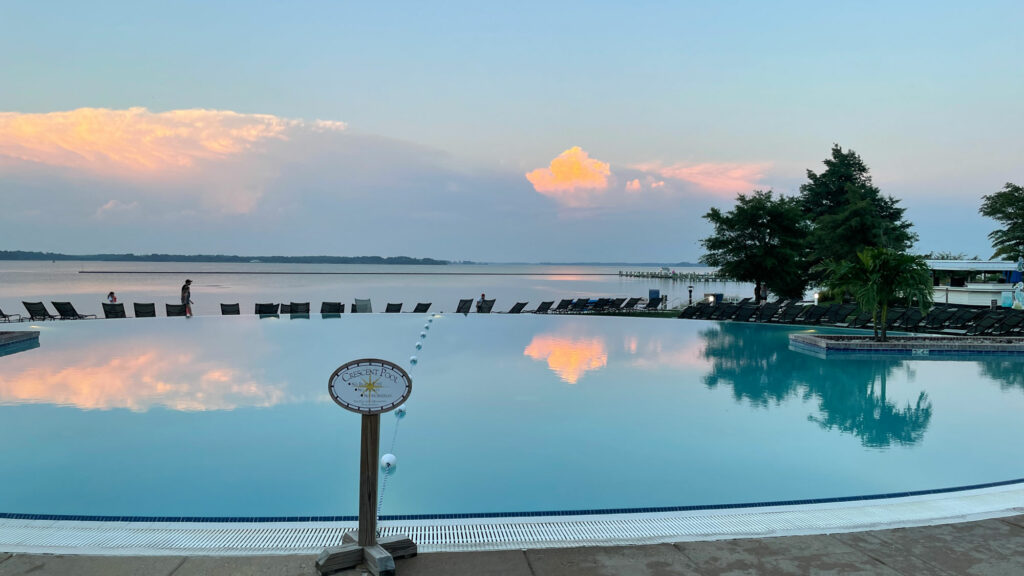 This place definitely had more of a Hotel vibe then the marina vibe we are used to as boaters. But we did enjoy our many trips to the outdoor bar for smoothie drinks.
There were also tons of other outdoor activities we didn't do – like beach volleyball, golf and mini golf or watersports if you paid extra.
I heard about a group of boaters who sucked up jellyfish in their AC water strainers staying at this marina a few weeks before. Luckily we didn't have that issue.
Each night we would head back to the hotel for dinner where there were 5 different places to eat. We had a sit-down dinner 1 night at Water's Edge Grill and a more causal dinner 1 night on comfy couches at Michener's Library.
The entire hotel is VERY dog friendly which was nice. Gracie even had her first puperchino at the Starbucks.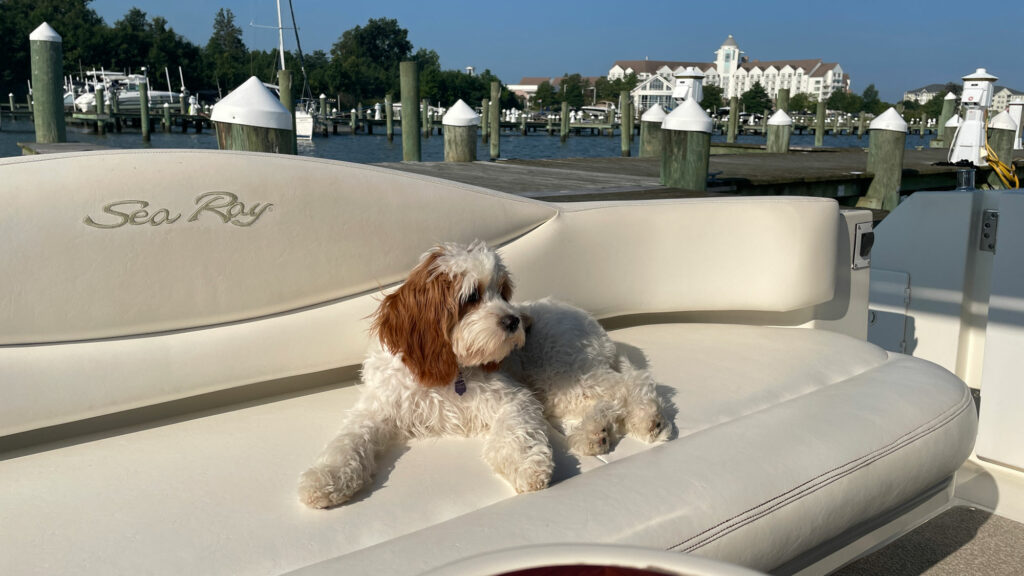 Nights at the marina were quiet with a nice view of the hotel lit up. After 2 nights at the resort we were ready to head to a marina that was a little more our speed.
We left for a 1 hour cruise to our next destinations – Herrington Harbor South & North… 2 sister marinas that were 2 very different experiences. So be sure to Subscribe to our Channel to watch that video coming soon!
Watch our Full Trip Video:
Disclosure: This site may contain links affiliated with companies where we receive compensation. Also, as an Amazon Associate we may earn from qualifying purchases we refer but it does not impact the price you pay.
Full disclosure policy
.