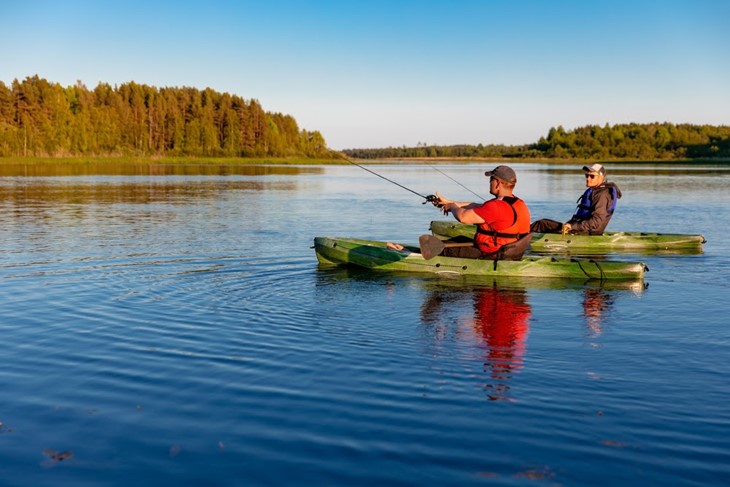 ---

---

How to get started with kayak fishing – from kayak paddling gear to safety and how to reel in your first fish from a kayak
Kayak fishing is, as its name suggests, fishing from a kayak. Often thought of as a relatively newly born hobby, kayak fishing is actually quite the contrary. Kayaks have been used for over 3000 years as a form of transportation and a means of accessing fishing grounds. This makes perfect sense considering how mobile and quiet kayaks are, making them the perfect vehicle for stalking fish in.
If you're someone who is looking to get into kayak fishing, this is the article for you. Let's take a look at everything a beginner needs to know about kayak fishing, so grab your paddle and read on to find out more!
---
---
Always Remember – Safety First
Like any other sport or activity, prioritizing safety is absolutely paramount, especially if you're new to kayak fishing. This is why ensuring that you purchase or borrow a Coast Guard-approved personal flotation device (PFD) prior to your fishing adventure is vital. No matter how good of a swimmer or kayaker you believe yourself to be, it never hurts to be careful and to prioritize your safety regardless of how much experience you have in the water. If time permits, we even recommend that you enroll yourself in a kayak safety course that is run by certified personnel – often your local kayak dealerships will have a variety of courses available.
Buying Your Kayak and Paddle
If you don't already own a kayak or paddle, purchasing your first one can be a really exciting experience. Like most things in life, it is important to remember that you get what you pay for. A higher priced kayak usually means nicer materials and added features. Specialized fishing paddles are also available for anglers, and can assist in really bringing your kayak fishing to the next level.
Here are some things to consider:
Try to purchase the best possible kayak and paddle that your budget allows for.
Always try before you buy — only you will know what feels best and what you are most comfortable in. By all means, ask for opinions. However, at the end of the day, choosing what feels right to you should take priority over anyone else's opinion.
If you aren't situated near any kayak dealers, shopping online is always a great idea.
Things to look out for when purchasing your kayak:
Price: like we mentioned, you get what you pay for! Of course, to dry to work within your budget and find the best kayak that money (or in this case, your budget) can buy.
Features: rails, portability, seat comfort, sonar mounting, stability and rod holders.
Company Reputation: check online reviews and ask around your local kayak community to find the best kayak dealer.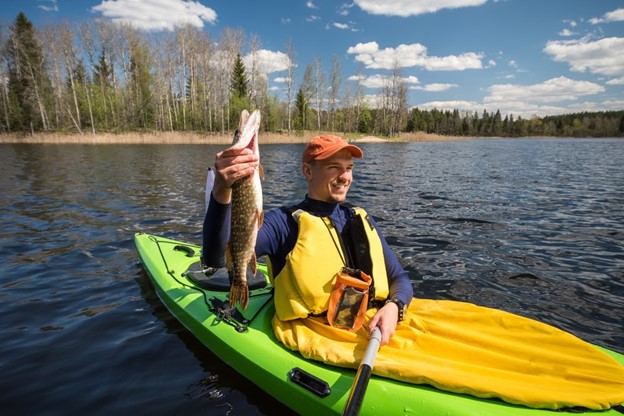 Gathering Your Essentials
Gathering your essentials for your first kayak fishing expedition is the best way to ensure that you're prepared for anything that comes your way. Some essentials include:
High visibility flag and light
Sunscreen
Sunglasses
Hat
First Aid Kit
Dry storage case
Time To Go Fish!
Once you've gathered the essentials, it's time to head out on your fishing adventure. Some things to keep in mind are to always ensure that you remain visible with the help of reflective PFD and clothing, bright flags and lights, and a safety whistle or air horn. Don't worry — this will make you visible to other kayakers, but you'll still remain stealthy enough to ensure a good catch. It is also important to ensure you have your straight blade or knife with you at all times in the unlikely event that your fishing line gets caught on something. Your knife will allow you to cut your line free quickly in order to avoid any danger or mishaps.
Lastly, always remember to never anchor in swift current. Should your kayak turn the wrong way, it could very well take on water and flip! When anchoring, attach a float to the end of your line so you are able to retrieve it should it need to be cut off.
Things To Remember
It is important to understand that kayak fishing differs greatly from fishing on a motorboat or canoe. This is why taking the time and effort to connect with experienced kayak fishers is one of the best things you can do for yourself. Experienced fishers will be able to bestow a wealth of knowledge on you in order to help you navigate your journey. Your guide will be able to help you with boat positioning, rigging, paddling, safety, and how to fish from a kayak in general. As an added bonus, they'll also be able to share some prime fishing locations with you!
Don't feel like you need to rush into things, and always do extensive research before trying anything out. Kayak and fishing communities are often filled with tons of friendly people who are more than willing to help out!
We hope that this article has given you some valuable insight into kayak fishing and everything you need to know about picking up your favorite new hobby. Happy paddling!
Disclosure: This site may contain links affiliated with companies where we receive compensation. Also, as an Amazon Associate we may earn from qualifying purchases we refer but it does not impact the price you pay.
Full disclosure policy
.