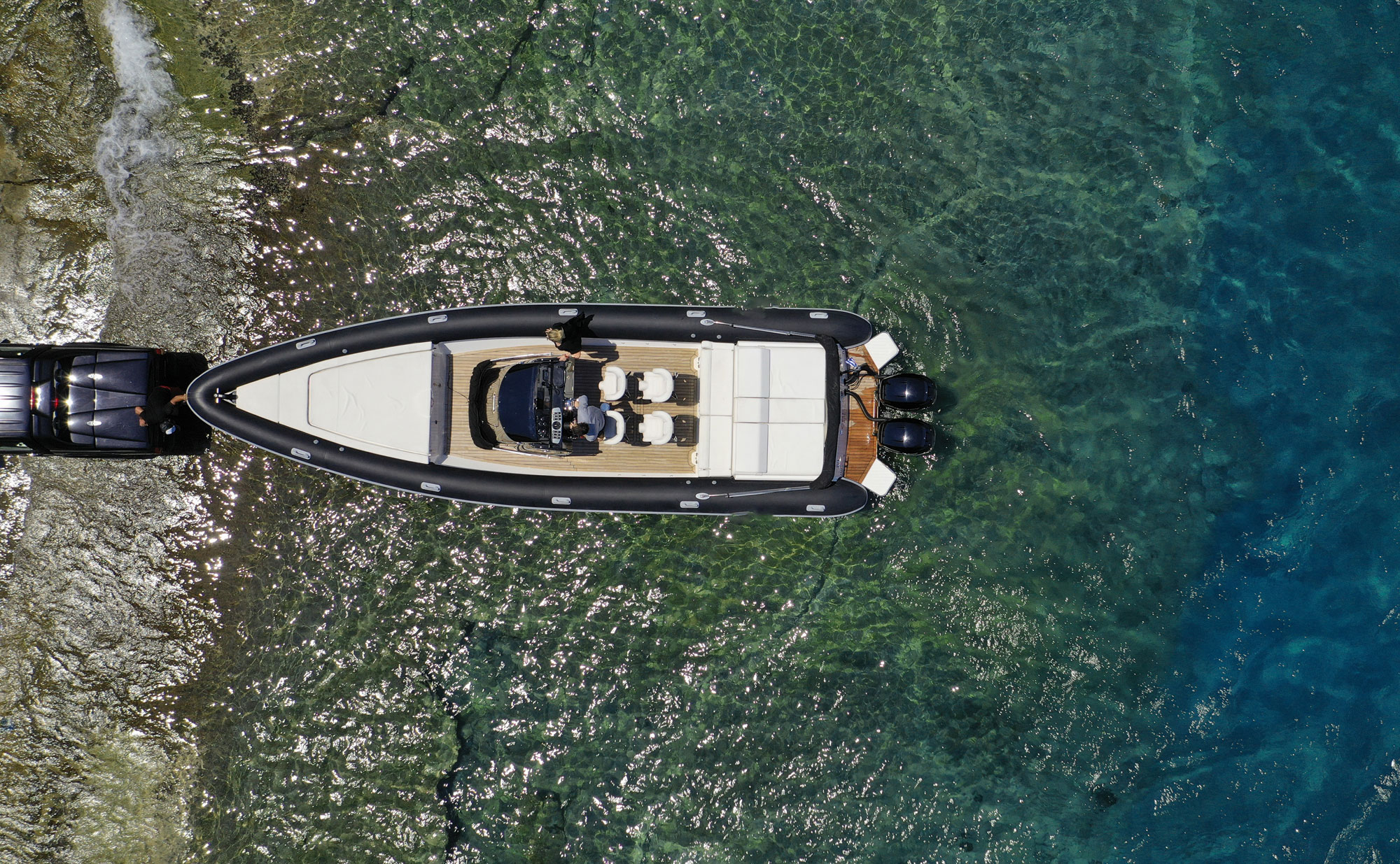 ---

---

From type of trailer to towing capacity, here's a watercraft trailer guide to how to choose the right boat trailer
As a boating enthusiast, being able to move your adventures to new locations is part of a great experience. Unique experiences like these are what allow you to make lifelong memories with your family, friends, or significant other. This is why getting a trailer for your boat is a significant part of boating.
The process of buying a watercraft trailer can be quite complicated, especially for beginners. Besides knowing which trailer will be the best for your boat, you also ought to consider which car would be the best for your adventures.
In this watercraft trailer guide, you'll be looking at three important tips that will come in handy when shopping for a trailer.
---
---
1. Which Trailer Type Should You Go For?
When choosing towing trailers for your watercraft, you'll basically come across two types of trailers. They are:
Bunk Trailers – Bunk trailers are the cheaper option of the two. They comprise a simple design and fewer moving parts that allow you to tow your boat and launch it into the water. The fewer moving parts also mean they're easier and cheaper to maintain. Most of them offer you a drive-on capability because they have to be deep to launch. One major advantage of bunk trailers is that the parts tend to wear off quickly, especially in salty water areas, because you have to submerge them deeply into the water to launch.
Roller Trailers – If you're going to be launching in low tides and at shallow ramps, roller trailers might be your best option. They have a more sophisticated design that doesn't need to be submerged as deeply as bunk trailers. Since you won't have to submerge them into the water, roller trailer parts last longer with less damage. They have more moving parts, which make them expensive to buy and maintain. They are also easier to load and launch.
Besides trailer type, you'll also need to consider if you'll use your trailer to store the boat. Parts where the boat's weight rests for a long time tend to wear off fast. This will more often happen with roller trailers. Bunk trailers can withstand long-term boat storage because they spread the weight over a large area. If you need a high-quality trailer with multi-rollers, you can get yourself a jet ski trailer.
2. What's Your Boat's Length And Capacity?
All watercraft trailers come with a weight capacity. Your boat trailer should be able to accommodate your boat's length and weight without major issues. Most boat trailer manufacturers include this capacity in their products.
However, this is usually 'dry' weight. This refers to only the weight of the boat. This figure doesn't include the fuel, engine, and any other equipment. As the boat owner, it's your responsibility to account for any weight that may be applicable.
For example, if your boat weighs 1,200 kgs (2600 lbs), purchase a boat trailer that can accommodate 1,500 kgs (33oo lbs). If you don't include the additional weight, you could cause serious issues when launching and loading.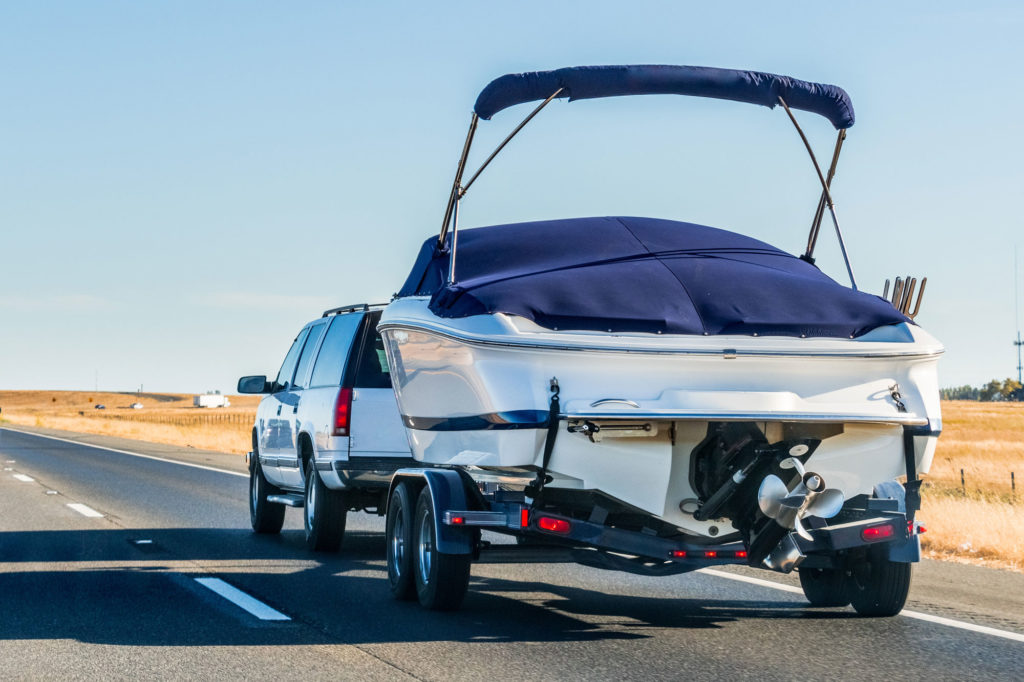 3. Consider Your Car
You shouldn't ignore the towing vehicle you'll use in your escapades. If you're towing a boat with a vehicle that's too small, it becomes hard to stay in control of your vehicle, especially when navigating corners. It's especially harder to stop because the weight of the boat overwhelms your car.
Towing with a vehicle that isn't appropriately sized can cause you legal problems. In some states, this might land you in jail for negligence. Imagine if your loved ones and other road users were harmed because of this. Make sure you tow your boat using vehicle with the right size.
If your current drive would be too small for your boat's size, why not trade it in for a larger car?  This can help you save money on insurance and maintenance fees.
On the other hand, you don't need a car that's too large. It might make your journey more expensive as you'll spend more on fuel, while a smaller car would have gotten the job done. Besides, a large car can be a huge hindrance in the place you can get your boat into.
Most mid-sized SUVs are strong enough to tow your boat and narrow enough to grant you access to most roadways. When it comes to your car size, the rule of thumb is to match it to your boat size as much as you can.
Also, will you be using your vehicle to tow other recreational items, such as a camper?  If so, you might want to get a vehicle that'll accommodate either of the trailers.
Key Takeaways
Buying a boat trailer to facilitate your boating adventures doesn't have to cause you anxiety. With a few tips, you can be on your way to nailing the process and achieving those life-long memories. First, you need to know which type of trailer would be most suitable for your adventures. Secondly, know your boat's weight length and weight to buy a trailer that can accommodate the boat and all its gear. Finally, get the right car because a car that's too small or too large can hinder your activities.
---
Disclosure: This site may contain links affiliated with companies where we receive compensation. Also, as an Amazon Associate we may earn from qualifying purchases we refer but it does not impact the price you pay.
Full disclosure policy
.