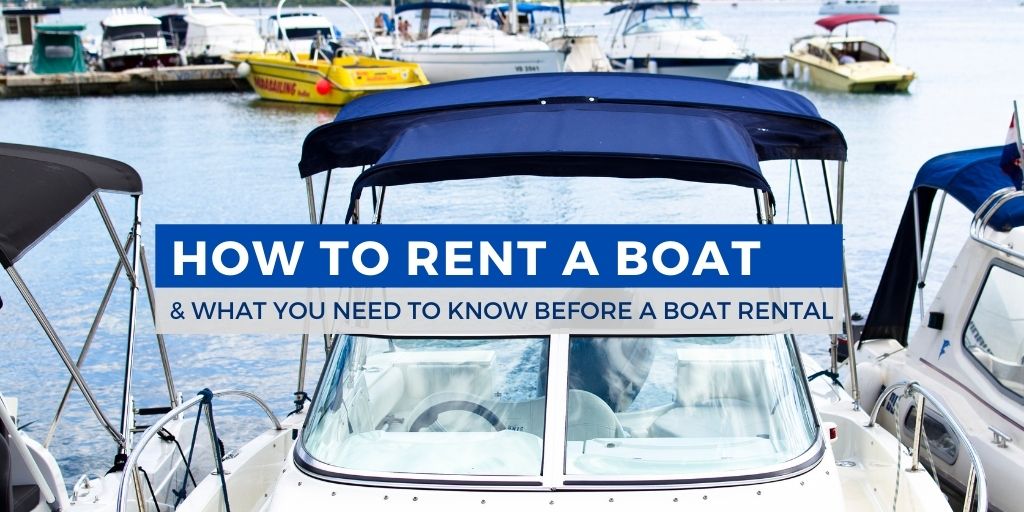 ---

---

So you want to rent a boat? Here's what you should know before and during your boat rental trip
Boat rental businesses are a growing market. More and more, one can find large and small businesses providing boat rentals in one way or another. A boat rental is a great way for new boaters to get out on the water and experience boating.
If you are new to boating, or renting a boat, there are a lot of things things a renter should know, do, or expect from the boat owner or boat rental agent to be prepared for a safe and enjoyable boat rental experience.
---
---
What is a Boat Rental?
Generally, boat rentals refer to smaller boats and those boats are rented only for a few hours up to one day. The renter does not usually stay on the boat overnight. A charter most commonly involves larger boats or yachts. Additionally, the charter period is for days and not hours. This is article is specifically about boat rentals and I shall assume the renter will act as the skipper. Jet skis, while technically small vessels, will not be considered here.
You can easily find boat rental agencies online. Some have their own fleets while others act as agents for owners. It is probably a good idea to find a rental agency in the area in which you would like to rent. They are more likely to have direct knowledge of the boats available as well as knowledge of the local waters. To be sure, ask if they have been aboard any boat in which you are interested.
Each state or country regulates boating licensing requirements. For this reason, it's also important to check the license for boating in Ontario or in the area you plan to boat. This is essential if you're driving a boat. Otherwise, it's best to hire a licensed boater to operate the boat and avoid facing penalties, fines, and possible jail time for subsequent offenses.
What you need to know before renting a boat
When you are in the process of booking a rental boat, do not overstate your experience. Being honest will get you on a boat that you can handle and the person doing your checkout can then be more prepared with information you will need. Let the rental agent know how many people you plan to have aboard. There are limits to the number of people based on vessel design and available safety gear.
Another question you will want to ask is whether the rental agreement will be between you and the rental agency or between you and the boat owner. The question is relevant in that it will potentially reveal how much of what you can negotiate in your rental agreement. While an agency might work from a boilerplate contract that does not allow for customization, an owner may be more willing to agree to variations and special requests like non-standard departure and return times. Be sure that whatever you negotiate is included in writing in your rental agreement.
Get familiar with the boat
One thing that on which you should insist is meeting with the owner or an equally knowledgeable person before accepting the vessel. You should get a thorough tour of the boat.
Where are the PFDs? First Aid Kit? Tools? See for yourself that all of the legally required minimum equipment is aboard.
Does the owner have towing insurance? Get instructions on using the radios and any navigation equipment.
Where are the vessel documents? If you are stopped by law enforcement, you will need your rental contract and boat documents to present to the boarding official. You should also have access to charts and tide tables.
Are there any special characteristics of the boat of which you should be aware? Try to arrange enough time before your planned departure to do a test drive to find out how the boat handles before your friends and guests get aboard. In fact, the owner or agent may insist on it.
There's also a big difference between handling a power boat vs a sailboat. Be sure you understand what it takes to operate the type of boat you are looking to rent.
Make sure you know what your responsibilities are. You are likely expected to refuel and pump out the holding tanks, if any. That means you need to return before the available fuel dock closes at the end of the day. Make sure you know where the Y-valve is and verify that it is secured in the holding tank position. Also make sure you know how much cleaning are you expected to do prior to a return.
What your boat guests should know
Once your guests are aboard, give them a thorough briefing before you depart. Go over basic procedures like departure line handling. Make sure someone other than you knows how to use the radio. Also and very particularly if there is a head onboard, demonstrate how it works. Be sure to admonish your friends to NOT put anything into the head that has not passed through their bodies except minimal amounts of toilet paper. Unclogging or repairing a head can be costly and a clogged head could ruin your day. On most, if not all, rental and charter boats smoking is not permitted below and sometimes cigar and pipe smoking is not permitted at all.
Include safety information in your guest briefing. Tell them where to find the life jackets and show them how to put one on. Point out the fire extinguishers and how to use them. Describe man overboard procedures. I like to tell my guests that if they have medical conditions that first responders need to know, make sure someone else on board knows in case they cannot speak for themselves in an emergency.
If you or your guests are new to boating, some essential gear you want to plan to have on board might include:
Understand the legal requirements
Lastly, if you are renting a boat to take a group out on the water, be aware of all of the legal requirements. If you are all sharing the expenses of the rental equally, there is no issue. However, if you are carrying passengers for hire, the operator must be a licensed merchant mariner. (See the definitions below.) You can also review a Coast Guard brochure for more information. If the vessel is considered an Uninspected Passenger Vessel of less than 100 tons, it may carry no more than 6 passengers for hire.
Passenger means an individual carried on a vessel, except –
(1) The owner or an individual representative of the owner, or in the case of a vessel under charter, an individual charterer or individual representative of the charterer;
(2) The master; or
(3) A member of the crew engaged in the business of the vessel, who has not contributed consideration for carriage, and who is paid for onboard services.
Passenger-for-hire means a passenger for whom consideration is contributed as a condition of carriage on the vessel, whether directly or indirectly flowing to the owner, charterer, operator, agent, or any other person having an interest in the vessel.
Be safe and have fun!
Renting a boat is a great way to enjoy being on the water at a reduced expense and without the hassles of ownership. However, renting anything is really a know before you go situation. It does not matter if it is a car, a house, a power tool, or a boat. Do your research. Select an appropriate boat. Plan your day and have good and safe time!
Disclosure: This site may contain links affiliated with companies where we receive compensation. Also, as an Amazon Associate we may earn from qualifying purchases we refer but it does not impact the price you pay.
Full disclosure policy
.