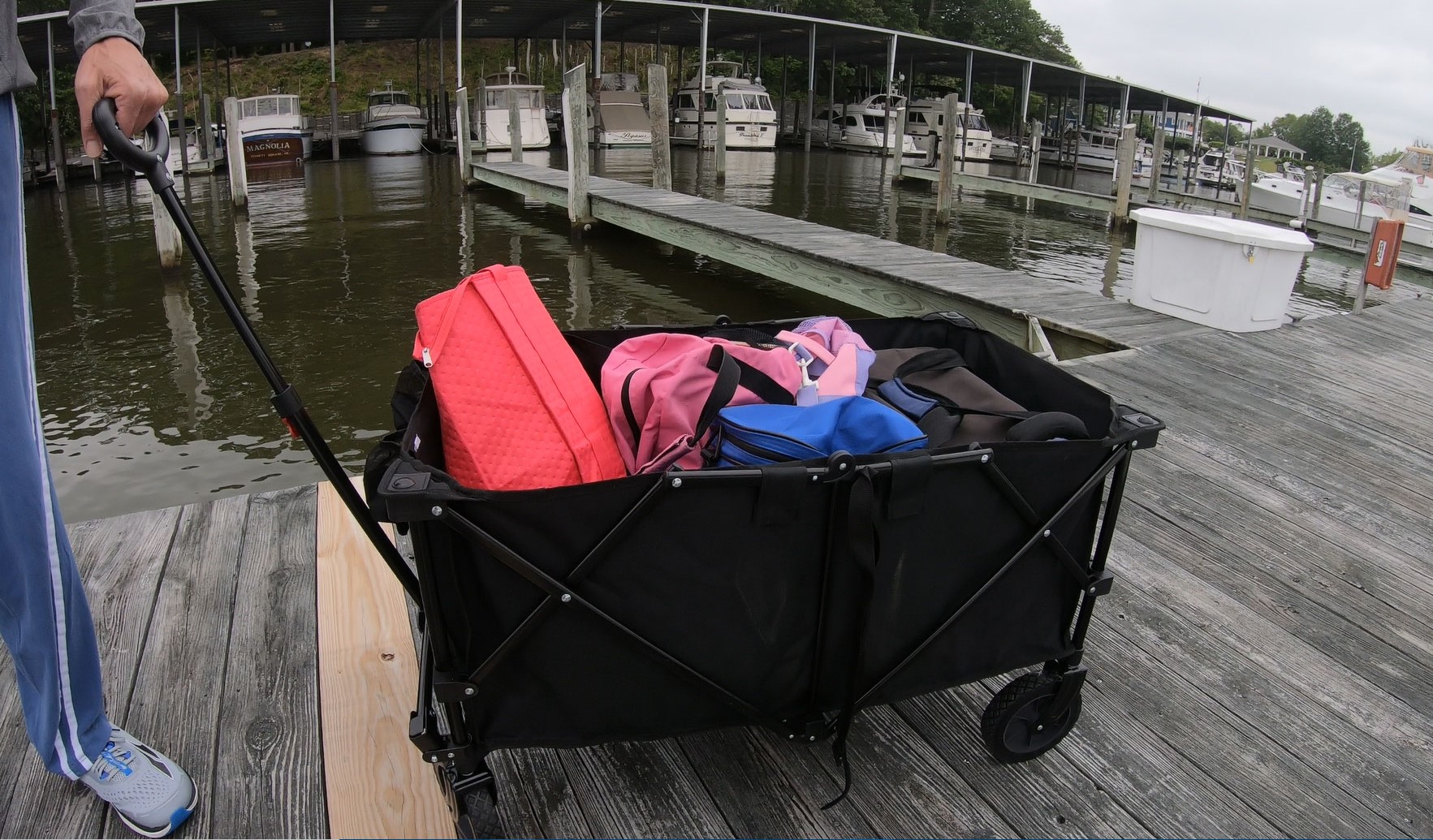 ---

---

Utility wagon with rotating wheels and adjustable handle makes a convenient dock cart for all your boat gear [Includes Video]
We've been boating for years and always used an available dock cart at our marina to load and unload boat gear to and from the boat, but recently decided it was time to get our own. We made the decision this boating season due to the pandemic, and now that we have our own dock cart we'll always have a clean & readily available cart to use that's also more convenient.
This heavy duty utility wagon became the perfect solution for an easy to use & store dock cart for our boat. It's a good size, holds a lot of gear and, most importantly, it easily collapses so that we can store it in the trunk of our car or under boat seats in our cockpit.
So why get your own dock cart? There's actually a lot of good reasons…
It's always available – our marina only has a certain number of carts – now we no longer need to wait for one on a busy weekend. Because this cart collapses we can even leave it on our boat during the weekend, saving us a trip up to the lot to find a cart before loading up to go home.
It's cleaner – we don't need to worry about a wet cart from the rain, someone else's spills or who may have touched it during a pandemic! This cart even has a canvas liner that can be removed and cleaned if needed.
It's easier to use – most dock carts are a wheel barrel style with 2 back wheels that require you to lift up the front to pull it and can be harder to navigate lines or people on the dock. This cart has 360 degree rotating wheels and an adjustable handle making it easier to maneuver.
We choose this Heavy Duty Collapsible Folding Outdoor Utility Wagon Cart – it was a good price and fit our needs perfectly.
The cart weighs 24 lbs and holds up to 176 lbs of boat gear. It has a nice handle to carry it when it is collapsed, and easily pops open by pushing down on the center for set-up in seconds.
We were able to load it up with our cooler and several bags of boat gear for our family's weekend trip to the boat. —-> Get more specs & buy cart on Amazon.
Check out this 3 min video for a quick demo!
---
Disclosure: This site may contain links affiliated with companies where we receive compensation. Also, as an Amazon Associate we may earn from qualifying purchases we refer but it does not impact the price you pay.
Full disclosure policy
.