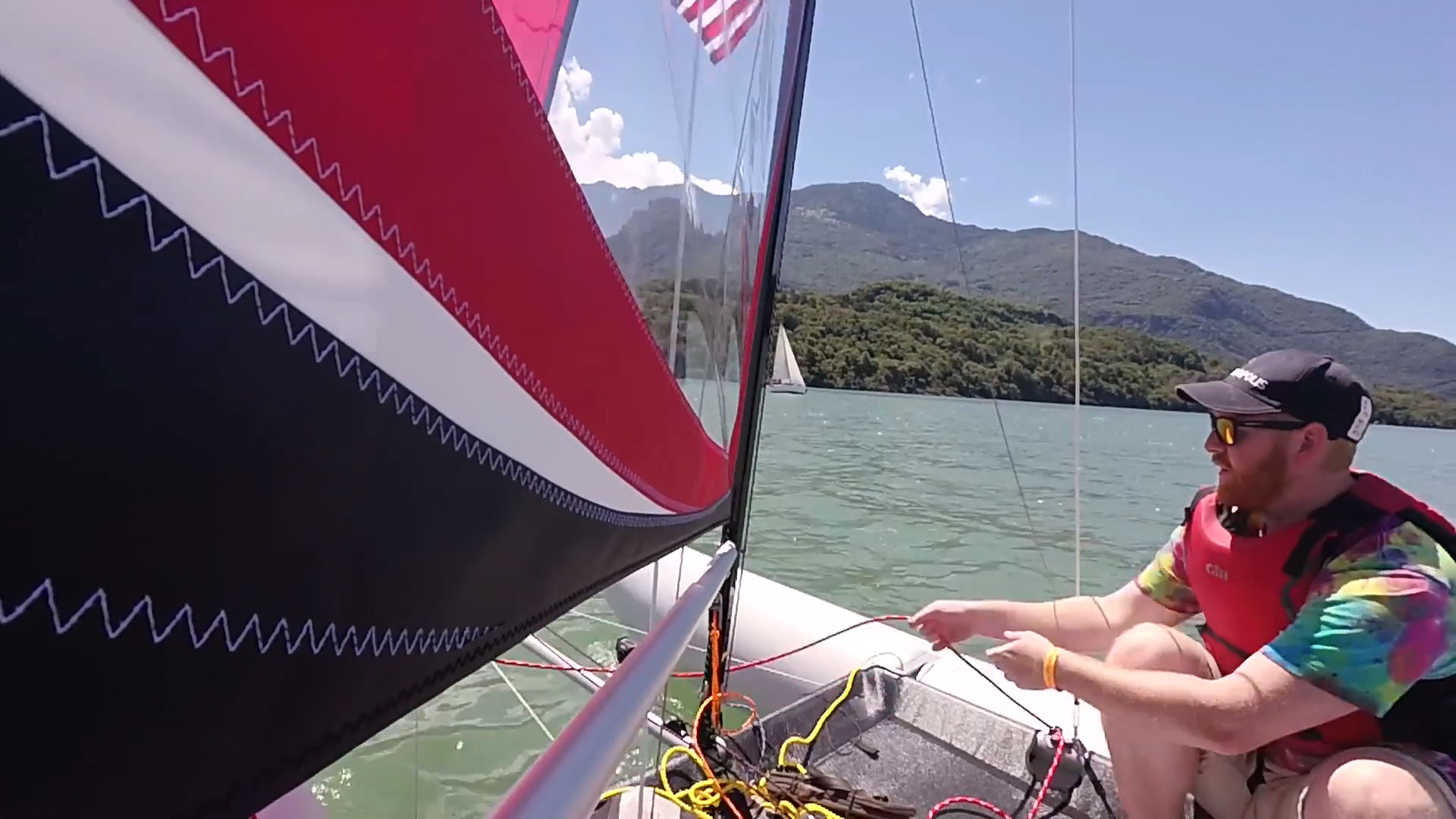 ---

---

A super lightweight and portable sailboat that's easy to assemble, handle, maneuver and store for sailing adventures nearly anywhere [Boating Podcast]
Anchors Aweigh is a podcast for all boaters, from aspiring to experienced. Featuring in-depth conversations with boating experts and industry leaders, and packed full of tips, tricks, gear, and industry info, boaters of all levels will come away with new skills and knowledge each episode.
In 2015, Alex Caslow and his wife KC did some extensive research looking for a portable sailboat option as consumers, and were so blown away by a new lightweight sailboat called MiniCat that they built a business around it.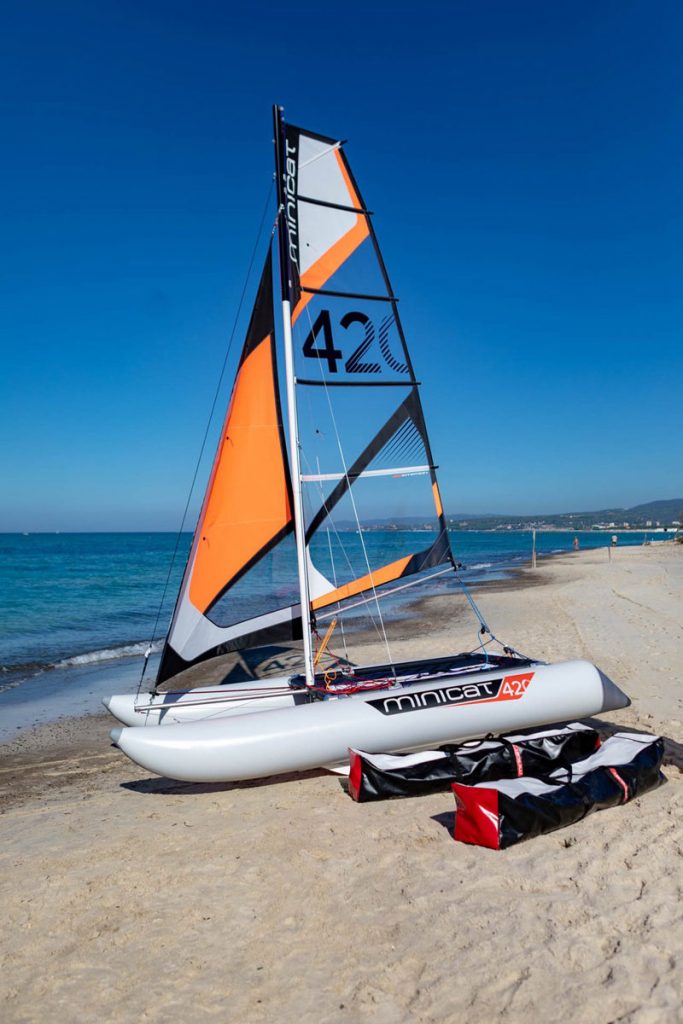 Alex and his wife KC founded and own Red Beard Sailing, the official U.S. dealers for MiniCat, Xcat, Reverso, and RowOnAir brands. Alex was introduced to sailing by his grandfather at a young age and has been able to turn that passion into a career, helping others experience the same joy he gets out on the water under sail.  Since 2015 they have added XCat and later Reverso and RowOnAir, and Red Beard Sailing started to take off.
The flagship line, Minicat, is a unique, small and light, but full-bodied sailing boat – a catamaran with inflatable floats. With excellent sailing characteristics and simple control, MiniCat appeals to young budding yachtsmen, experienced sailors, and even world explorers such as Laura Dekker.
All MiniCat models fit in a car, camper, yacht, or on a plane. They can be assembled in 30 minutes or less, with no extra tools required.
Alex and KC have decided that will be involved in many charitable sailing events nationwide and have made it part of their mission to keep today's youth involved with sailing and provide children everywhere with an opportunity to experience the sport.
Hope you enjoy my conversation with Alex 'Red Beard' Caslow.
Be sure to click on links to listen to the full podcast interview at the end!
---
---
Growing up Sailing
I grew up sailing on my grandparents Bristol 29 on the Chesapeake Bay. I would always do the weekend cruises growing up. I fell away from it a little as my grandparents aged, and once I could afford to get back into the sport I did.
The thing that concreted sailing into my life was when I was young and went sailing for the whole weekend to the Wye River. We anchored, we went swimming, there were sea nettles everywhere. They had this big net they would put out and we also hung chicken necks off the side of the life rails. I know that's not necessarily sailing, but it's the freedom that sailing gave us to be able to do that, and I caught about a bushel of crabs.
Learning to Sail
As a kid I ignored my grandparents and my grandpa Is the best sailor I've ever met. When my wife and I met we bought a Pearson 26 and hit the learning curve hard. we made a lot of mistakes but I am self-taught.
Sailing Destinations
We sail primarily in the Chesapeake. The boats we sail afford us the luxury of picking where in the Chesapeake we want to sail. I have sailed in Lake Como, which was an amazing experience that I would recommend to anybody interested in destination sailing. It was just 360 degrees of Swiss alps. We have a 360 video of us doing it.
We're going on a family vacation to Deep Creek and I will be taking the Happy Cat. Lake sailing is different than Bay sailing. On the bay there's always waves so you're always contending with sea states whereas on lakes the wind is a little more intermittent but it's often a sheet of glass.
Ownership History
I inherited the Bristol 29 from my grandfather. It was in complete disrepair. It needed a significant amount of work and it wasn't something I was able to afford. We ended up selling that.
After we got married, we bought the Pearson 26 and sailed it for a season or two and it was a blast. We kept it in Rock Creek. It was still expensive. I sold that and while running away from all these fees I bought a total project boat, an Iroquois 30-foot catamaran made in England that can fly a hull. I didn't get that off the ground and sold it to a couple that sold their house, flew out, took ownership, fixed it up and sailed it to Miami. That triggered the whole – we need to find a different way to do this.
Finding MiniCat
I wanted something that didn't take a lot of storage and wouldn't require a V8 truck to trailer around. Through some serious digging around the internet I fell into our first manufacturer which was Minicat. A couple emails later and a business plan to the manufacturer and we found ourselves as the U.S. dealer.
I stumbled into it as a consumer and figured I couldn't be the only person who needed something like this. There wasn't anybody who tried selling them into the U.S. so I figured now was as good a time as any to start a business.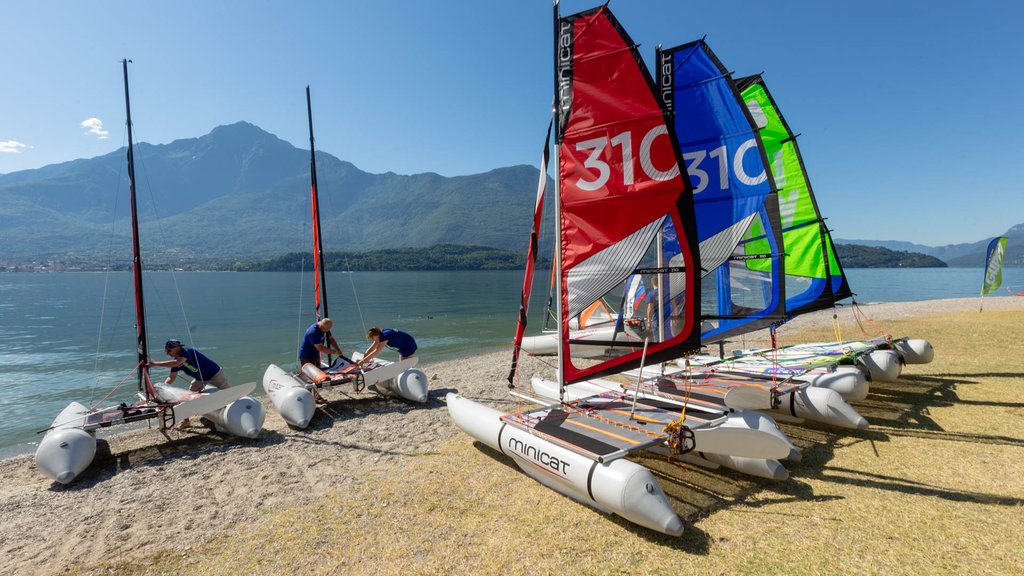 Current Demand for Portable Sailboats
We are just scratching the surface of who we should be talking to with these kinds of boats. People are buying it without having to see it first. In the beginning I was doing a demo for every boat we sold, then it was every other, then every third, now its every fifth boat.
A lot of people are confident now. Now that they're seeing the content we are putting out and the manufacturer is putting out, they're seeing that these are real boats that handle, in some cases, better than the hard-hulled versions. The inflatable sits on the water, not in the water. It tacks closer to a dinghy because there is no resistance in the bow.
Inflatable Advantages
They're significantly lighter weight. A Hobie Wave weighs just under 300 pounds and a MiniCat 420 weighs 97 pounds. So it's just a significant amount of less effort needed. What that also means is you can have a 14-foot boat to sail with your family and your 10, 12 year old kid can take it out and if he capsizes it he can right it himself.
The MiniCat starts at 9'10" and we go all the way up to the Happy Cat Hurricane which goes up to 16'. These are perfect boats because you don't need to keep it in a marina or dedicate driveway space. We have boats that you can keep in your closet and put in the trunk of your car to go sailing when the wind is there.
Sailing Trends
The two big trends are making boats more accessible and foiling. On the accessibility side, we're trying to find payment options to get boats more affordable. And it's the portability that makes it the most accessible. The other direction is the foiling. Somewhere along the lines someone is going to make a portable foil boat.
Advice for Would-Be Sailors
If you're on the edge, I strongly suggest finding a sailing center. Get your butt on a boat and sail. The best way to learn how to sail is to sail. Just go and do it. Don't be afraid to fall in the water and seeing what you can do. Pick a point and sail there. Sailing is such a go and do sport and every time you go out, you'll get a little better.
Listen to the full Podcast:
Listen on iTunes: Making Sailing More Portable, Affordable and Accessible – July 1, 2019 (free)
---
Listen on Google Play: Making Sailing More Portable, Affordable and Accessible – July 1, 2019 (free)
---
or Click Play below to listen online here:
---
Disclosure: This site may contain links affiliated with companies where we receive compensation. Also, as an Amazon Associate we may earn from qualifying purchases we refer but it does not impact the price you pay.
Full disclosure policy
.