---

---

A comprehensive how-to guide to planning a sailing cruise with more than one boat on the journey
In previous articles about chartering, I have discussed several towns on the Chesapeake from which you might start a charter and a number of my favorite gunkhole destinations. Switching gears a bit, I'd like to begin to discuss flotilla cruising – where two or more boats cruise together along the same itinerary.
Back in 1993, I joined a sailing club. It was a SAILING club and not a yacht club. That is, it organizes multi-boat trips for a given itinerary using chartered boats with one or two people coordinating the trip from planning through execution and follow-up.
I learned a lot from that experience and have used that knowledge to improve and extend the concept in my own sailing business.
---
---
Benefits of Flotillas
As much as you might enjoy sailing to different places and anchoring out or trying a new marina, imagine how much more fun it might be to share the experience with friends. To have two or more boats sailing the same itinerary opens more opportunities for social interactions, sharing knowledge, and on-water support.
Being on a boat seems to make everyone more sociable. Hanging in the cockpit at anchor can be made more pleasant as you move from boat to boat sampling the offered cuisine and the paired adult beverages. In my experience, good food and wine often lead to much singing and laughing into the night.
Once while anchored off the Wye River, our raft-up was creating such a pleasant ruckus that a reporter from Spinsheet (a local sailing magazine) that was on a boat in a nearby creek had to come investigate the source of the mirthful sounds the next morning. Photos and information on our 8 boat raft were collected for a story that was to be published in an upcoming edition.
Travelling as a group of boats increases the options for technical support if there are problems with engines, rigging, or just running aground. When chartering a boat, you may not be familiar with all of the systems. In a flotilla, there are increased chances that someone may have knowledge that you do not.
Additionally, simple soft groundings can sometimes be resolved within the fleet instead of having to call and wait for a commercial assistance towing operation. Then again, maybe you just need to borrow a jar of Grey Poupon!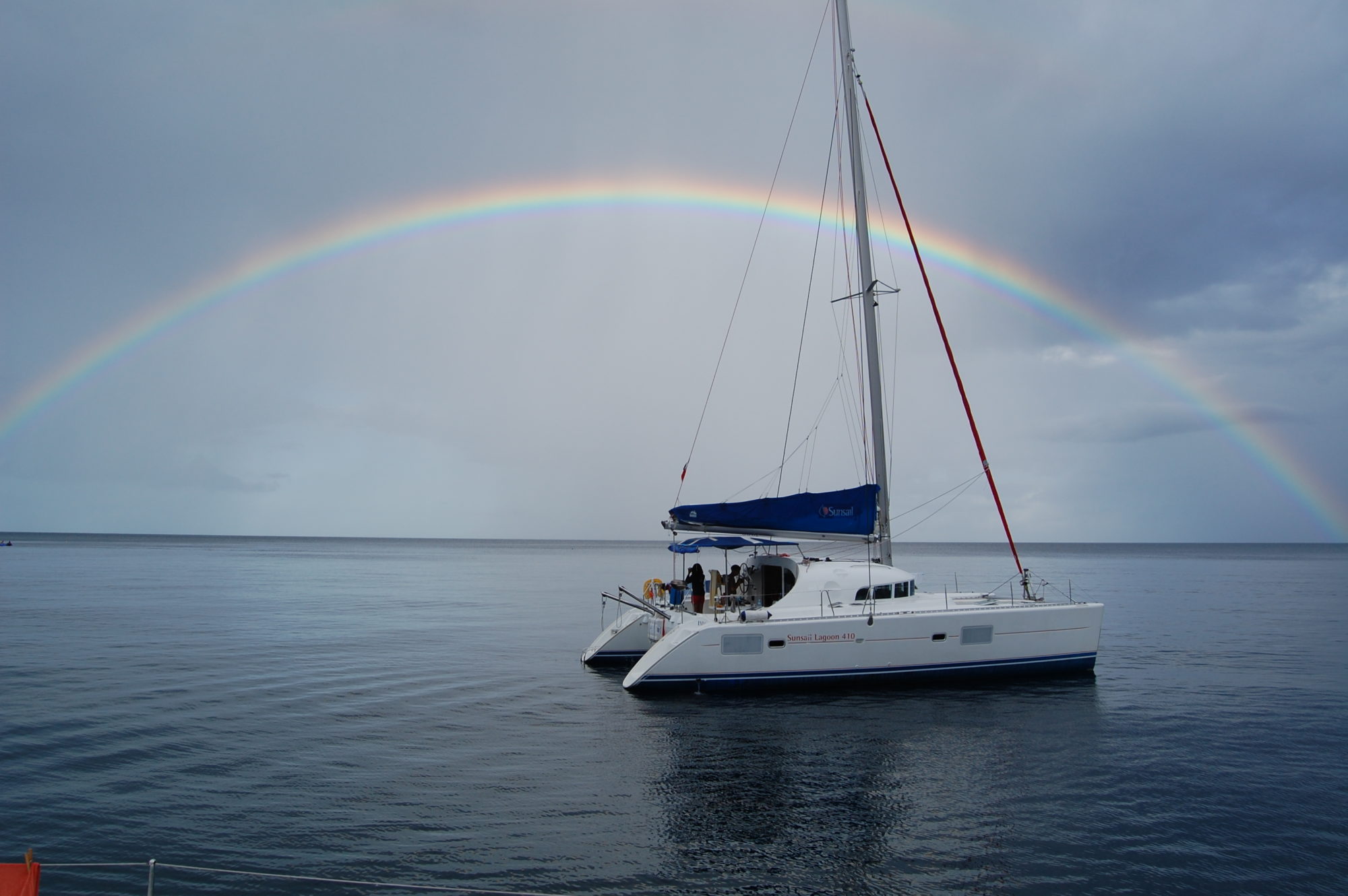 By sailing in a flotilla, lesser experience sailors can rely upon and learn from the experience of more seasoned sailors, especially in circumstances like piloting into narrow creeks or unknown inlets. Many people learn by observation. So one might be able to learn a few tricks from a de facto mentor while observing that skipper dock, anchor, or trim his or her sails. As a lesser experienced sailor, if you follow someone with more time on the water, you may just find what lies at the end of the rainbow!
How to Begin a Flotilla
The Itinerary
Typically a flotilla cruise comes about when one skipper shares his thoughts on an itinerary with other skippers or owners. An intriguing enough plan can easily lead to multi-boat trip of eager sailors.
A given cruise plan may need to modified depending on the assortment of boats that might participate. The deepest draft boat, the slowest boat, or the one with the smallest or least experienced crew may be the boat that determines the final cruise plan.
Note that you often need at least a tentative itinerary first in order to entice participants but that itinerary may need to be updated as different boats join the flotilla.
Inviting Boats and Crews
If there are some must-see places that you want to visit, those destinations may be limited in space and resources given a particular number of boats. For example…
Can you comfortably build a 10-boat raft in Tilghman Creek or would it be more advisable to set up in Shaw Bay on the other side of Eastern Bay?
Are there enough shore showers and seats in the restaurant to accommodate your entire party? Or are you going to have to do that in shifts?
If you are the trip leader, for how many boats and people are you willing to take responsibility for this trip?
The logistics of a flotilla can be somewhat dynamic right up to and including the end of the cruise! One must be alert and prepared for shifting conditions of all kinds.
Do all of the boats have adequate crew for the trip being planned? On the one hand, that is primarily a matter for the skipper of the vessel in question but a good trip leader will inquire and verify the status and state of each crew before everyone arrives at the starting point. It is easier to make modifications beforehand rather than telling a crew that it is understaffed or not adequately prepared while everyone else is leaving.
Scheduling
Picking a date for your flotilla cruise is generally a function of three things:
availability
anticipated weather
other overshadowing events on the calendar, if any
Availability
First you will want to find out when the various crews are available to sail the selected cruise itinerary. Coordinating schedules can be very frustrating, especially when cruise participants are coming from disparate locations and/or far places.
It is generally assumed that the trip leader will be the moderator of all such discussions. He or she should be prepared with information of average weather forecasts and a local calendar of events.
Weather
Are you a sun baby? Do you like cruising in summer when it is warm? Are you interested in frolicking in the local waters at the end of the day's run? Do you prefer to not sweat and cruise in a more temperate set of conditions?
There are those who have medical conditions or medications that require them to avoid sun or high heat. The trip leader and the relevant skipper need to be aware of any such situations.
The weather cannot be predicted perfectly but average conditions are well known for a given place and time of year.
Local Events
Are you hoping to catch 4th of July fireworks somewhere? Are you heading to a seafood or jazz festival? Or are you trying to get away from all the hubbub and clamor of the everyday? Check your calendar.
In any case, you will need to know when your event of interest will occur or you will need to know when not to go in order to avoid the attendant crowds.
More to Follow on Flotillas
In my next installment, I will discuss more details of working with different skippers, soliciting crew, and what the trip leader should be doing during and after the actual cruise.
Disclosure: This site may contain links affiliated with companies where we receive compensation. Also, as an Amazon Associate we may earn from qualifying purchases we refer but it does not impact the price you pay.
Full disclosure policy
.