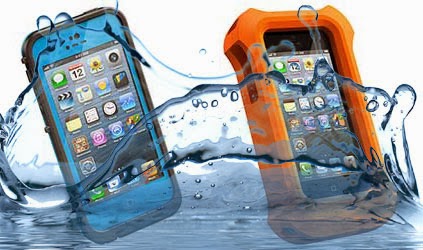 Keep your iPhone, iPad or Android devices safe on your boat or around water with waterproof and floating device cases
Most boaters don't go out on their boat without their iPhones, iPads or other smartphone devices on board. We use them to take pictures, we use them for navigation apps, we use them to text, we post updates to Facebook and Instagram and sometimes we even use them to actually make phone calls.
See out picks for waterproof phone cases & pouches below!
I like to bring my phone into the water and take pictures of our raft-up with friends, or take pictures of the kids jumping off the swim platform (its fun to catch their expressions from the front as they are jumping, rather than from standing behind them on the boat.
But lately I have become more concerned about my iPhone dropping into the water. I could accidentally drop it in the water - or one of the kids could drop it in. I thought I just needed a waterproof case to protect it, but then I quickly realized that I probably need a floating case so that it also doesn't sink to the bottom of the river.
Luckily, there are several brands on the market that offer waterproof or floating case solutions that are perfect for boaters.
How to Pick Waterproof Phone Cases
Many waterproof phone cases are designed to integrate with your devices features - so you can still use the touchscreen, camera, buttons, etc. Most phone cases are thin, light and durable so that they totally seals your smartphone or tablet from elements. It also has a scratch protector for the touchscreen.
Even if you have a waterproof case on your iPhone or iPad, your device can still sink to the bottom of the water if it doesn't float. That could be trouble if you boat in water that is not crystal clear. Look for cases made of soft, buoyant foam and able to fit over the the case. Also, a quick release lanyard or wrist strap comes in handy.
Waterproof phone pouches are also becoming popular because they are a more universal fit. You can get pouches with a custom lanyard or belt that make it easy to use on the boat or during watersports.
OUR PICKS FOR WATERPROOF PHONE CASES & POUCHES:
When you think about how you use your iPhone or iPad on your boat, protecting your device (and all its important data) with a waterproof or floating case is worth the extra investment.