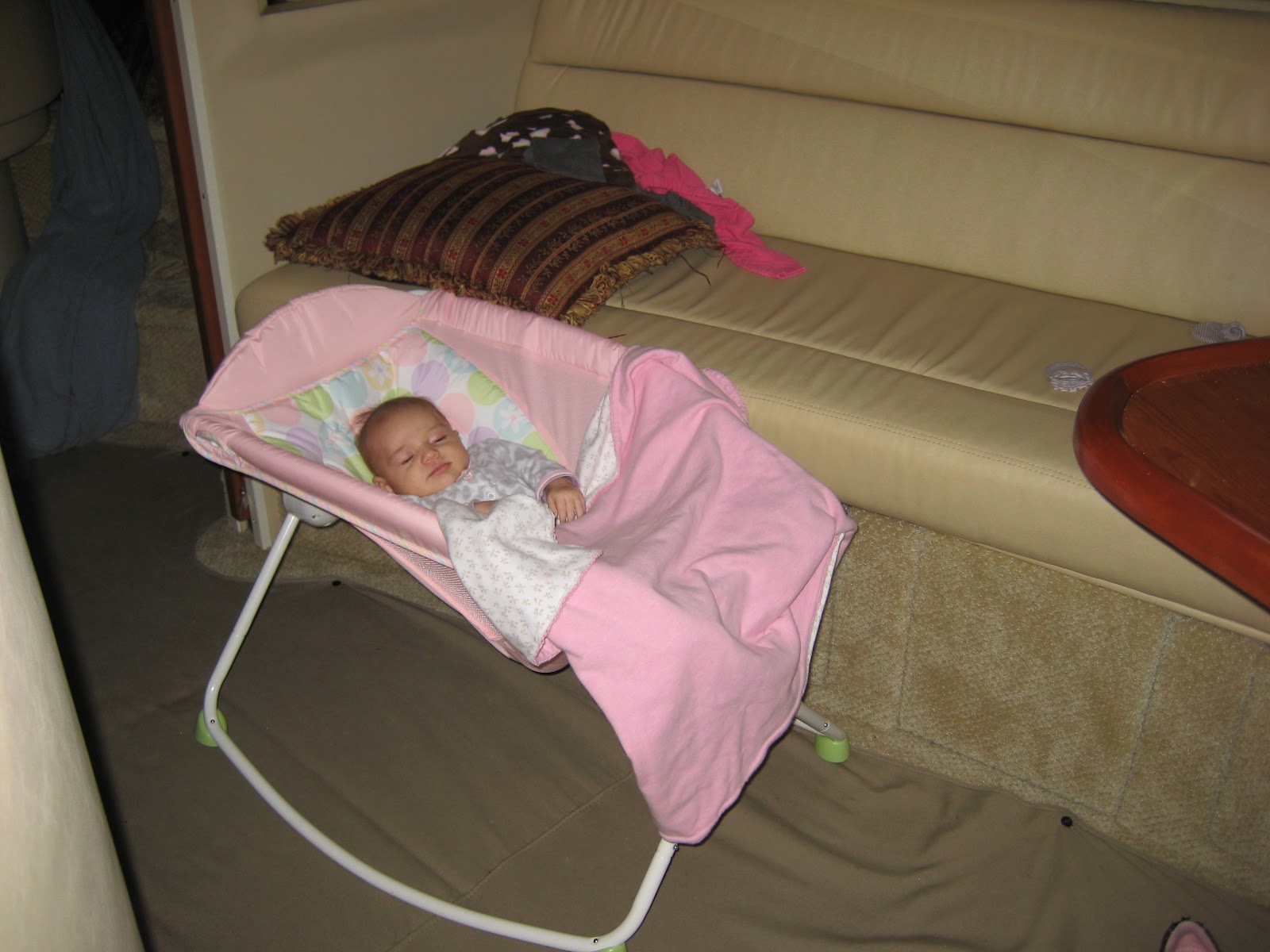 ---

---

When boating with a baby, here are choices for safe and space-saving compact bed solutions for having a newborn infant or baby sleep inside a boat cabin
Infants and babies tend to sleep very well on board a boat. The gentle water movement and rocking of a boat is very soothing and calming for a baby. Both of our babies slept their longest hours through the night for the first time on the boat. We have had two babies sleep on-board our boat since they were only a few weeks old, and we have experience with a variety of sleeping arrangements while boating. If you have a boat with a cabin there is no reason why you can't have your baby sleep on the boat with you for daytime naps, weekend overnights or live-aboard boating.
Having a baby sleep on a boat can be both safe and easy with the right baby gear. The biggest challenge is often finding the right bed option for the tight space quarters of a boat cabin that is safe and appropriate for the age of your baby.
Here are some of my recommendations for good compact infant bed options for a newborn or baby sleeping on board your boat.
---
---
Newborn Infant Sleeper Bed Options on a Boat for a Baby 0-3 Months Old
A co-sleeper bed is a great option for newborn babies on boats because they take up very little floor space. With our first baby, we used a foldable co-sleeper that we placed in the back aft-cabin bed area of our boat. It was very compact and took up very little room in the boat cabin. And in a 30 foot boat we didn't have much room to spare.
A foldable co-sleeper is a good choice for a newborn baby – and a good choice for very limited boat cabin space. The sleeper is very portable and folds up into a small self carrying case. The co-sleeper can be safely placed on an aft cabin bed area of a boat. For our first baby, we thought it was a good solution for our newborn baby until she began to outgrow it at 2-3 months old (when she started to want to move around more and creep out of it).
Here are some newborn infant sleepers that are good compact travel bed options for a boat:
(note: these products are all available on Amazon – prices are much cheaper than Babies-R-Us and if you are a member of Amazon Mom they qualify for free shipping with Prime)

The First Years Close and Secure Sleeper, Colors May Vary

Perfect for a newborn baby, this sleeper can be anchored to a bed mattress with a large flap that tucks under the mattress. The U-shaped design keeps a baby securely in the bed. It is super compact and portable for use on a boat with limited space. Buy on Amazon.


Brica Fold N' Go Travel Bassinet

Features a lightweight design with sturdy side walls to keep baby contained. Also folds up for portability on a boat. Buy on Amazon.
Newborn Infant Rocker Sleeper on a Boat for 0-6 Month Old Baby
With our second baby we discovered the Fisher Price Newborn Rock 'n Play Sleeper as the perfect choice for a baby bed on a boat. The footprint of the newborn rocker takes up very little floor space in the boat cabin and is extremely portable. At the push of a button the rocker can fold in half to save space on the boat when not in use. The rocker design cannot tip over side-ways and has stoppers on it to keep it from rocking too much back and forth.
NOTE: This version is no longer available – we now recommend the Fisher Price Rock with Me Bassinet – Available on Amazon
For us, there were several advantages to this style of bassinet on a boat. The fact that it is elevated off the floor makes it safer with an older sibling walking around. The slightly inclined position helped ease our baby's colic issues. And the ability to gently rock her back and forth back to sleep made it one of the best baby gear purchases we ever made. We loved it so much on the boat that we ended up bringing it back and forth to the boat so we could use it during the week at home.
Here's a quick Video Demo of our baby in the Fisher Price Rock-n-Play Sleeper on our boat:
Other Travel Bed Options for Babies on a Boat 6 Months and Older
There are many other portable baby bed options that are good options for slightly older babies. As babies learn how to sit up, roll over and generally move around more they need a slightly bigger baby bed. Until a baby is almost 2 years old, I think they need to be in some type of baby travel bed when sleeping on a boat to be safe. This is when it gets particularly challenging with the small amount of floor space you have on a boat.
Here are some good travel baby beds that would work well with for babies older than 6 months sleeping on a boat:

Kidco Peapod – Cranberry
This indoor/outdoor baby travel bed is a great option for older babies sleeping on a boat. It doesn't take up too much room in the boat cabin and it can even be brought up into the boat cockpit to double as a safe and shaded play space (with UV protection!) It has an inflatable mattress for comfort and is very portable. It measures 47 x 30 x 19 inches (LxWxH) when open. Available on Amazon. (also comes in other colors)

BABYBJÖRN Travel Crib Light 2, Blue

The compact and lightweight design of the Baby Bjorn travel crib (only 11 lbs) easily folds up into a carrying case and is a great option for older babies or toddlers on boats. Measuring 45 x 31.5 x 25.5 inches (L x W x H), the crib has a uniquely compact design that features a base with slanting edges. For babies that are standing, it is very sturdy for them to stand up and have a safe place to play on a boat. It is a bit pricey, but a good investment in a safe travel crib that is compact. You can buy it on Amazon.

Gocrib Portable Baby Travel Crib and Play Yard

If you have a bit more floor space on your boat, the GoCrib is a standard size, ultra-portable travel crib that packs into a lightweight backpack. It features 27″ x 39″ insulating mattress and 25″ depth sleeping and play area (same as a standard play yard). Available on Amazon.
How to Fit a Pack-n-Play on a Boat
When your baby is old enough to sit up or roll over (5-6 months) but not quite big enough to sleep in a bed on the boat alone, you'll likely need to make room for a pack-n-play on board.
For some more practical tips for having your baby sleep on your boat,
read How to Fit a Baby's Pack-n-Play on a Boat on BoaterKids.com.
---
Disclosure: This site may contain links affiliated with companies where we receive compensation. Also, as an Amazon Associate we may earn from qualifying purchases we refer but it does not impact the price you pay.
Full disclosure policy
.