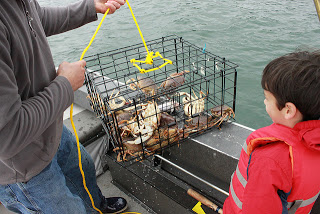 ---

---

These coastal waters in the U.S. are prime crabbing locations for boaters or visitors to go crab fishing & catch a variety of crab species
It's not coincidence that some of the best boating destinations in the U.S. are also some of the locations for crab fishing. Boaters love crabbing. They love trying to catch crabs and they especially love eating crabs.
Despite issues in many areas with a decrease in crab supply over the years, there is still an abundance of crab to be found in a variety of species throughout the coastal waters of the United States. Of course each area claims to be the best… but each of these top crab fishing states brings something unique to the table for boaters and crab lovers.
---
---
Top Crabbing States in the U.S.
Here are some of the best crab fishing destinations in the U.S., along with the type of crab species you can expect to find.
Alaska
If you have ever watched Deadliest Catch, you know that king crabs is one of the most popular species of crabs to catch in Alaska… and the most profitable type of fishing in the shellfish industry. Alaska also has Tanner, snow and Dungeness crabs that can be found in crab fishing locations such as Bristol Bay, Dutch Harbor, Norton Sound and throughout the Bering Sea.
Maryland
The very popular Maryland blue crabs – also known as Chesapeake Bay crabs – is one of the most popular symbols of Maryland culture. With numerous crab fishing locations found throughout the Chesapeake Bay and its many river tributaries (such as Susquehanna, Potomac, Rappahannock, York and James), crabbing in Maryland  is a favorite pastime for local boaters and residents.
New Jersey
Maryland crab lovers can also find the blue crab species along the coastline of New Jersey. From the Delaware Bay in the south to the Hudson River in the north, New Jersey offers many areas for crab fishing in tidal creeks, rivers and their shallow, saltwater bays. Fishfinding boat electronics can help you pinpoint the best areas. Popular crab fishing spots in NJ include Raritan Bay, Dividing Creek, Good Luck Point (at Ocean Gate), Berkeley Island County Park, Mystic Islands and the Seaside Heights docks at Barnegat Bay.
North Carolina
North Carolina waterways are known for their Atlantic blue crab as well as their stone crabs. Crab fishing in North Carolina is best in Ocracoke waterways, Lake Mattamuskeet, Cape Fear River, Newport River and South River.
Oregon
The northwestern state of Oregon is known for their abundance of Red rock and Dungeness crab fishing found in bays and estuaries. Top crabbing locations in Oregon include Tillamook Bay, Winchester Bay, Yaquina Bay, Alsea Bay and Siletz Bay.
Texas
They say everything is bigger in Texas… and hopefully that includes crabs! Texas waterways offer both stone and blue crab species in freshwater and saltwater crab fishing locations. Areas for crab fishing in Texas include Pointe West, Rockport and Crab Lake (in Galveston County).
Washington
Crab fishing in the northwestern state of Washington will bring you Dungeness and red rock crab species. Dungeness crab can be caught in Puget Sound, Columbia River and the Pacific Ocean. Other crab varieties can be found near Seattle in places like Hood Canal, Discovery Bay, Port Susan and Birch Bay.
World Food Day and Blog Action Day 2011 (#BAD11)
Blog Action Day 2011 (#BAD11) where bloggers around the world unite on one day to write on one global issue to raise awareness.
For 2011, Blog Action Day coincides with World Food Day, so the topic of discussion for this year is food.
I chose to write about the top crab fishing states in the U.S. because our ability to access crab in our food supply chain should never be taken for granted.
For more on world food issues, take the Save the Children World Food Day Interactive Quiz to test your knowledge on World Food issues.
Other Blog Action Day Posts to Read
Please check out these other articles for Blog Action Day 2011 and World Food Day:
The Importance of Describing Food in Books
Stop and Think. Blog Action Day 2011: Food
Source for Top Crabbing States: USA Today Travel
Disclosure: This site may contain links affiliated with companies where we receive compensation. Also, as an Amazon Associate we may earn from qualifying purchases we refer but it does not impact the price you pay.
Full disclosure policy
.