---

---

Most state laws and regulations require boater licenses and safe boating courses to ensure both kids and adults practice safe and responsible boating
Boating is all about relaxing and enjoying yourself on the water with family and friends. But those fun times can turn tragic when boaters engage in irresponsible behavior or just lack an appropriate level of boating expertise. The rules of the water must be taken seriously.
In the past, anyone could operate a boat regardless of their age, boater education or experience. However, in recent years there have been many changes to boat safety rules for both kids and adults across the U.S. and Canada in an effort to help reduce boating accidents and ensure safer boating practices.
---
---
Safe and Responsible Boating for Kids and Adults
As we cruise the bay each year we see countless boats that seem to not exercise common sense on the water. Boaters are not observing the right of way, using navigation lights at night or respecting speed limits in no wake zones. And all too often we see adults not requiring their young kids to wear a proper life jacket while boating.
The lack of responsible safety behavior while boating continues to result in accidents on the water. In some cases boaters may be just acting recklessly, while in other cases boaters may simply not know all the safety rules required for their part-time recreational pastime of boating.
It is a real shame that reports of accidents and fatalities can sometimes overshadow how wonderful and enjoyable boating can be when practiced with a little responsibility.
State Boating License and Safety Requirements in the U.S.
When we bought our first boat over 10 years ago we were not required to get a boating license or take any special boating courses to operate a boat in our state of Maryland. In fact, anyone born before July 1, 1972 is still able to operate a boat without a safety certificate. We simply spent the winter reading about how to operate a boat responsibly and navigate the rules of the water safely.
Unfortunately not all boaters independently learn navigation and safety rules, so state laws have changed as a result. In Maryland, for example, anyone born on or after July 1, 1972 must now possess a certificate of boating safety education in order to operate any motorized vessel.
There are firmer rules in place now throughout the U.S. that require boater licenses and safe boating courses in each state… and the U.S. Coast Guard is working hard to enforce these rules with hefty fines. Most states now require boaters to complete a boat safety course and carry a safety certificate while operating their boat.
Canada Boating License Requirements for Pleasure Crafts
Similar to U.S. state laws, Canada did not previously have any age or experience requirements for operating a recreational boat. This lack of regulation resulted in many preventable boating accidents and fatalities each year on the water.
In September 2009 new Canadian boating rules were put into law stating that anyone – regardless of age or experience – must possess a Pleasure Craft Operator Card while operating a recreational boat. And the new law is very strict. The law applies to all watercraft of any size with motors and there is no grandfather clause or age exemption for boaters.
This is a federal boating law in Canada and can be obtained for any province. Enforced by peace officers, not carrying a Pleasure Craft Operator Card while operating a boat can carry fines up to $250.
Boat Safe and Legally with BoaterExam.com
This boating safety post has been brought to you by BoaterExam.com – a leading provider of safe boater education and certification across the United States and Canada. Their online boat safety course and exam allows boaters to meet mandatory education requirements and to obtain their official boater education card or boating license online.
Getting your boater exam license online is the most convenient way to ensure safety and compliance for an enjoyable – and responsible – boating season.
If you are still not convinced, check out this graphic courtesy of BoaterExam.com illustrating accident statistics in the U.S. by boat type. These numbers demonstrate that every boater must take precautions to boat safe and responsibly.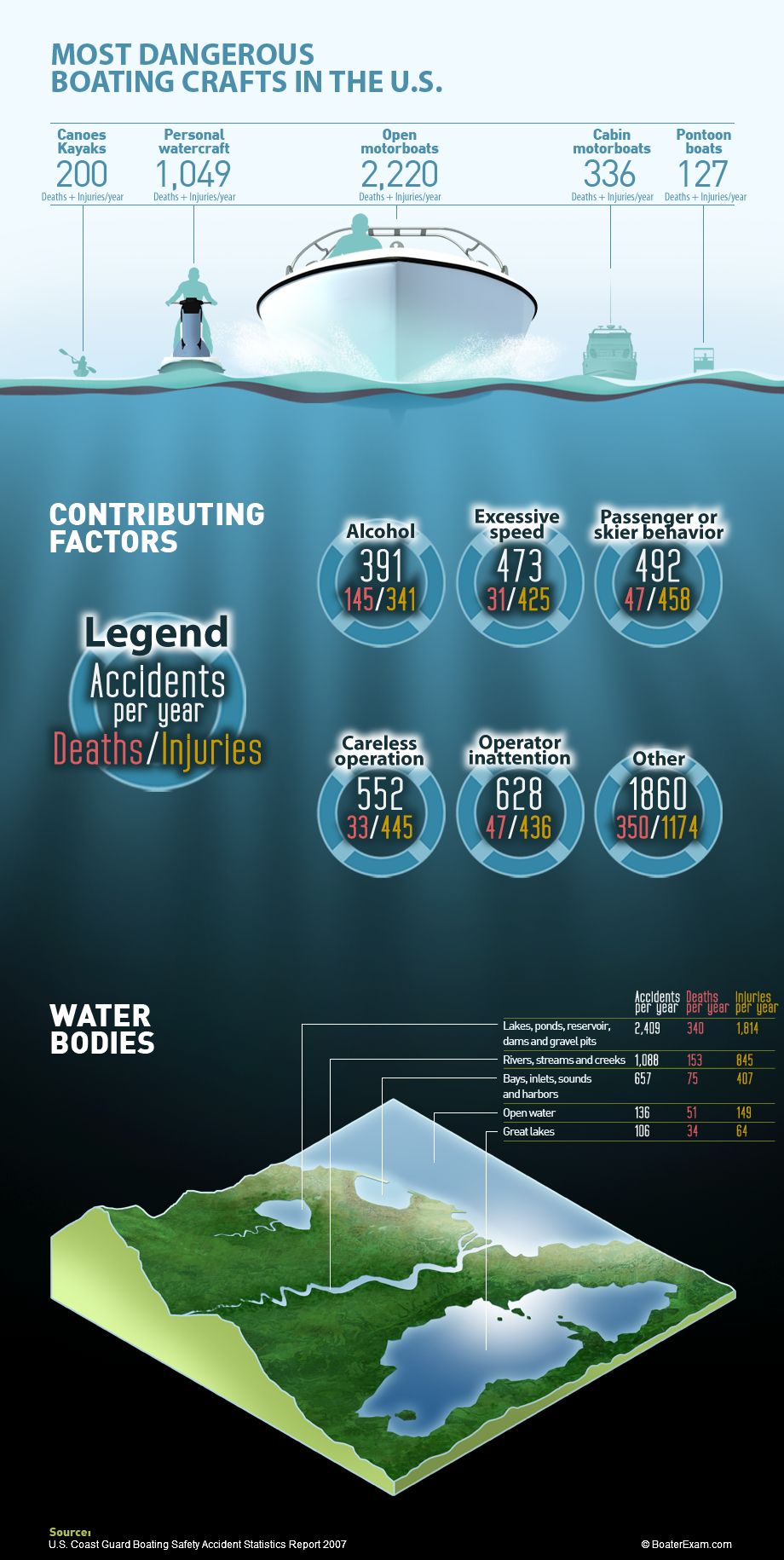 Graphic courtesy of BoaterExam.com – Get Your Boating License Online!
---
Disclosure: This site may contain links affiliated with companies where we receive compensation. Also, as an Amazon Associate we may earn from qualifying purchases we refer but it does not impact the price you pay.
Full disclosure policy
.