---

---

Build a boat song playlist with some of the best boating music and boat themed song ideas to listen to while relaxing on your boat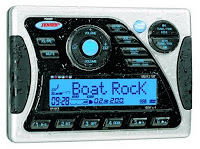 The boating lifestyle is all about relaxing with friends and family on the water. Listening to great boating music and boat songs makes your time on the water even more enjoyable.
It's always fun to put together a boat music playlist of your favorite boating songs to listen to while on the dock or anchored out enjoying an afternoon on your boat on the water with friends.
Everyone has their recommendations or options on what the best boating songs are – and of course it always comes down to your own personal taste and favorite artists. The best boating music typically mentions the theme of boating, water or is simply just a relaxing groove that complements the boating lifestyle.
Here are some song ideas and recommendations to listen to while boating or just hanging out on a boat on the water. Each boating song listed below includes a link to download MP3 music files for building boat song playlists.
Links to MP3 music files are on Amazon – it is SUPER EASY to buy and download digital music from Amazon. You can use their new Cloud feature and/or download it to your computer and automatically load it up into your iTunes music files or playlists. Most individual songs are only 99 cents.
---
---
Top 10 Boating Music list from Discover Boating
The popular website for recruiting new boaters, DiscoverBoating.com, has put together a list of "Powerboating Boat Songs" from a variety of artists and genres to consider:
Jimmy Buffet – Changes in Latitudes Changes in Attitudes – Download MP3

Joe Cocker – Feeling Alright – Download MP3

Modest Mouse – Float On – Download MP3

Weezer – Island in the Sun – Download MP3

The Cars – Let the Good Times Roll – Download MP3

Kenny Chesney – No Shoes, No Shirt, No Problem – Download MP3

Eagles – Peaceful Easy Feeling – Download MP3

Otis Reading – Sitting on the Dock of the Bay – Download MP3

Sheryl Crow – Soak up the Sun – Download MP3

Bob Marley – Three Little Birds – Download MP3
Listmania Favorite Boating Music Lists on Amazon
Here are some additional lists developed on Amazon of favorite boating music and boat song picks.
Great Boating Music – by Steve Tadd, Discover Boating's guy
This list is very heavy on Jimmy Buffet – a popular artist for boating lifestyle music.
View List and Download MP3s

Best Boating Music and Boat Songs – by Diane Seltzer, MyBoatLife.com
Here is my personal list of favorite boating music and boat songs – includes a diverse list of artists and music genres to choose from…. Including Jimmy Buffet, Van Morrison and Bob Dylan.
View List and Download MP3s
 MarineMax Ultimate Boating Playlist – Spotify
Use Spotify? Check out this "Weekend Boating" playlist of 92 songs compiled by MarineMax:

Streaming Music on Your Boat Stereo
Check out these options for playing music from your phone over your boat stereo system:


---
Need to upgrade your marine stereo system to play all these great boating songs? Check out Marine Stereo Systems in the Boater Life Marine Electronics Shop.
---
Disclosure: This site may contain links affiliated with companies where we receive compensation. Also, as an Amazon Associate we may earn from qualifying purchases we refer but it does not impact the price you pay.
Full disclosure policy
.