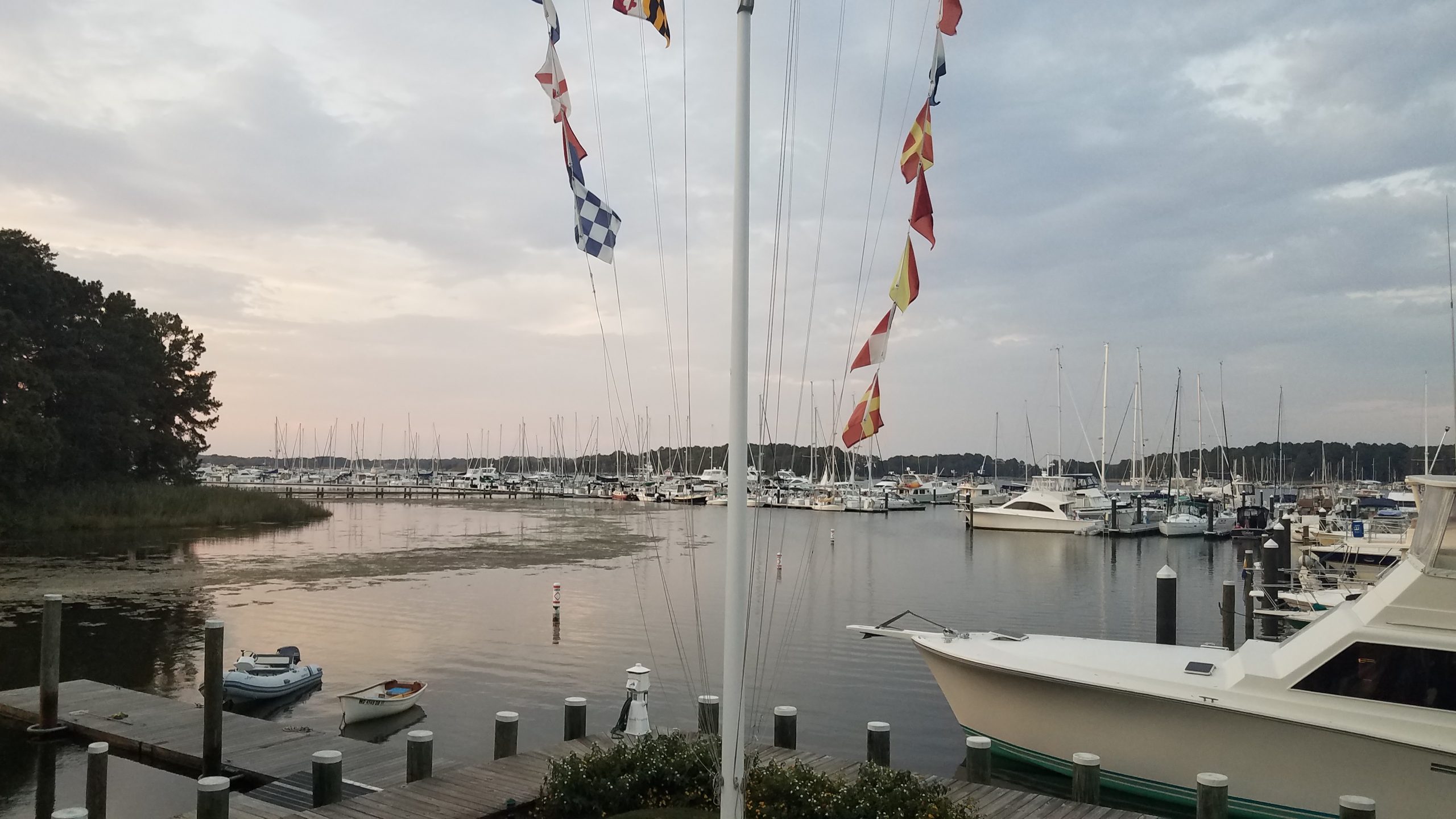 ---

---

Rock Hall Maryland's Haven Harbour Marina earns status of Best in Customer Service from Marinalife.com in my review as a transient boater
Rock Hall, Maryland has been one of our favorite boating destinations on the upper Chesapeake Bay for years. With the small town feel of a fishing and crabbing community, it is always a relaxing boating destination.
In fact, it was a trip to Rock Hall, MD – and and a stay at Haven Harbour Marina – about 12 years ago that originally got us hooked on boating. After that trip over a 4th of July weekend, we decided to buy our first boat by the end of that summer. And now… on our third boat… we are still making trips to visit Rock Hall. By far, our favorite marina to stay at in Rock Hall has always been Haven Harbour Marina on Swan Creek.
When I heard that Haven Harbour recently won a national contest for Best Customer Service in Marinalife.com's Best Marina Contest, I was pleased to hear that one of my favorite marinas won an award. But although I like Haven Harbour very much, I wondered… is is it really Best in Customer Service? I decided to take special notice during my most recent visit and do a review from a transient boater's perspective.
---
---
Arriving at Haven Harbour Marina in Rock Hall MD
As we cruised into Rock Hall on a beautiful Saturday morning, we passed by the harbor and made our way around the bend toward Swan Creek. We prefer to stay on Swan Creek because it is on the opposite side of town – away from Rock Hall harbor area where Watermans (a local crab restaurant hot spot) is located. The marinas around Watermans always seemed more crowded and hectic than the marinas on Swan Creek. Plus, we enjoy the short walk through town when we decide to go out to dinner at one of the restaurants like Watermans.
Upon entering Swan Creek we hailed Haven Harbour Marina on the radio and let them know that we were approaching the marina for our transient slip reservation. The dock master gave us clear directions on how to find our dock and transient slip for our stay. In less than 5 minutes we were at our designated slip on "blue dock" and we were delighted to see someone was standing at our slip waiting to greet us upon arrival.
Our greeter was very friendly and helped us secure our lines as we got settled into our slip. She asked us if we had any questions about renting the boat slip at the marina and informed us about where to go to check in at the office. Even though we have been to the marina many times before, it was still nice to be greeted and feel welcomed upon our arrival.
When we checked in we were also given a nice water bottle and pen with the Haven Harbour Marina logo, along with brochures on Rock Hall, MD. Overall, the check-in process as a transient boater was very pleasant and proved that Haven Harbour is serious about customer service and happy boaters.
Boater Amenities at Haven Harbour Marina
The slip we had our boat in was on "blue dock" on the far end of the marina. Depending on what services are most important to you, the location was either great or not so great. It was a close walk to the Ditty Bag ship's store and the pool, but it was a further walk to the main bath house and outdoor bar area (more on that later). But there is no doubt that Haven Harbour is a great family marina with amenities.
We laughed that the last time we stayed on blue dock was during our first trip to Rock Hall 12 years ago. Unfortunately, the docks didn't seem to change much in 12 years. Although they were nicely kept and adequate overall, I was personally surprised that there was no cable hook-up. Now that we have a bigger boat that is cable ready – and a 3 year old kid on-board – cable is a very good thing. It seemed odd to me that the dock had no cable available – an amenity that most marinas are offering now. Luckily we always have DVDs as back-up and we had a busy day planned.
Our first stop after we got settled was a visit to the pool. Surrounded by nicely landscaped grounds, the outdoor pool area is very pleasant and well-maintained.
There is one larger pool (although not extremely large) and a gated smaller pool for adults only. The larger pool has a deeper end that increases quickly from 5 to 8 feet deep. There were also plenty of seats and tables around the pool for lounging. We spent several hours at the pool (great way to wear out a 3 year old full of energy!).
Just outside of the pool there is a small play set for kids on one side and a recreational area on the other side with shuffleboard, a hammock, picnic tables and grills. Outside of the pool area is a small gazebo with a readily available croquet game for the beautiful lawn area.
On the opposite end of the marina you will find the reception center building, which is the hub of services at Haven Harbour Marina. With numerous individual bathrooms on the first and second floor, it is the main bathhouse. The bathhouse is very clean, although not air conditioned (but well-ventilated with fans).
The office is located on the second level for checking in, purchasing ice, renting bicycles or inquiring about other services needed as a transient boater.
Our favorite amenity at Haven Harbour Marina is definitely the outside Passages Bar and Grill situated at the top of the reception center building. With a beautiful view overlooking the marina and Swan Creek, Passages serves cold drinks and light fare for members and guests of Haven Harbour Marina. The bartender mixed us up Pina Coladas and Strawberry Daiquiris as our daughter enjoyed "dancing" to the music. We had dinner plans at another restaurant that night, but the burgers and crab cake sandwiches served from the outdoor grill are very good. Every time we visit Passages we comment on all the fun nautical decor and think how fun it would be to have our own outdoor bar like that.
As we got ready for our walk to dinner we were pleased to see that there is a new electric shuttle for Haven Harbour Marina. This top of the line shuttle is powered entirely by electric battery and transports Haven Harbour members and guests to various locations in town for only $2 per person (plus tip).
Haven Harbour invested in the electric shuttle because the old trolley service is no longer in Rock Hall. They now serve the marina and surrounding area. So we jumped on board for a fun and delightfully breezy adventure to the restaurant for dinner.
Haven Harbour Earns Best in Customer Service
According to Marinalife.com, marinas were awarded prizes based on a Marinalife.com membership poll. Marinas with the most enthusiastic supporters were likely the stand-out winners. And that enthusiasm no doubt comes from customer loyalty gained through great service. Haven Harbour clearly won because they strive to please both slip holders and transient boaters in as many ways as possible at their marina. It is difficult for someone to fully judge a marina based on occasional transient visits, but overall I continue to be very pleased with Haven Harbour Marina in Rock Hall, MD. We had a wonderful trip to Haven Harbour and can't wait to plan our next trip.
WATCH OUR VIDEO: Boat Trip – Our Month Long Stay in Rock Hall featuring Haven Harbour Marina!
---
Disclosure: This site may contain links affiliated with companies where we receive compensation. Also, as an Amazon Associate we may earn from qualifying purchases we refer but it does not impact the price you pay.
Full disclosure policy
.