---

---

Is it safe to take an infant on a boat?
Some people are very nervous about taking a baby on a boat. For active boaters (myself included), having an infant baby should not stop you from boating.
In fact, it is almost easier to boat with a baby then it is to boat with young toddlers that are climbing and running around. And if you have a boat that you sleep on, there is nothing better than the gentle rocking of a boat to help a baby sleep.
With proper safety precautions, there is no reason why you can't continue boating with a baby.
The U.S. Coast Guard's Office of Boating Safety states that an infant should not travel on a boat until they weigh at least 18 pounds and can wear a personal floatation device (PFD).
Most babies hit that weight between 4 and 11 months old. However, I have found several infant life jackets
 that fit very well – intended for under 30 lbs. An infant PFD has a built in "heads up" cushion with a loop handle at the top, along with a strap that goes between the legs (to keep the jacket from sliding up). Infant life jackets are intended to fit snug and do a great job of raising the infant's head out of the water. To feel extra safe about how they work, you can practice holding the baby in a pool while wearing the infant life jacket.
Here are our picks for Infant Life Jackets:
---
---
Safe Boating with an Infant Baby
I think the key phrase is "should not travel" as opposed to "should not go on" a boat with an infant. Our infant daughter was on our boat at 2 ½ weeks old. We found a great infant life jacket
that is safe and Coast Guard approved for infants less than 30 lbs. Our baby wore it every time we got on and off the boat. She also wore the safety life jacket for the few short boat rides we took while she was very young. (Note: we had a 30′ cabin cruiser boat that was very smooth and handles wakes pretty well.)
It is, however, very important not to place an infant in a car seat or other non-floating device when cruising in a boat. It's just not safe.
Safely Boarding a Boat with a Baby
Another thing to be careful about with an infant on a boat, is getting on and off the boat with the baby safely. Some people pass the baby to someone already on the boat (while wearing an infant's life vest
 of course) while others prefer to not pass the baby over the edge of the water onto the boat. Personally, I always felt safer holding tightly onto our baby and climbing onto the side of the boat without risking handing off the baby to someone else while getting onto the boat.
While on the boat deck, an infant baby should always be accompanied by an adult. Proper shading and sun protection is also very important with the gentle and sensitive skin of infant babies. These are good rules for a baby or child of any age.
We kept boat rides to a minimum and took it easy our baby's first few months on the water. But we went to our boat EVERY weekend and had a very enjoyable – and safe – summer with our new boat baby.
Best of all, the fresh air and views of nature are very enjoyable for a baby. Babies love to take in the environment around them – and boating offers a great nature experience with many things to entertain them with water, birds, ducks, fish, cool breezes and more. The natural movement of a boat combined with the views around the boat creates an instant nap opportunity!
More Resources for Boating with a Baby
With two boat kids, we've got a lot of experience raising kids on the water – from gear to safety (and of course some fun!)
Here are some additional resources to check out: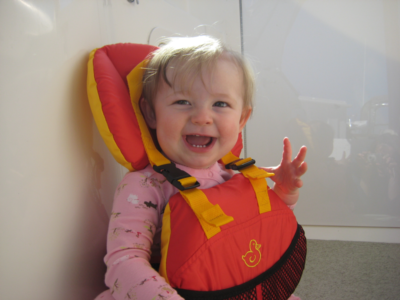 Baby and Infant Life Jackets
We have links for full selection of baby & infant life jackets that we recommend on our companion site BoaterKids.com –  including our personal favorites!
See More: Baby & Infant Life Jackets on BoaterKids.com
---
Bed Options for a Newborn Infant or Baby Sleeping on a Boat
Here are my recommendations for safe and compact infant co-sleepers and baby travel beds that are perfect for a baby sleeping on board a boat.
Read more: Bed Options for a Newborn Infant or Baby Sleeping on a Boat
---
Boat Gear for Baby
For more recommendations for must-have baby boat gear and essential baby products when bringing a baby or infant on the boat… and why you need them… check out:
See More: Baby Boat Gear – Top 10 Must-Have Baby Products for Your Boat
---
Got older boat kids? We have them covered too with lots more resources on BoaterKids.com.
---
Disclosure: This site may contain links affiliated with companies where we receive compensation. Also, as an Amazon Associate we may earn from qualifying purchases we refer but it does not impact the price you pay.
Full disclosure policy
.